Description
This Kohler Elliston toilet brings comfort, efficiency and style to your bathroom. Providing great efficiency at 4.85 litres (1.28 gallons) per flush, it features an elongated front for comfortable seating and added space. The toilet is made of white vitreous china for durability, shine and stain resistance. The two-piece design is easy to install, and the chair-height seating offers accessibility and comfort. It has a modern, clean style that complements any décor. 1-year limited warranty.

Ecological Attributes
This toilet is WaterSense® certified to save 20% in water.
Product specifications
Maximum Performance (MaP)
Front-mounted single-flush lever
Frequently bought together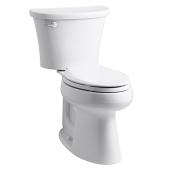 KOHLER
Cavata Elongated-Front 2-Piece Toilet - White
Format 2PC
Details
Article #31535034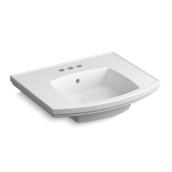 KOHLER
Elliston Pedestal Sink Basin - Porcelain - Rectangle - White
Details
Article #31535051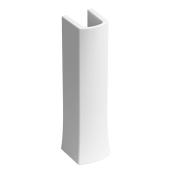 KOHLER
Elliston Pedestal Sink Base - Porcelain - White
Details
Article #31535050
I am looking for a chair/ comfort height toilet with an insulated tank.. What model should I be looking for?
I Purchased the KOHLER Elliston Elongated White Toilet with slow close seat and we love it. Easy to install and a great product.
Date published: 2020-08-30
How much water is held in the bowl between uses? The ones I have hold the tiniest amount in the bottom. Anyone have a picture? Thanks!!
I have the same concern, but on the flip side I think this is designed to save water. So may be it is normal for this model.
Date published: 2020-07-06
Is this toilet lined?
Yes 
Date published: 2019-07-26
Does this toilet have an insulated tank, thank you
Hi, this is Laura with Kohler Co. I am happy to assist you with your question. The Ellison toilets are not insulated. Thank you for choosing KOHLER.
Date published: 2019-07-23
What is the flush maintenance on this toilet? Is it 350g, 700g, or 1000g?
Hello, this is Sarah with Kohler Co. I'm glad to address your question. This toilet, model K-12767, is tested at 1000 grams as part of MaPs testing. Thank you for choosing KOHLER.
Date published: 2019-07-20
What is the warranty of this toilet in Canada? 
One year warranty....if you look in the questions a representative states the exact terms...
Date published: 2019-07-19
When looking at toilets how do I see the dimensions such as front to back, height foe example
Hello, my name is Sarah with Kohler Co. I'm glad to answer your question. You can see the dimensions for this product on our website here: https://bit.ly/2S8zYud. You will see a link to the "Specification Sheet" which can be viewed/downloaded. Thank you for choosing KOHLER.
Date published: 2019-07-19
What is the dimension from wall to end of toilet ( need 27 inch or less). What size rough in. I need a toilet with 10 inch roughbin, 1000g MaP flush capacity and small size as in a smal powder room
29 inch from wall to front of toilet base with a 12" rough in. You could have a 10" rough in but  there would be no room for a baseboard but it would give you 27" from wall to front of toilet base if that is what you must have. This toilet is not a particularly small base size. You could find smaller.
Date published: 2019-07-20
Elliston Elongated-Front 2-Piece Toilet - 4.85 L - White
is rated out of
5
by
400
.
Rated

2

out of

5
by
LynneW
from
Just Okay
This particular model advises in the Specifications that it is 18 3/4" with seat. It is NOT. The actual measurement is 17 1/2 " to the top of the seat. Even with the lid down it is not 18 3/4" How Kolher can advertise that the measurement is 18 3/4" is beyond me. The lid is rather cheap and flimsy. When flushed it is a bit noisy but that does not last long. I cannot address installation as I had a plumber install the 2 toilets I purchased. I probably would not purchase this toilet had I known the measurement was inaccurate. I just think the entire toilet is rather cheap.
Date published: 2014-11-21
Rated

5

out of

5
by
HDao
from
So far great toilet
One my old toilet kept clogging, so I replaced it then thought to replace all three in my house. My first one is American Standard Champion 4 Max, my 2nd one is Kohler is Devonshire, and 3rd one is this Kohler Elliston. All have same flush performance. 4Max has bigger waste trap line 2"3/8 than most other toilets, easiest installation w/o tool., but smaller water surface than Kohler. Larger water surface is better and cleaner; Devonshire looks best as luxury but highest price. However I rated this one is best based on its lowest price, installation, and better design with no metal nuts inside the tank. That means no rusty nuts after years of usage. Seats of all toilets are plastic and low quality but Elliston's seat is easier to clean than 4Max.
Date published: 2015-02-09
Rated

5

out of

5
by
Seth
from
Great Toilet!
I remodeled one of my bathrooms moths ago and installed one of these toilets, the flushing power is amazing! Recently I was tasked with getting replacement toilets for my work and purchased another 4 of these same toilets and have received nothing but good reviews from all of my coworkers for both comfort and flushing power. Additionally when I purchased those 4 I found that they were in sale and went back that evening and bought another and installed it in my second bathroom!!!! [This review was collected as part of a promotion.]
Date published: 2018-11-16
Rated

3

out of

5
by
pusser
from
Chair Height? I don't think so.
Having bought this toilet, specifically based upon the "chair height" dimension quoted of "Bowl Height with Seat -18-3/4-in", I find that, once installed with the supplied seat, it is only 17" high. The idea of buying this particular toilet was to avoid the use of raised toilet seats. Yes, it seems to be a good toilet, seems to use little water although I have yet to really try it out in full use. Yes, it was easy to install and everything needed to fit it came with it. However, when my disabled wife tried it out, she said it was no higher than our old one. Checking the height, yes, it is only 17" and NOT as advertised in the specification, 18 3/4". On that point, I am disappointed in my purchase.
Date published: 2016-04-02
Rated

1

out of

5
by
Joseph
from
Low water level in the bowl. When you defecate there is a disgusting amount of residue left in the bowl which means you have to have a brush handy, scrub and re-flush. Kohler customer service says there is no way to adjust the water level in the bowl. Their remarks about this are that since I'm replacing a older commode I may not be used to the lower level in the new system. My answer to that is "I'm not used to having to brush the bowl after every bowl movement!!! I give this a 1 star rating simply because a ZERO is not available.
Date published: 2017-06-05
Rated

5

out of

5
by
GailE
from
Love this toilet! Will get another soon!!!
We are remodeling and thought we had a usable toilet for the guest bath. Didn't work, so we installed the Elliston in there and will get another for the master bath soon! OH MY GOD I love this toilet! Tons of reasons, but mostly it is not only priced well, it works unbelievably well! Cannot believe the power and speed of the flush! No swirling and watching the water level rise... oh no! You flush, it is GONE! Amazing with low water usage!! Have already recommended this to another Lowes shopper when they were undecided! Amazing product, amazing price, and love it!
Date published: 2017-09-06
Rated

1

out of

5
by
rehabbathrooms
from
bad bowl design - solid waste sticks to sides
I bought this for bathroom I was remodeling for a person with Parkinson's disease. Because the bowl has such a low water level, solid waste just hits the dry sides and sticks, requiring brushing after every use - not something a disabled person should have to do. Since solid waste doesn't usually end up in the tiny water reservoir, it also stinks until flushed. I would not recommend this toilet to anyone; in addition to not working well, it takes up a lot of space. It was a complete waste of money. I replaced it with an American Standard Cadet 3 from a competitor, which works great due to a much better bowl design.
Date published: 2016-03-20
Rated

1

out of

5
by
GVal
from
Bought 2: 1 leaks, the other had the wrong parts
I bought two of these. I installed the bowl to the floor then when I tried to install the tank to the bowl I realized they packed the wrong tank. I had to use the tank from the the other one - thankfully that was correct. Then when I was ready to install the seat I discovered the also packed the wrong seat - round instead of elongated. I was pretty upset, but luckily the other package had the correct seat so I was able to piece it together. Now that the installation is complete, I noticed water at the bottom of the ceramic (not on the floor). After inspecting, I found that the leak is coming from the junction of the tank and bowl. They probable packed the wrong seal! [This review was collected as part of a promotion.]
Date published: 2019-09-23
Rated

4

out of

5
by
George
from
Kohler Elliston Toilet
Tank lid has a manufacturing defect in the glazing. It is wrinkled in appearance and needs to be replaced. The fill valve is made by fluidmaster but used only by Kohler. It is not the standard valve but a very difficult design for homeowners and no longer used because it was too complicated to service or adjust the water level. Kohler will replace it for free, but if you paid an installer you will have to pay again to have it replaced. It has only been in place for a week but seems to function satisfactorily. Bowl wash could be better, but low gallonage units have this in common.
Date published: 2015-02-10
Rated

5

out of

5
by
Bill Brasky
from
Nice unit
The seat came with scratches and gouges so I have to address that but all said the toilet went together easily, feels like excellent quality for the price point and I have to say that it can handle ANYTHING I throw at it with ease. This toilet is the closest you will ever come to seeing poo launched out of a cannon. The chair height is great as I can sit and read or sneak a smoke in the bathroom for an extended period of time and the elongated bowl keeps my mushroom cap off the cold porcelain. Highly recommended.
Date published: 2017-02-24
Rated

5

out of

5
by
pink
from
kohler toilet
this is definitely one of those deals where you get more than you pay for. it has the nice height, with the elongated bowl. the seat seems to be wider than most other toilets and it has a quite flush. the bowl is deeper than the tradition toilets which my husband said was a must have. the best part for me was the style...great style. this toilet is an awesome buy. check it out if you are in the market for a new toilet, comfort for your tush and your wallet.
Date published: 2014-02-17
Rated

1

out of

5
by
dan44691
from
Poor quality control
Couldn't get this Elliston toilet to fit flat on the floor, it wanted to rock around. So I remove the toilet, put it in my garage and ran a straight edge across the bottom. As I suspected, the bottom of the toilet was deformed. I returned it back to Lowe's and purchased the KOHLER Highline, took it home installed it and it did fit flat on the floor. After the toilet was installed I noticed my well pump running off and on, we were not using any water. I had to make an adjustment to the chain that is linked to the water valve, after I did that everything was fine.
Date published: 2018-03-23
Rated

1

out of

5
by
Muhammad Ali
from
I bought did product because of the design. The design is very good and is flush system is very nice too but one of the biggest problem with this product is that there is no insulation inside the water tank and in summer there is water all around the tank, due to the humidity that is the biggest draw back of this product.
Date published: 2017-04-13
Rated

5

out of

5
by
havnfun
from
Great Value
We are very happy with this toilet all around. Great price, easy to install, works perfectly. The only drawback for us was the fact that the seat moves around a bit and is not a tight fit. I'm assuming that we will have to purchase another seat sooner than later, but overall, this was still a great purchase.
Date published: 2014-02-03
Rated

4

out of

5
by
betsy
from
Very good value
I purchased two of these toilets to replace the 1970 models in my house. I had a plumber do the install in case of any surprises with the old plumbing, which was a good plan because he did run into a few issues. The toilets fit fine into my 1960 bathrooms with one small issue. The lid on this toilet is curved on the back side and there's not quite enough clearance for it to sit flat on the tank. Huh. The lid is in no danger of sliding off, and it's just barely uneven, but it will not sit on the tank properly. My plumber said this is the first time he's installed this particular model and was surprised by this as well. The distance from the wall to the floor bolts was around 11.5", so maybe Kohler is serious when they say you need the 12" rough in. There's no way I would have been able to see this until the toilet was installed. Other than the minor issue with the lid, I'm very pleased with the toilets. They look great and fit well in the bathrooms. They also flush well, which is what' s most important, right?!
Date published: 2013-11-08
Rated

1

out of

5
by
Susan
from
2 lemons
We had a professional plumber install 2 of these toilets last winter. They looked great in store however neither of them have ever worked properly. They have a quick flush but the refill time runs anywhere from 3-8 minutes. WAY too long. Our plumber contacted Kohler and made adjustments they suggested. The fix worked for a day or two and then we were back to the same 8 minute refill. Very frustrating.
Date published: 2016-05-24
Rated

1

out of

5
by
George
from
What happened to QUALITY control Kholer?
First one had a spot on the bowl rim the size of a dime that was missing porcelain, (application, not a chip), took it back and exchanged it. Next one the bowl was fine so I installed it to the floor. When we took the tank out of the box we noticed that the tank lid had a spot the size of 3 fingers that look dark and would not clean and felt a low spot in the porcelain. My wife took the lid back and exchanged it from the one that we had just taken back, while I stayed home and installed the tank to the bowl. To mine and my wife surprise the lid did not fit the tank, the inner rear lip on the lid would sit on the back of the tank with the inner front lip pushed all the way to the front of the tank, off by a quarter of an inch. Went back to the store and opened 3 more before we found a tank and lid that would fit together. Should not have to run around like this to get things to work.
Date published: 2014-07-25
Rated

4

out of

5
by
Dayspring
from
Good Toilet
Great buy for the Brand and Value. It has a nice design and solid base, the tank bolts (2) mount to a bracket on the bottom of the tank and do not go through the tank like most models which reduces leak potential. The whole tank rests on the gasket and without a third bolt and no tank to bowl contact the tank wobbles a little. It installed easily and has a good flush, larger deposits and high paper use may require courtesy (multiple) flushes. The seat is a basic, but really like the square features in the design especially the base.
Date published: 2016-05-12
Rated

5

out of

5
by
IslandGirl
from
Kohler Elliston Toilet -- Great Buy!
I purchased 2 of these toilets in Feb 2017 to replace 2 toilets that were originals of 1980. The installer did not have any issues with installation -- They came with everything needed for the installation. I love the height, the look and they flush very quiet. I changed out the hardware with oil bronzed to coordinate with my bathroom hardware. Great toilets and I would definitely recommend them.
Date published: 2018-04-30
Rated

5

out of

5
by
QualityShopper
from
KOHLER Elliston White 1.28
Oustanding quality and stand out design--no other toilet has this shape or lines. I purchased this Kohler product to replace a "bargin store" toilet that my husband bought last summer. Although it used low volume water. It was too small for the space and used the old flapper method, which tends to stick in the "open" position causing the water to run incisively. My husband was amazed at my purchase and found installation very easy! He promised to never make "bargin store" purchases again!
Date published: 2014-01-28
Rated

1

out of

5
by
AverageJoe100
from
Defective Toilet
Maybe just me who was unlucky, I got a defective Kohler Elliston toilet and had plumber installed but it couldn't flush. I went all the trouble shooting and even re-installed the plumbing drain pipe again but in the end, we found that there was enamel look white ball stuck inside the toilet drain way. I talked to Kohler customer service and was told that "the toilet are cast with vitreous china and it is possible a piece of the casting didn't break away from the mold". Spent extra money for reinstalling the replacement toilet and doing the drain pipe and wasted a lot of time but Kohler Customer Service said the warranty only covers the product not the installation or other cost. This defective toilet should be rated 0
Date published: 2019-02-20
Rated

1

out of

5
by
Robert
from
DON'T BUY THIS TOILET
This toilet looks nice but if all you want to do is look at it then buy it. If you want a toilet that is actually functional then DON"T buy it. This is not a cheap toilet but the insides mechanism is a piece of junk. It is all cheap plastic and only fills up half way so that when you flush the toilet it barely goes down. The handle on it is loose and cannot be tightened and it has already had a piece break on the inside. WHAT A DISAPPOINTMENT for a Kohler product. You can take clean toilet tissue and put just a little in the toilet and it takes 2 - 4 flushes to remove it and it acts like it will not go down. All the other toilets in our house work perfectly and we have no problem with them. I would like to return it but i have thrown out the box it came in. I will never buy another Kohler product again if this is the type of garbage they are selling! WHAT A PIECE OF JUNK!
Date published: 2015-07-23
Rated

4

out of

5
by
Frank1110
from
great flush
This is the first replacement toilet since we built our house 22 years ago. The low volume flush is surpisingly strong and efficient, unlike some other low volume toilets
Date published: 2014-01-22
Rated

5

out of

5
by
chucky888
from
Elliston - Great Toliet
I have a Cinmaron, and 2 Highline in my house already. Never have a problem with clogging. This toilet is perfect for me, it was cheaper than Highline ($189), I paid $169 (5-20-15) for this. It has the Class V, 3" flush valve, it flushes everything. My old Gerber #This one replaced# clog so bad, my 4 yr old refuse to use it. Install was easy, the tank almost touch my wall, I have a 12" rough-in. The seat is not cheap, at least does not look or feel cheap. I like a lighter seat, so it doesn't slam so loud. The seat was very secure, and it does not slide around like some people said. My other Kohler toilet, the seat slides a little because the bolts that hold down the seat are smaller than the hole, and no rubber gasket to hold seat from moving. This new seat is much better. There is a small rubber hose connect to the top of the flush valve, if this come loose you must re-connect it. If you DON'T, your bowl's water level will be very low after flush. I also find it not difficult to adjust the water level in the tank, the instruction #on the box# shows how to do it.
Date published: 2015-05-21
Rated

5

out of

5
by
Van
from
Happy with product and service in helping select product. Not happy about 70 year old husband having to load into our vehicle without help.
Date published: 2017-05-11
Rated

4

out of

5
by
Pato-Grande
from
Quick Quiet 2-Stage Flush
Long term product is great. Cheap plastic seat for short time use. Lowes didn't stock any wooden seats to fit ennlongated bowl.
Date published: 2013-11-12
Rated

4

out of

5
by
Mary
from
High quality/Height off!
Bought this particular toilet for my Mom who has had to move in with us.... The Specs said that it was 18 3/4 inches from floor to top of seat... Not so, was disappointed with that... I agree with others about the cheap toilet seat, will be buying another one that will hopefully help with the height!!!!
Date published: 2014-11-10
Rated

2

out of

5
by
jmsample
from
Low water level in bowl
I bought this toilet to replace an older one that needed replaceing. I liked the higher seat and the design lines and style was great. The flush is strong and impressive but the water never fills the bowl after the flush. It barely fills the hole at the bottom of the bowl, makes for constant cleaning.
Date published: 2014-07-13
Rated

4

out of

5
by
Brett
from
great toilet
this is a good toilet for the older person being taller with an elongated bowl. good quality at a great price
Date published: 2014-01-29
Rated

2

out of

5
by
Frustrated
from
Not good quality
We just purchased this toilet for our hall bathroom reno and in the two weeks it's been installed we've had multiple issues: the flush valve sticks so the tank won't refill and our contractor has adjusted this multiple times. I've had to plunge the toilet several times which shouldn't happen with a new toilet. All the inside parts are plastic. Very disappointed with what I thought was Kohler quality. I still have the box so the toilet is going back.
Date published: 2016-06-29