Description
This Kohler Elliston toilet brings comfort, efficiency and style to your bathroom. Providing great efficiency at 4.85 litres (1.28 gallons) per flush, it features an elongated front for comfortable seating and added space. The toilet is made of white vitreous china for durability, shine and stain resistance. The two-piece design is easy to install, and the chair-height seating offers accessibility and comfort. It has a modern, clean style that complements any décor. 1-year limited warranty.

Ecological Attributes
This toilet is WaterSense® certified to save 20% in water.
Product specifications
Maximum Performance (MaP)
Front-mounted single-flush lever
Frequently bought together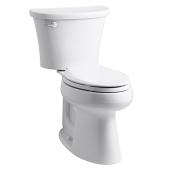 KOHLER
Cavata Elongated-Front 2-Piece Toilet - White
Format 2PC
Details
Article #31535034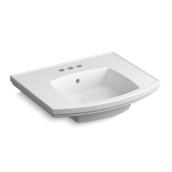 KOHLER
Elliston Pedestal Sink Basin - Porcelain - Rectangle - White
Details
Article #31535051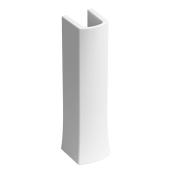 KOHLER
Elliston Pedestal Sink Base - Porcelain - White
Details
Article #31535050
I am looking for a chair/ comfort height toilet with an insulated tank.. What model should I be looking for?
I Purchased the KOHLER Elliston Elongated White Toilet with slow close seat and we love it. Easy to install and a great product.
Date published: 2020-08-30
How much water is held in the bowl between uses? The ones I have hold the tiniest amount in the bottom. Anyone have a picture? Thanks!!
I have the same concern, but on the flip side I think this is designed to save water. So may be it is normal for this model.
Date published: 2020-07-06
Is this toilet lined?
Yes 
Date published: 2019-07-26
Does this toilet have an insulated tank, thank you
Hi, this is Laura with Kohler Co. I am happy to assist you with your question. The Ellison toilets are not insulated. Thank you for choosing KOHLER.
Date published: 2019-07-23
What is the flush maintenance on this toilet? Is it 350g, 700g, or 1000g?
Hello, this is Sarah with Kohler Co. I'm glad to address your question. This toilet, model K-12767, is tested at 1000 grams as part of MaPs testing. Thank you for choosing KOHLER.
Date published: 2019-07-20
What is the warranty of this toilet in Canada? 
One year warranty....if you look in the questions a representative states the exact terms...
Date published: 2019-07-19
When looking at toilets how do I see the dimensions such as front to back, height foe example
Hello, my name is Sarah with Kohler Co. I'm glad to answer your question. You can see the dimensions for this product on our website here: https://bit.ly/2S8zYud. You will see a link to the "Specification Sheet" which can be viewed/downloaded. Thank you for choosing KOHLER.
Date published: 2019-07-19
What is the dimension from wall to end of toilet ( need 27 inch or less). What size rough in. I need a toilet with 10 inch roughbin, 1000g MaP flush capacity and small size as in a smal powder room
29 inch from wall to front of toilet base with a 12" rough in. You could have a 10" rough in but  there would be no room for a baseboard but it would give you 27" from wall to front of toilet base if that is what you must have. This toilet is not a particularly small base size. You could find smaller.
Date published: 2019-07-20
Elliston Elongated-Front 2-Piece Toilet - 4.85 L - White
is rated out of
5
by
393
.
Rated

5

out of

5
by
NiftyDon
from
Excellent toilet / Flawless install
This toilet was a great bargain to begin with, on sale at Lowes for $199 during a 'no tax' event as well. I was concerned initially because my rough in distance was only 11 1/4". However, there was still room as the tank is quite small, is rounded and so it fit perfectly and is just barely touching the back wall. Installation took about an hour and was simple, detailed instructions are on the box. No leaks. Just buy a 16" supply line and you're good to go. The toilet has a nice strong flush and I like the ADA height and elongated bowl. I don't have any issues with the seat. This is just a great toilet at a very competitive price.
Date published: 2016-09-04
Rated

3

out of

5
by
jamie
from
not happy
Although the toilet itself seems quality, we had problems. The seal that was included was defective, and only noticed it after plumber had left after install and he had to make return trip to diagnose problem and to purchase a new seal. Kohler refused to pay any of the plumber's return visit fee. Only offered to send replacement seal, which was useless and we couldn't wait a week to receive. Also, the seat and lid design is poor due to its quick release design. Will not stay in place. Kohler said that all their seats (expect for the wooden ones) are made this way. I recommend purchasing a different brand seat and avoiding the Kohler brand seats.
Date published: 2014-12-16
Rated

2

out of

5
by
cmcb
from
Less than 6 months and innards failed.
A toilet isn't like a toaster where it's easy to take back when it doesn't work as required. There is water, and wax, and heavy lifting and hauling. I am SO mad. I recorded how the float sticks and I have to "poke" it to get the water to stop. I showed the recording to a guy at lowes and he told me to call kohler to get a replacement part. Are they going to send me a plumber or a handy man to make the repair? Why doesn't the bloody thing just WORK? It's a toilet for God's sake, not a complex mechanical device. I guess the fact that it installed easily is a plus. I like the way the tank attaches with a bracket...But. It. Doesn't. Work.
Date published: 2016-12-29
Rated

1

out of

5
by
JScranton
from
Known manufacturing defect?
We bought this toilet because it received favorable reviews. We had it installed on Friday. It looks very nice and is comfortable. It seemed ok at first but then my husband noticed it leaking. Our contractor did some investigating and found that it was leaking from the tank and suspected a problem with the seal. When he took the tank back to Lowe's to replace it they were out of stock. While standing in line another plumber mentioned that there is a known issue with this toilet. So now I am paying someone to fix a brand new toilet. Something is not right with this! Disappointed with Kohler quality and Lowe's customer service...
Date published: 2016-03-28
Rated

5

out of

5
by
jrr1964
from
GREAT TOILET FOR THE MONEY, AND IT'S A KOHLER TOO!
Got this for Mom and Dad for Christmas because they are getting a little older. I sent dad to Lowes to get a new water hose that connects from the shutoff valve to the back of the new toilet, while he was gone i had the old one taken out and the new one installed, sitting down and watching TV, and he only lives 2 exits from Lowes. So it was an easy instillation. It came with everything, wax seal, nuts , bolts, and new nuts and bolts that go on the floor mount. All 4 of my bathrooms have Kohler in them and in my opinion they are as good as you can get unless you have 2 to 5 thousand to spend on a upscale toilet.
Date published: 2013-12-30
Rated

3

out of

5
by
Gary
from
Issue
Installed this toilet to replace an existing and was very suprised to see the toilet bowl would not hold water. No leaks anywhere. It turned out to be a defective toilet, I'm guessing a crack or pinhole in the trap. After I reinstalled the toilet 2 additional times with new wax rings, I bought a identical new toilet to install and it seems to be working as expected now. I contacted Kohler customer service who would only issue a replacement (which I already obtained), not much guidance or help with all the addional installations and time spend due to this defective toilet. New toilet seems to be fine, just did not have a great experience because of this.
Date published: 2019-05-25
Rated

5

out of

5
by
NA
from
Quaittry + Simple to Install
The tank on my old toilet leaked which required the bolts that held the components together to be tightened every now and then. Finally the tank cracked causing a mess. I went to Lowes and purchased KOHLER Elliston toilet. Every thing needed for the installation came with the unit, including the wax ring. Installation was a matter of minutes. The way that the tank attached to the toilet was designed in such a way that there was no holes in the tank for the bolts with rubber washers ... the root cause of the problem with my old toilet. It is impossible for the KOHLER to leak. The product is top quality at a very reasonable price. [This review was collected as part of a promotion.]
Date published: 2019-01-04
Rated

4

out of

5
by
Scott
from
It serves the purpose.
I needed to replace those old water wasters toilets. Lets face it.... all of these serve the same purpose. This one does seem to work well. I installed the toilet myself. Took about an hour and a half to remove the old and install the new. I do have two complaints though. The first, I thought the instructions poorly labeled exactly which bolts-nuts-washers were to be used where. I got this figured out without too much difficulty though. My big issue is the horrible plastic toilet seat. After 3 days of use, I have already had to tighten the seat 2 times. The seat / bolts will need to be replaced SOON.
Date published: 2013-12-29