Description
You will enjoy the modern design and convenient features of this KitchenAid(R) stainless steel wall-mounted hood! This hood is specifically designed to allow installation over any standard 30" or 36" KitchenAid(R) cooktop or range and some commercial-style cooktops with 65,000 BTU maximum output. Perimeter ventilation improves ventilation system efficiency by pulling air from the edges of the hood and accelerating airflow in the center. Automatic turn on setting helps protect your cabinets from damage by automatically turning the vent on when it senses the presence of heat, while the speed control system automatically adjusts the vent speed depending on the level of heat being produced. LED lighting effectively illuminates the work surface, while halogen lights provide soft, elegant lighting in the kitchen. This device features the Whisper Quiet operation, which emits only 49.5 dBA (1.5 sones) at a slow speed. Moreover, it converts from a traditional set-up to an in-line blower installation for an even more quiet operation (metal box purchase required).
Product specifications
Low speed: 49.5 dBA (1.5 sones), high speed: 65 dBA (5.4 sones)
5-year limited warranty on certain component parts only
Dishwasher-safe grease filters
Frequently bought together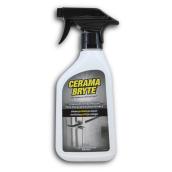 CERAMA BRYTE
Stainless Steel Cleaner
Format 474ML
Details
Article #8307003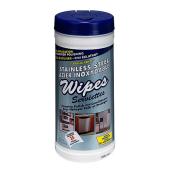 CERAMA BRYTE
Stainless Steel Cleaning Wipes
Format 35/PK
Details
Article #8307005
are there removable filters for cleaning of trapped grease?
KitchenAid(R) Wall-Mounted Range Hood - 36" - 600 CFM - SS
is rated out of
5
by
90
.
Rated

4

out of

5
by
SoTrusty
from
Very Powerful
I cook a lot & definitely needed a powerful vent hood. This one does the trick. It's a little loud on the highest setting but the noise level is not a big deal while I'm cooking. I like the auto feature. After I cook I can leave the fan on medium or low until things cool down & then it turns off automatically. The only issue I am having is greasy build up that collects around the edges of the filters & opening of the hood & having it drip. I clean it about once a month & run the filters through the dishwasher. I wish there was a collection tray for the grease drips. [This review was collected as part of a promotion.]
Date published: 2019-07-17
Rated

1

out of

5
by
GolfgirlBC
from
steamy grease running out down all
I bought all Kitchen Aid appliances for my new home and they were installed 5 months ago. I'm having the same issue as MHK78 from Calgary in that the steam and grease is somehow running to the back of the unit and down the wall where the hood fan is attached and ruining my tile grout after only 5 months... All the connections and venting is fine as I had the builder look at everything. It looks like a design flaw. There are only myself and my husband who live in this new house and this has never happened with any other range hood in any other house we built. I will update when the tech comes today..
Date published: 2020-10-08
Rated

5

out of

5
by
matma
from
Beautiful! Straight Edges - Just what we wanted!
Was super excited to add this to our KitchenAid package. The vent piece that came with it was a little short, but had some stainless fabricated locally and was able to utilize the piece it came with as a wrap-around to cover the seam and keep the "branding" on the vent. The lighting is much better than I've had on past vents and the vent settings work wonderfully! The style of it goes perfectly in our modern-style kitchen! [This review was collected as part of a promotion.]
Date published: 2019-02-15
Rated

1

out of

5
by
JinPA
from
Will not last
Installed as part of a remodel to all KitchenAid. Every so often, when the light was turned on, the fan came on also. Annoying, but not a constant problem until today. It's been in for 2 years so of course the warranty has expired. Today I walked into the kitchen to hear a buzzing sound. Any attempt to turn on any controls resulted in the buzzing getting louder and non of the controls worked properly. So after disconnecting power, I troubleshoot. I find a relay is shorting on the circuit panel. I look online for a replacement and oh it is $300. Thanks for making such a nice wall ornament! It will get fixed or replaced, and I will think thrice before I buy another . For the price it should not be so cheaply made.
Date published: 2019-01-25
Rated

5

out of

5
by
Kitchen Police
from
Get a professional
My wife and I remodelled our kitchen in April 2017 and wanted the best appliances possible. I did my homework and read a number of reviews and decided that a KitchenAid range hood was the way to go. We currently have a 30 inch stove and was advised by the sales clerk to purchase a 36 inch range hood that will look aesthetically pleasing and ensure that no fumes escape. We did not regret that decision. Also, the supplier recommended a professional installer, who does all their installations. The range hood was installed but the installer realised that the chimney was too short for our 10 Foot ceiling. He promised to come back to us with a solution, but never did. So we used it without the chimney extension but to our disappointment the noise level was extremely high, even on low speed. We did not know better and thought this was normal, even though the reviews described it as Whisper Quiet. My wife refused to use it, because it was so noisy and did not remove any fumes. I called an electrician to check the polarity just in case the motor was hooked up in the reverse. This was not the case, so we continued to bear and cope with the noise, until yesterday 13th August 2017. AHHH ! We asked a friend to help install the chimney extension and to his horror, he discovered the air duct damper was installed upside down totally blocking the exhaust air flow, the ducting joints were also not sealed thus allowing fumes to escape. We were shocked to know that a professional did this. It took us all day to rectify all these issues and to install the chimney extension. The final note is that we are pleased with our purchase. Even on boost, the noise level is minimal and on low it is absolutely Whisper Quiet. The vents are sealed and we are very happy. I advise that if something sounds or feel wrong, get a second professional opinion. See our modified range hood below. We used the same chimney extension that was supplied with the Range Hood making allowances for
Date published: 2017-08-13
Rated

5

out of

5
by
Dicky
from
Powerful, works well paired with KGCU467VSS 36-In 6 burner
We have this paired with KGCU467VSS 36 inch 6 burner commercial style cook top. So far the 3 speed settings have proven more than adequate to over the gas range (vented to outside). Powerful motor does a good job clearing the air. Also looks good paired with the range. We were warned the vent to outside may be noisy, but it is not. If it is windy enough, you hear the wind everywhere else too. Surprised by how quiet this is when running at 100%. Don't get me wrong, you can here that it is on, but not as loud as expected for what it does.
Date published: 2017-03-02
Rated

5

out of

5
by
Tatterbug
from
Perfect
This vent hood was installed in our new construction home and we have been using for approx. 1 month. We love Kitchenaid appliances and chose this unit because of the name and the look. We wanted something that would look substantial on the wall above the stove. It gives great light (LED) for cooking by and the venting power is wonderful. We have no issue with being able to vent odors/steam. The chimney hood is substantial where as on some units it is just a narrow pipe. We love the look, functions/features and would highly recommend.
Date published: 2015-12-06
Rated

1

out of

5
by
Kishan
from
Does not work
We just had it installed in our new home, the fan makes loud noise, but doesn't take out cooking smell, whole house smells like cooking. HVAC folks checked the vent for any obstructions or baffles, nothing found. installer says there is no baffles within the vent, vent goes straight up to the roof vent, still trying to find a solutions from KitchenAid folks
Date published: 2016-12-13