Description
This French-door refrigerator from KitchenAid is as beautiful as it is useful. Black in colour, it features 20 cu. ft. of space and its counter-depth design gives it a built-in look. This appliance uses the ExtendFresh temperature management system and has a produce preserver which absorbs ethylene gas emitted by fruits and vegetables to slow down ripening. The refrigerator has LED lighting and a FreshChill full-width drawer with manual temperature control. It has a water dispenser and an ice maker, and features the Max Cool setting that adjusts temperature when doors are frequently opened or when room temperatures are higher.

Ecological Attributes
This refrigerator is ENERGY STAR® certified to save up to 10% in energy.
Product specifications
Number of Refrigerator Shelves
Water filter, produce preserver
4 spill-proof half-width glass shelves, 1 full-width glass shelf
5 door bins, 1 dairy product compartment, 5 shelves, 2 humidity-controlled crispers, 1 FreshChill™ drawer, 1 wine rack
Reversible Door Swing (Y/N)
Electronic Touch/Rotary Knobs
Frequently bought together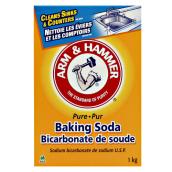 ARM & HAMMER
Baking Soda
Format 1KG
Details
Article #53975001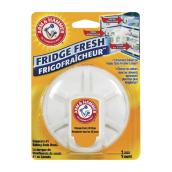 ARM & HAMMER
"Fridge Fresh" Refrigerator Air Filter
Details
Article #53975000
Refrigerator with ExtendFresh, 36", 20 cu. ft. - Black SS
is rated out of
5
by
2447
.
Rated

1

out of

5
by
Karen
from
Failed after 3 weeks - and no repair service avail 1 week!!
Thought i did my research and ordered this - took 10 days to get it. Replaced my 20 year old refrigerator and oven with Kitchen Aid appliances. On Thanksgiving - 3 weeks after purchasing - it was found warm/thawed and control would not work. Food spoiled for 10 people for dinner. Called customer service to please come and check/fix and they cannot come for one week! Unbelievable for a new refrigerator and even worse that it won't even get checked for another week. Unfortunately my 20 year old working refrig was hauled off when I purchased this one. Will not buy or recommend kitchenaid to anyone again. (This review was collected as part of a promotion.)
Date published: 2015-11-29
Rated

1

out of

5
by
Bob
from
The Refrigerator for You
This is possibly the worst refrigerator ever made. The ice cube maker seldom works. It stops working for weeks at a time. It won't maintain ice cream. The freezer light freezes in the off position. It is difficult to open if you can open it at all. It is difficult even to make your own ice cubes. It leaves black grease like particles on the floor of the freezer from the metal runners. The repairman who tried to repair more than 5 times says that Kitchenaid is aware of the ice cube problem and "detuned" the icemaker so it would take longer to make ice. The freezer door has been replaced one time as well as the light and icemaker.
Date published: 2016-08-26
Rated

1

out of

5
by
Unhappy Customer
from
Buyer Beware
I bought this model 4 months ago. I loved the design and overall dimensions. However, it has never properly worked since it was delivered to my house. The freezer constantly freezes over. The light gets frozen in the freezer and will not come on when the door is opened. I have had four different service visits. The problem is still not fixed. Buyers beware. Do not purchase this product. KitchenAid simply wants to continue to "service" this lemon refrigerator instead of replacing it. Very unhappy with not only this product, but also KitchenAid customer service period... (This review was collected as part of a promotion.)
Date published: 2015-11-17
Rated

1

out of

5
by
Tra63
from
Noisy!!!!!
I purchased this refrigerator one year ago. The first one was dented, so had to wait two weeks for a replacement. Then, the refrigerator stopped cooling and the freezer became completely frosted. Since that repair, I have had a service person out an additional two times due to the compressor noise. It seems to be constantly running and running loudly! I have been told that this is just the way dual compressor refrigerators operate. I have had lesser expensive and more expensive refrigerators, including built-in refrigerators and have never had this issue. I am very unhappy and dissatisfied and will never buy Kitchenaid again. So
Date published: 2016-10-15
Rated

1

out of

5
by
Anita
from
Beware
Icemaker makes 8 pieces of ice about every hour and a half. Took 2 days to get the ice bin half full. Never improved. Also, what's with crisper bins having fancy sliding humidifier settings when the bins themselves hang open a half inch at the top, even when pushed in as far as possible? Yes, the frig is very pretty and the interior water feature worked well but neither makes up for the fact that the appliance doesn't work properly. The seller sent technicians to inspect/fix it but they agreed it was a lemon so it returned. Shame on you Kitchen Aid. I then opted for a Kenmore Elite. (This review was collected as part of a promotion.)
Date published: 2017-08-06
Rated

5

out of

5
by
Happy in Atlanta
from
Kitchen Refresh with KitchenAid and JennAir
My wife and I, after a lot research decided to refresh our kitchen with JennAir ranges/exhaust and a KitchenAid refrigerator. We couldn't be happier. Btw: We purchased this after 5 short years of a competing brand's early failure. One feature trhat I love is the water dispenser on the inside. Great idea since every refrigerator fails at the water line to the external water dispenser. One last bit of info, research your refrigeration purchase and stay clear of horizontal compressors. They fail fast and you might as well ditch the 'frig. There are two very well known brands that use this configuration. [This review was collected as part of a promotion.]
Date published: 2018-06-25
Rated

5

out of

5
by
LizbethC
from
lots of space - one huge question
We bought this in record time as our previous "fridge" just konked out. The ratings were high and the counter-depth was important. We are very pleased with the abundant storage. One huge problem we cannot resolve. Since it has electronic temperature, when we had a surge, the temperature went wonky and the freezer section frosted up. The first time it happened we each blamed one another for accidently leaving the freezer ajar. The second time it happened, within a couple of weeks, we knew there was a problem. But, guess what, there is no solution. You can't put a surge protector behind it. [This review was collected as part of a promotion.]
Date published: 2020-09-29
Rated

5

out of

5
by
Kaitlin
from
Excellent fridge - no issues!
We bought this fridge during our kitchen remodel and could not be happier. We purchased in white with the silver handles and it looks upscale and gorgeous! Both the fridge and freezer hold tempurature well, and have plenty of space for us. Ice maker is a little noisy when refilling with water, but doesn't bother us and only lasts about 5 seconds every now and then. This is an excellent size fridge for galley kitchens (like ours) as it does not stick out far. The water dispenser works great, and we actually prefer having it inside the fridge. Highly recommended! [This review was collected as part of a promotion.]
Date published: 2019-12-04