Description
You'll enjoy the high capacity as well as the professional, modern look of this KitchenAid(R) built-in refrigerator! Its interior features 6 door bins, a temperature-controlled drawer, LED lighting and a refined satin finish. It has a Preserva(R) food care system with independent cooling so temperatures stay optimized. Produce preservers extend the freshness of fruits and vegetables, while the FreshFlow(TM) air filter minimizes odours. In addition, drawers are equipped with ball-bearing slides allowing effortless in-and-out movement, even when they are fully loaded. Glass shelves feature nano-etched edges and a finely textured surface that helps contain spilled liquids, maximizing space and making cleaning a lot easier. This appliance comes with the FIT limited guarantee, ensuring that the built-in refrigerator will fit perfectly with your existing cabinet cutout of a standard comparable built-in refrigerator model. Otherwise, KitchenAid will provide up to $300 for a cabinet adjustment.

Ecological Attributes
This refrigerator is ENERGY STAR® certified to save up to 10% in energy.
Product specifications
2 half-width drawers, full-width temperature-controlled drawer, 4 adjustable half-width shelves, 6 adjustable door bins
Reversible Door Swing (Y/N)
Number of Refrigerator Shelves
Water filter, FreshFlow(TM) air filter
Spill-proof glass shelves
Frequently bought together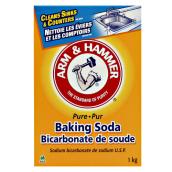 ARM & HAMMER
Baking Soda
Format 1KG
Details
Article #53975001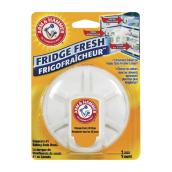 ARM & HAMMER
"Fridge Fresh" Refrigerator Air Filter
Details
Article #53975000
French-Door Refrigerator - 42" - 24.2 cu. ft. - Black SS
is rated out of
5
by
55
.
Rated

1

out of

5
by
Frustrated with KA
from
This product is a lemon, DO NOT BUY
I purchased this fridge and the frame cracked and was deemed irreparable so KA replaced it. The replacement broke 5 months later due to a completely different reason from the 1st one. The recommendation was to have it replaced but KA refused. I emailed teh CEO twice and he never responded. I was asked to contact customer service and I did but they never got back to me. I finally had it fixed because KA gave me no other choice and the fix has lasted 2 weeks before the same issue occurred again. Now I am back to a broken fridge. I don'r understand how KA won't at least respond back to me and stand behind it's product. [This review was collected as part of a promotion.]
Date published: 2016-11-24
Rated

5

out of

5
by
DeborahC
from
Great Layout & Attractive
Recently moved into a brand new house and we choose KitchenAid for all applicances. After using a smaller refrigerator with the freezer on top (which required bending down to see what was on the top refrigerator shelf), this KitchenAid Black Stainless refrigerator is a real pleasure to use. It not only looks good, but it has tons of space on shelves, in drawers and on the doors in the refrigerator area. We like the freezer on the bottom much better than on top or side-by-side. It's not the cheapest refrigerator out there, but the features and appearance make it totally worth it. [This review was collected as part of a promotion.]
Date published: 2017-12-22
Rated

4

out of

5
by
Chicki
from
Refrigerator
I love the design, inside and outside. It is simple and elegant. The LED lights inside make it look amazing when you open the doors. We bought the black stainless steel and absolutely love the color. The ice maker is not in the door, which I thought would be a real inconvenience, but I find that I really like it better in the freezer because it gives me so much more room on the inside. It would be nice to have had a water dispenser built in on the inside, and the price is too high, but other than that it is perfect. I am sure I will be happy with this product for many years. [This review was collected as part of a promotion.]
Date published: 2016-02-20
Rated

4

out of

5
by
Pawsitiv1
from
Loving it!
I bought this about 2 months ago and had to wait for it to be delivered - about a month ago. I've been using it and loving it - although my renos are still ongoing so I haven't seen it installed with the cabinetry yet. Good visibility of all shelves. I wish the interior lights would come on as soon as you open a door (not wait till they hit a certain 'angle' of being open. The covered interior (butter?) container at the top of the door sometimes gets caught when opening the door and opens allowing stuff to fall out. Looks great inside and out and is keeping things nice and cold. [This review was collected as part of a promotion.]
Date published: 2016-10-20
Rated

5

out of

5
by
Demanding Consumer
from
Great Looking. Over the top if a few improvements were made
So far,I am mostly delighted with my purchase. It's a terrific looking refrigerator which performs well. (Even the ice cubes are good looking.) The black doors are really splendid - a major design innovation. I have just three suggestions. The drawers in the refrigerator portion need drawer pulls or recessed spaces to make them easy to grip. There is no obvious way to pull them out. The butter containers do not open easily. A little tab on the bottom of the lid would do the job. It would also be nice to be able to open one door (not both) to get at the drawers. These are small matters. 5 stars for me. [This review was collected as part of a promotion.]
Date published: 2016-09-06
Rated

4

out of

5
by
DeeJaySea
from
Great-looking 'fridge - just wish the shelves were deeper
We replaced an old KitchenAid 42" side-by-side model that was 22 years old with this new beauty in October 2016. The old one had wooden panels that matched our cabinets, so this new black one stands out a lot - but that's okay because it is quite handsome. The old one seemed to hold more because the interior shelves were definitely deeper. If I designed this, I'd consider omitting shelves on one door, then the interior shelves and drawer could be deeper. I'd also add an exterior water dispenser (which takes up room inside, I know. But still.) This new one is much quieter - that's for sure - and that's a good thing. All in all, we're pleased this this guy. [This review was collected as part of a promotion.]
Date published: 2017-01-16
Rated

3

out of

5
by
Shewrites
from
Some Nice Features...
I replaced my Kitchen Aid side by side, with the French door model. The s-b-s was in our home when we purchased it, and...I don't care for them. Frankly, there still isn't much to choose from in large built-ins. I saw so many free standing models that I preferred, but our existing space requires a built-in. I wanted the middle drawers and a deeper freezer....water dispenser inside the unit and a larger capacity ice maker. The interior of our purchased model is luxurious! The lighting, shelving and door compartments are convenient and roomy.. It's quiet and easy to clean. Kitchen Aid products are the best available! [This review was collected as part of a promotion.]
Date published: 2016-02-05
Rated

5

out of

5
by
Antique1
from
Looks large and impressive
Our former Kitchen Aid refrigerator died after 17 years of use. We needed a built in with the exact dimensions of our old unit so it would fit in the specific cabinet space. This one made it with 1/8 inch to spare. Our old unit had wood panels and this one is Black stainless steel. The unit is very impressive in Black stainless and has given our kitchen an updated look. The inside is a grey metal look and we would have preferred it to be white like all other refrigerators but I guess it just takes getting use to it. Overall it met our specific needs and we really like the Black stainless steel and will eventually replace our other appliances with the Black stainless steel. [This review was collected as part of a promotion.]
Date published: 2016-12-18