Description
You'll enjoy the high capacity as well as the professional, modern look of this KitchenAid(R) built-in refrigerator with black stainless steel finish! Its interior features 6 door bins, a temperature-controlled drawer, LED lighting and a refined satin finish. It has a Preserva(R) food care system with independent cooling so temperatures stay optimized at all times. Produce preservers extend the freshness of fruits and vegetables, while the FreshFlow(TM) air filter minimizes odours. In addition, drawers are equipped with ball-bearing slides allowing effortless in-and-out movement, even when they are fully loaded. Glass shelves feature nano-etched edges and a finely textured surface that helps contain spilled liquids, maximizing space and making cleaning a lot easier. This appliance comes with the FIT limited guarantee, ensuring that the built-in refrigerator will fit perfectly with your existing cabinet cutout of a standard comparable built-in refrigerator model. Otherwise, KitchenAid will allocate up to $300 for a cabinet adjustment.
Product specifications
3-6th year limited warranty on cavity liner and sealed refrigeration system (parts and labour), 7th-12th year limited warranty on sealed refrigeration system (parts only- labour not included)
Reversible Door Swing (Y/N)
Number of Refrigerator Shelves
Water filter, FreshFlow(TM) air filter
6 adjustable door bins, 2 humidity-controlled crispers, full-width drawer, 4 adjustable half-width shelves
Spill-proof glass shelves
Frequently bought together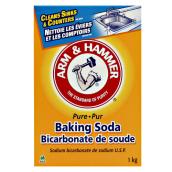 ARM & HAMMER
Baking Soda
Format 1KG
Details
Article #53975001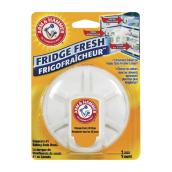 ARM & HAMMER
"Fridge Fresh" Refrigerator Air Filter
Details
Article #53975000
French-Door Refrigerator - 36" - 20.8 cu. ft. - Black SS
is rated out of
5
by
42
.
Rated

5

out of

5
by
SnazzyGram
from
Love this Baby!
We bought this KitchenAid refrigerator to replace our 30 year old SubZero. I could not be happier with this purchase. I have read some of the reviews that have one or two stars and I just had to stand up for this great machine. This fridge is beautiful inside, and although I had to get used to the new design, I find this unit just as ample as my old one. The temp is steady and exactly spot on. The freezer keeps my frozen items perfect. I just love the black stainless color and with four grandchildren you cannot beg it to show a fingerprint, and after the 30 year old SubZero the silence is golden. If you are looking for a built in, you should try this one a try.
Date published: 2018-10-27
Rated

1

out of

5
by
Ozzy32
from
Very Disillusioned
We aren't happy with our KitchenAid panel ready refrigerator. We bought this to replace our 24 year old SubZero. The shelf layout is bad. You have to open both doors to pull out the bottom drawer. That drawer should be split like the two above it. There isn't nearly the shelf space that we had with our SubZero. We had to purchase the Kitchenaid handles separately. They are hideous looking. We returned them to get something more aesthetically pleasing. It is very quiet and the ice maker works well. [This review was collected as part of a promotion.]
Date published: 2019-10-17
Rated

2

out of

5
by
ExperiencedKitchenaider
from
Not what I expected in a Kitchenaid Appliance
I love Kitchenaid appliance - small appliance and major appliances. I just purchased a Kitchenaid induction cooktop (5 stars) for the same kitchen. In the recent past, I've purchased a duel fuel double oven range (a high quality machine) and a refrigerator/freezer for an apartment (which I like a lot, and it also has French doors). Now I have this very expensive, very large French door panel-ready refrigerator. This refrigerator is a HUGE disappointment. There were no photos of the interior available when we purchased it, so we had to rely on a floor model that was supposed to be very similar - it wasn't. The available storage space is much less than anticipated (see photos). The produce compartments are miniscule. To open one of the produce doors you need to have both exterior doors open otherwise the drawer hits to door. The interior of the refrigerator is very shallow. Even the storage space on the insides of the doors is more limited than much smaller French door models we've had in other houses: I can't even fit the butter container in the door because the holder is too narrow at the top and the container lid catches on it. I am also not a fan of the platinum interior - too dark. Were it to do all over again, I would select another refrigerator. I purchased this appliance because I have never been disappointed by Kitchenaid. The record is now broken. [This review was collected as part of a promotion.]
Date published: 2019-08-26
Rated

3

out of

5
by
Leenie18
from
Replacement for older Kitchen Aid
Our previous side-by-side Kitchen Aid died after 17 years so we replaced with another Kitchen Aid. After 6 weeks, still trying to adjust to French Door design. Less room, particularly for fresh vegetables and fruit, is an issue so far. Veggie drawer only holds one pack of salad with small bag of carrots. Just making more trips to the store. [This review was collected as part of a promotion.]
Date published: 2018-10-24
Rated

3

out of

5
by
Stingrayone
from
French door refrigerator
Bought this as a replacement for an older failing Sub Zero. Unit works very nice but the shelves in the doors are very small. A lot of space is lost due to the width of the molded shelf mounts in the door and the mating ends on the individual shelves. The french door design also loses some storage space compared to a single refrigerator door. [This review was collected as part of a promotion.]
Date published: 2018-08-22
Rated

3

out of

5
by
bldrann
from
How do you spend so much $ & no egg or butter tray
I just had my Kitchen Aid black stainless built in refrigerator excitedly delivered. It does look beautiful. But for the price, Kitchen aid should include a butter tray, egg tray and freezer racks.The paperwork should include what trays come with the refrigerator, no where in the paperwork or website does it list parts included. The pictures make it seem like all the trays included. See picture.
Date published: 2017-10-18
Rated

4

out of

5
by
Doug K/A
from
Great Product, I would change a few things though.
I have been waiting to replace my old bottom mount single door K/A built-in for several years as I was waiting for the 36" wide french door model to arrive. So far it has been a good product, runs very quiet with no issues. Here are a few things I would recommend for changes or improvements: 1) The left side door when allowed to close on its own slams way too hard. I realize it needs a little boost to actuate the sealing plate between the doors, but this is a lot. The items in the door shelves bounce around and sound like they are going to break sometimes due the door closing speed. Some type of slow close dampener would be nice. 2) The freezer door takes what I think is an excessive amount of opening force to overcome the seals, once it has unsealed itself the door opens the rest of the way very easily. I could see where this would be a bigger issue with the elderly or handicapped. There should be an optional foot pedal operated lever that can give some initial assist when opening the freezer. 3) There is no way to shut off the icemaker, the operating manual says to lift a lever which does not exist in this model. 4) The control panel display only shows the SET values of the refrigerator and freezer compartments. My old unit showed the ACTUALl temperatures as well as the setpoints. I had to purchase a pair of thermometers for the two compartments to have the peace of mind of knowing that they are always at the proper temperature. 5) This is just a personal preference, but I would prefer a white interior instead of the gray. 6) There is no butter tray. [This review was collected as part of a promotion.]
Date published: 2019-07-11
Rated

3

out of

5
by
MrSlippers
from
Fits the Hole in my wall
I replaced an older Sub-Zero fridge, and this unit fit in my cabinet hole perfectly. For the price, this is a great built in fridge. It holds a temperature, and the limited inside space is organized reasonably. However, for the price I would wish that it would include other small features like a door alarm. [This review was collected as part of a promotion.]
Date published: 2019-10-18