KitchenAid Downdraft Cooktop - 4 Elements - 30-in
Article #30005947
Model #KCED600GBL
Format 30"
This item is not currently available for immediate purchase, but can be ordered by visiting the selected store.
Description
This KitchenAid cooktop integrates the ventilation system into the cooking surface so that a separate hood is not needed. Smoke and odours can be removed and taken outside or filtered. This appliance features a 10 inch Even-Heat Ultra element with a simmer setting, providing versatility for high- and low-temperature cooking. Two other 6-inch elements combine the benefits of Even-Heat technology with a dedicated setting that reaches the low temperatures needed to melt chocolate or butter without scorching them. These elements generate up to 1200 watts. The 9-inch/6-inch double-ring round element is a 2-in-1 solution for even heat distribution with cookware of any size. The 300 CFM rated exhaust complies with venting requirements for high temperature cooking techniques like pan searing and stir-frying. It has a 3-speed fan control that you can adjust to your cooking needs. For your safety, this appliance is also equipped with a hot surface light that provides a visual indication if a cooking surface is on or still hot. The control lock also helps prevent unintended use and facilitates cleaning the control panel. This cooktop is backed by a 1-year limited warranty on parts and labour.
Product specifications
Dishwasher-safe metal control knobs
Second through fifth year limited warranty on certain components parts only, labour not included
Hot Surface Indicator Light (Y/N)
Number of Burners/Elements
Left front: 10" - 3200 W Even-Heat(TM) Ultra element, left rear: 6" - 1300 W Even-Heat(TM) element, right rear: 9"/6" - 3000/1400 W dual-ring element, right front: 6" - 1200 W
Actual height: 3.65-in (9.22 cm)
Actual width: 30.87'' (78.42 cm)
Actual depth: 22.06'' (56.04 cm)
Useful information
DELIVERY AND INSTALLATION
Our experts are dedicated to ensuring your new appliance is delivered with the utmost care.
Learn More
PROTECTION PLAN
Enjoy exclusive privileges.
Learn More
RETURNS AND REFUNDS
We stand behind every product we sell.
Learn More
Credit available
Frequently bought together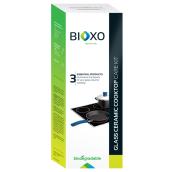 BIOXO
Bioxo Ceramic Cooktop Care Kit - Biodegradable - 500-ml
Format 500ML
Details
Article #30135135
KitchenAid Downdraft Cooktop - 4 Elements - 30-in
is rated out of
5
by
302
.
Rated

3

out of

5
by
TR
from
Scratches horribly!
[This review was collected as part of a promotion.] I've had 2 other glass cooktop units over the years, and this is the worst! The unit scuffed and scratched on the first use under very normal cooking conditions. I have NEVER had issue with scratching before, so I didn't hesitate to purchase another one. However, I am now looking to return this unit to purchase gas as this cooktop is too expensive to show wear after only initial use.
Date published: 2018-11-13
Rated

1

out of

5
by
Kathy
from
dissappointed... scratches way too easy
Just returned this cooktop after using it only three weeks. already have at least 10 scrataches in the glass that does not buff out; they are definately scrathes from normal use. Specifically, once you put a pot on the glass top, if that pot moves at all, it will likely make a permanent scratch. It was replacing a 27 year-old Jenn-Air cooktop that had 0 scratches... even after me cooking with these same pots for 7 years.
Date published: 2017-11-25
Rated

1

out of

5
by
Kaylee
from
I'm baffled
We just did a kitchen remodel and have purchased all new Kitchen Aid appliances. All is well besides this cook top. I have used it for a week now and there appears to be what looks to be BUBBLES under the glass. I boiled something else tonight and more bubbles! I'm scared to know what this thing will look like in a year. I have quality pots and pans and have looked up care instructions and I feel like I've done my part to keep this cook top looking nice so I am really disappointed.
Date published: 2020-05-19
Rated

1

out of

5
by
MJMQ
from
Not living up to expectations
I was excited to replace my coil electric stove top with this sleek design. Three years later, I am not so happy--I have tried all the products and still I cannot keep the surface clean. I can have a frying pan on low with a olive oil and food will burn without actually cooking. Today peppers were brown, almost black but not soft and cooked. I was watching and stirring them the whole time. The heat seems uneven. The paint has chipped in a number of places on the vent and needs replacing. I used to love to cook, but this cook top has made cooking less enjoyable.
Date published: 2019-07-26
Rated

5

out of

5
by
Tracie
from
Absolutely love my new stovetop
[This review was collected as part of a promotion.] Purchased to replace our old stovetop that was from 1987. Hated cleaning the burners, uneven cooking, drip pan etc. My new KitchenAid 30-in Smooth Surface (Radiant) Black Electric Cooktop with Downdraft Exhaust is a true blessing and cooking is now enjoyable. No more uneven cooking, sleek looking, easy to clean and the built in downdraft fan keeps all steam, odors etc from permeating my cupboards and home. Easy to DYI install. 5 stars all the way.
Date published: 2019-11-21
Rated

4

out of

5
by
KBob & Co.
from
Good sound level.
[This review was collected as part of a promotion.] Brought this two weeks ago. My wife is still getting use to it (old unit was a 30 yr old Jennair) and dislikes how dirty it can get. But works good and I like how it cycles on and off to keep a constant temperature. On install, very good instructions right up to step 4, which leaves you hanging. Tried calling help line, but was only told they could schedule an appointment for someone to come out. Not what I needed. So D- score on customer support. I didn't see them, but my wife noticed several scratches, so B on QC. Overall, good, not great purchase. Will see what time tells.
Date published: 2020-12-05
Rated

1

out of

5
by
joseb
from
bad warranty
Knobs bases took off and cooktop ceramic glass is burned by inside, no voice or writing diagnosis at all, just the service company is going to change the knobs. I bought this product based on the quality that they say have, changing my old Jenn-Air for the Kitchen Aid, but I see it was a mistake. Looks like a poor quality cooktop I wish I could change it for other brand
Date published: 2018-08-21
Rated

5

out of

5
by
Footsie
from
Cooktop knob control, design
I was having problem determining which knob controls which "cooktop eyes". I found the small graphic on the cooktop too hard to read and figure out. So I put a black adhesive symbol on top of each SS knob and placed the same symbol, either below the "eye" or above the "eye", depending on the "eye" location, on the cooktop's corresponding "eye". (Note: I placed the symbol on the SS trim, not on the heated part of the cooktop.) I have included photos to show what I did. This enabled my wife and me to know immediately which control goes with which "eye". I thought your design staff could incorporate this idea in your next model.
Date published: 2020-04-02