Description
This KitchenAid® cooktop integrates the ventilation system into the cooking surface so that a separate hood is not needed. Smoke and odours can be removed and taken outside or filtered and recirculated inside. The 10" Even-Heat Ultra(TM) element with simmer setting provides more versatility for high and low temperature cooking techniques. The 6" elements combine the benefits of Even-Heat technology(TM) with a dedicated setting that reaches the low temperatures needed to melt chocolate or butter without scorching. They can reach up to 1300 watts. The 12/9" double-ring round element is a 2-in-1 solution providing the ability to use it for large stock pots or sauté pans. The 8" round element efficiently heats a commonly used pan size and can reach a power output of up to 1800 watts for everyday use. The 300 CFM exhaust rating handles the venting requirements of high temperature cooking techniques like pan searing and stir-frying. The 3-speed fan control matches to cooking needs, effectively removing steam, grease, and odours from the air. For your safety, the hot surface indicator provides a visual indication if a cooking surface is on or still hot. The control lock also helps prevent unintended use and makes it easier to clean the control panel. The cooktop is backed by a 1-year limited warranty on parts and labour.
Product specifications
Second through fifth year limited warranty on certain components parts only, labour not included
Dishwasher-safe metal control knobs
Hot Surface Indicator Light (Y/N)
Number of Burners/Elements
Left front: 6" - 1300 W Even-Heat(TM) element, left rear: 8" - 1800 W, center front: 10" - 3200 W Even-Heat(TM) Ultra, center rear: 6" - 1200 W, right: 9"/12" - 3000 W dual-ring element
Actual height: 3.65'' (9.22 cm)
Actual width: 36.31'' (92.23 cm)
Actual depth: 22.06'' (56.04 cm)
Frequently bought together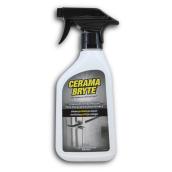 CERAMA BRYTE
Stainless Steel Cleaner
Format 474ML
Details
Article #8307003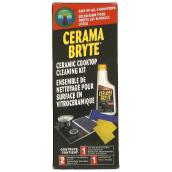 CERAMA BRYTE
Ceramic Cooktop Cleaning Kit
Details
Article #83075006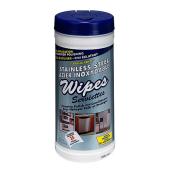 CERAMA BRYTE
Stainless Steel Cleaning Wipes
Format 35/PK
Details
Article #8307005
5-Element Downdraft Cooktop - 36" - Black
is rated out of
5
by
87
.
Rated

5

out of

5
by
CG227
from
Happy!
I bought this cooktop to replace an Amana wire coil downdraft cooktop. It looked gorgeous when first installed...but gets dirty quickly. At first, I thought i'd Made a huge mistake. As it turns out, I just needed to adjust my cleaning protocol. I use a Norwex microfiber Envirocloth, wet with hot water, to wipe it down, and then the Norwex glass cloth to polish it up. It is very quick and gets it to an acceptable every day level of clean. I use the cooktop cleaner and razor blade if it is messier than normal, and it has been very successful. We've also been happy with our results cooking on it. [This review was collected as part of a promotion.]
Date published: 2019-06-15
Rated

3

out of

5
by
ChefSabrina
from
How do you clean in the vent?
I just purchased a new house about 3 months ago and this stove came with the house. The previous owners of the house never used the stove, not once. I agree with the other review is that it is extremely difficult to clean without having any streaks or lint but my major problem is the smell coming from inside the vent. How do you clean away the residue and the grease that is inside the vent?? I'm also petite 5'1 so my arm isn't long enough and my husbands arm is to big. I'm starting to get a foul odor in my kitchen and I need to figure out how to clean this, does anybody have any recommendations?
Date published: 2018-11-29
Rated

3

out of

5
by
KitchenAid Sucker
from
Looks good works ok
We purchased this because we weren't ready to do major demo. Our existing cooktop is downdraft and the choices were limited. We purchased other appliances through KitcheAid so decided to go with them. We were however disappointed to see that the cooktop does not sit flush on our countertop something they could have disclosed before purchase. There is a quarter inch gap allowing food and fluids to seep through. Also the downdraft feature is very poor and unless you are using the burner closest to the vent, it's useless. My opinion this was an overpriced low quality purchase. [This review was collected as part of a promotion.]
Date published: 2019-05-01
Rated

3

out of

5
by
LESJOY
from
Good - but,
The first unit delivered had a cosmetic problem with small area not painted. Replacement appears to be OK. Two areas of concern; we looked everywhere and used online Q&A and never got an answer as to the two different wattages on the burner that has two size circles. No one appears to know. Secondly the pictures for marketing appear to show each burner with a different shade of black so as to know where the outline of the burner is. The reality is you almost cannot tell without turning on the burner and letting it get hot/glowing. [This review was collected as part of a promotion.]
Date published: 2019-05-13
Rated

3

out of

5
by
Rita the nurse
from
lots of burners
I was so excited to get my cooktop but now I'm concerned. It scratches very easily and it is very difficult to get spills, boil-overs, etc off. I never dreamed it would be this much trouble.. I really need your help to enjoy this cooktop
Date published: 2017-07-22
Rated

5

out of

5
by
Danielle
from
I would buy this prodcut again
this is a great product. The vent is strong enough to take in 80% of the kitchen vapors from cooking. it was easy to install. The indicators show when the stovetop is hot.
Date published: 2017-09-23
Rated

5

out of

5
by
djm76262
from
nice stovetop, works well
we unfortunately had to have a replacement downdraft stovetop, so we picked this one, it works well, much better than the previous 35 yr old jennair it replaced, we installed it ourselves but had an electrician wire it up, works well, seems to be made well too. [This review was collected as part of a promotion.]
Date published: 2020-05-13
Rated

2

out of

5
by
MillieMc
from
Not pleased with the glass finish
I've had this cooktop for 2-1/2 months. I am only somewhat pleased with its performance, though it takes some getting used to. It's not like induction cooktops I've had in the past (two, both another brand). The knobs' off position is down, not up, and the setting markings around the knobs are faint and difficult to see. There is only one "hot" indicator light rather than one for each element. The main reason for this rating of the unit is that I find the glass top difficult to clean. I cannot get it clean, that is, free of streaks and oily residue, using anything I would normally use or what's recommended. (I'm not talking about burned-on stuff--I don't let that happen.) It streaks terribly, collects lint that's almost impossible to remove, and I have to spend an inordinate amount of time trying to clean it. I do like the various sizes of the elements and dual function of some of them. Bottom line, I'm disappointed in it and wouldn't buy it again or recommend it, sorry to say.
Date published: 2017-04-29