Description
This Kitchen Aid(R) 2-drawer refrigerator provides plenty of space for wine, appetizers and small prepared meals, making it an ideal complementary appliance for receptions and evenings with friends. Its customizable panel and handles (both sold separately) enables greater matching possibilities in your kitchen, not to mention that the refrigerator can be installed independently or built into a cutout. It features an LED interior lighting system and glass shelves for easy storage of your favourite food and drinks. A built-in alarm emits a sound signal if the door is left open for more than 5 minutes and rings every two minutes until the door is closed or the controls are pressed. In addition, an over-temp alarm will automatically alert you when the temperature exceeds 45 °F (7 °C) for more than 4 hours. Backed by a 1-year limited warranty on parts and labour, 2nd to 5th year limited warranty on cavity lining and sealed refrigeration system (parts only).
Product specifications
Reversible Door Swing (Y/N)
Number of Refrigerator Shelves
Zone 1: 2.2 cu. ft., zone 2: 2.5 cu. ft.
2nd-5th year limited warranty on certain component parts only, labour not included
Frequently bought together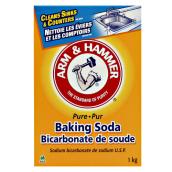 ARM & HAMMER
Baking Soda
Format 1KG
Details
Article #53975001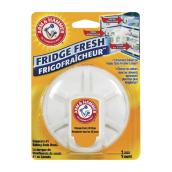 ARM & HAMMER
"Fridge Fresh" Refrigerator Air Filter
Details
Article #53975000
2-Drawer Refrigerator - 24" - 4.7 cu. ft. - Panel-Ready
is rated out of
5
by
29
.
Rated

1

out of

5
by
A M.
from
Bad Product, definitely regret purchasing.
I have to reiterate the review below by C.F.: I bought it in June, had my entire kitchen remodelled around it, and finally had it installed in September by my contractor. The ice machine hasn't never worked again after its first initial batch of ice, and the top fridge drawer freezes everything (despite being set at a proper fridge temperature). We can't put anything in it or it will freeze and explode. We got this as a backup fridge and ice maker to our main fridge, so it's really disappointing that it cannot fulfill even those basic functions. Also the measurements are so specific that my contractor has told me no other fridge drawer unit will fit in the space!
Date published: 2018-10-29
Rated

5

out of

5
by
ABRTx
from
We love it
We have had ours since October. It seems like a simple concept, but we love ours, it's convenience. Controls required no reading, self explanatory, works seemlessly. The drawer alarm saved us once, alerting us that it wasn't closed properly. It's quiet, like, silent. Friends and guests love it.
Date published: 2018-01-18
Rated

1

out of

5
by
Jill66
from
Constantly runs and is really loud
I have always had Kitchenaid products and have been very happy with them. A friend had this unit, and I couldn't wait to add this to my new kitchen. I have had a repair person out twice because of the loud noise the motor makes, and they keep telling me that there really isn't anything wrong. It also runs 90% of the time even when it hasn't been opened for hours. My friend's unit is quiet and doesn't run all of the time like mine does. This was not a cheap unit and unless I can get the problem fixed I am going to have to replace it. The constant noise is very annoying annoying.
Date published: 2019-10-23
Rated

5

out of

5
by
Khoward
from
A MUST HAVE for every kitchen!!!
[This review was collected as part of a promotion.] I absolutely love this appliance. My kids are so happy with it as well. The drawers are deep enough to hold most 2-liter and gallons upright. The temperature is very consistent. We use this for mainly drinks. There is an alarm that sounds quickly if the drawers are left open. That has saved us many times. I would always consider this as an addition to any kitchen/bar remodel.
Date published: 2019-06-14
Rated

5

out of

5
by
Anonymous
from
Great product
[This review was collected as part of a promotion.] I love the features on this cooler. Cool design. Keeps all items cool and the led lights make it easy to see when dark. Drawers pull and close easily.
Date published: 2019-09-26
Rated

5

out of

5
by
Barb B.
from
Love this Mini Fridge
[This review was collected as part of a promotion.] We recently built a new lake home and we were looking for a separate place to store our beverages - at the lake we like to relax and enjoy a beer now and again but don't like to take up space in our regular refrigerator - this mini fridge was the best answer to this problem and we absolutely love it as do our friends - we always have a cold beer when they stop by for a visit.
Date published: 2019-11-16
Rated

5

out of

5
by
Mansley
from
Our best kitchen investment!~
[This review was collected as part of a promotion.] Honestly, we have an extra refrigerator in the garage so buying these drawers were a stretch. I could not be happy with the convienance this appliance has added to our kitchen. They hold lots of drinks!
Date published: 2018-12-03
Rated

5

out of

5
by
DSP2
from
Great Features !
[This review was collected as part of a promotion.] I bought this a month ago and I'm happy that I did. It's a great product. Great quality and it's very quiet. I use to own some other manufacturers bar refrigerators and they were very noisy....they worked well but they were noisy so they've been relegated to the garage now.
Date published: 2020-02-13