Description
Waterproof paintable silicone for all your kitchen, bath and plumbing needs. Great for backsplash, tile and trims. Permanently waterproof, flexible, and shrink/crack proof. Shower and paint ready in 30 minutes. Seven year mold-free product protection.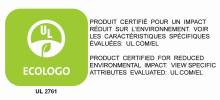 Ecological Attributes
This sealant is ECOLOGO® certified (UL 2761: Sealants and caulking compounds). It rmits fewer VOCs for better air quality.