Description
Organize your outdoor space with this Keter horizontal storage shed. This ventilated garden shed is a convenient option for safely stowing away gardening tools, BBQs, lawn chairs and other seasonal items when not in use. Constructed of weather-resistant resin, this durable, low-maintenance garden shed stands up to the elements year round without denting or rusting. The resin walls have the look and texture of wood and can be painted to match with your home or garden.
Frequently bought together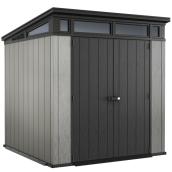 KETER
Garden Shed Artisan - 7' x 7' - Grey and Black
Format 7'x7'
Details
Article #16525030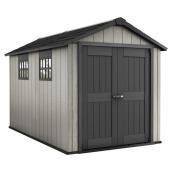 KETER
Oakland Resin Garden Shed - Grey
Format 7.5'x11'x95.2"
Details
Article #16525006
Does this come with shelfs or can shelfs be but in?
Hello, no the shed does not come with shelves. You will need to create your own using a planik of wood.
Date published: 2020-11-18
Can it store a lawnmower
Hello, Here are the internal dimensions:internal dimensions: 51.4 In. W x 26 In. D x 45.3 In. H. We recommend comparing these dimensions to those of the lawn mower to be sure.
Date published: 2020-11-18
Is this waterproof?
yes, it is water proof
Date published: 2019-11-28
Could this storage cabinet be left outdoor without being inside a storage shed? Since we intent to store garden lights, garden decor and glassware inside this cabinet which we are worry that it might crack -would this withstand Canadian winter cold?
We left ours out last winter (a very long cold winter in northwestern ontario) with no problem. We do have a small crack on the lid where we hit the plastic with a snow shovel so you have to be careful about that. We also have a larger plastic garden shed outside for several years with no problem
Date published: 2019-08-14
What is the exact outside width @ base and top,49 in is as wide as I can go.
53 inches
Date published: 2019-07-12
Will I be able to fit my garbage and recycle bin in this shed
Hello Badfie22, The internal dimensions:  51.4 in. W x 26 in. D x 45.3 in. H. We recommend comparing these dimension to those of the trash cans or the recycle bin to be sure.
Date published: 2020-09-06
Does the roof lift up?
Hello Charuk, No the lid does not lift up.
Date published: 2018-08-16
Does it have enough capacity to store a lawn mower? Can this be stored in the winter with temperature being minus 20 to 25 Celsius? Thank you!
Hello Deve, Here are the internal dimensions for the shed,  51.4 in. W x 26 in. D x 45.3 in. H. We recommend comparing these to those of your lawn mower. Yes you can store it in the shed during the winter months.
Date published: 2020-09-06
Horizontal Resin Storage Shed - 55" x 29" x 47,2" - Grey
is rated out of
5
by
12
.
Rated

1

out of

5
by
victor
from
Its smaller tha you think
I had to bring this back - it is not 3ft x 4ft x 5' not even close the measured base is 28" deep and the interior depth is 24.5"
Date published: 2019-04-13
Rated

4

out of

5
by
Knighthunter
from
Nice product for storage
Was having problems finding a patio storage bin big enough to store the cushions from our patio furniture. This unit is perfect. We can store all the cushions in one place with room left over. It's not 100% water tight but does a decent job of keeping things dry. Assembly was moderately easy and the structure is quite strong when completed. Especially like the door hinges and clasp. Should last a long time.
Date published: 2017-10-21
Rated

1

out of

5
by
Maple42
from
Slow with replacement parts
I purchased this 6 weeks ago, and was happy to find something that would fit all of the patio cushions. Assembly was straight forward enough and going well until, I discovered that one of the doors was incorrectly cut. Keter insists in its materials to contact them for replacement parts. I did, and was informed that the part in question was on back order, but I should receive in 4 weeks. Since then I have been storing my cushions inside and waiting for the replacement patiently. I hope I receive before there is snow. Otherwise, I guess I can make a fort out of it for the cats.
Date published: 2018-09-16
Rated

2

out of

5
by
JennG33
from
Sizing is misleading & missing screws
Just built this "3x4x5" shed, which is really not 3x4x5 at all. Much smaller than the description would lead you to believe. We were also missing half the screws needed to attach the hinges for the doors. It assembled fairly well, it seems a bit flimsy. I think it'll do the job but for $378 I wouldn't recommend it.
Date published: 2019-04-27
Rated

5

out of

5
by
kimdee
from
Nice shed!
I needed something big enough to store all the cushions from my sectional sofa. This unit is perfect. It was easy to assemble with no help, the instructions are clear and all the parts are marked with their part numbers. I used a drill but finished the screw by hand to make sure I didn't over tighten in the plastic material. Looks great and it seems very sturdy. The only thing I would change is to have the locking mechanism also secure the lower edge of the door. Other than that, happy with the purchase! We'll see how it holds up to Alberta winters.
Date published: 2018-06-12
Rated

4

out of

5
by
leiy
from
Overall a good shed
This is my second Keter shed. I bought it for put my garbage bins. It is well-designed with lots of screws. After installation, I feel it is quite sturdy. I am not sure if it will stay at the same place in strong wind as it is light. I bought Keter shed before. My impression is that the previous one is thicker (it is a bigger one).
Date published: 2019-11-16
Rated

3

out of

5
by
lintin
from
Nice looking shed
Nice shed good material. Will do a great job storing my garbage bins. However, when putting the thing together found parts missing had to return and purchase an new one. Screws provided seemed a bit short for the application. Purchased longer stainless steel screws that will do a better job hold the structure together.
Date published: 2017-11-05
Rated

3

out of

5
by
kayjaym
from
Nice shed, but top is warped, rain pools on top
I want to love this shed, and I do except for the top. It is flat with 'channels' where you'd expect water to drain off of it. But the top is warped so water pools on top. I am worried about winter time if the weight of ice will damage it.
Date published: 2020-08-17