Description
Extend the capabilities of your John Deere riding mower with this John Deere mulch kit. Mulch grass cuttings and other yard waste, turning it into nutrient-rich, natural fertilizer for your lawn. It eliminates the time and energy-consuming need for bagging and raking. The mulching accessory cover is made of impact-resistant material for long-lasting wear. It is compatible with John Deere 42" deck tractor models D105, D110, D130, Z225, Z235, and Z335E (2015 and prior). John Deere® products are available and can only be sold via authorized dealers.
Product specifications
Impact-resistant material
For use with John Deere 42-inch deck tractor models D105, D110, D130, Z225, Z235, and Z335E (2015 and prior)
You may also like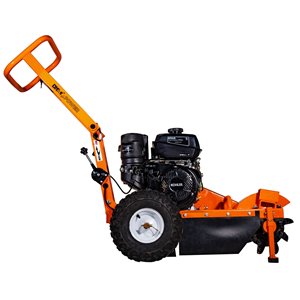 DK2
DK2 Stump Grinder - Gas Commercial Cutter - 14 HP Motor
Details
Article #330733334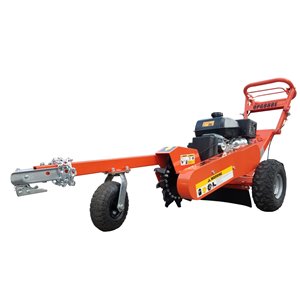 DK2
DK2 Stump Grinder - Electric Commercial Cutter - 14 HP Motor
Details
Article #330733321
I bought the 42 inch mulched for my z345 zero. It wont fit properly it is a 42 inch as well. Help
It doesn't fit my new E130 machine with a 42 inch deck
Date published: 2020-07-31
I noticed both D110 and D130 listed. Will this fit a D120 (about 10 years old)?
Thank you for visiting the Lowe's website. Yes, this Mulch Kit is compatible with the D120 Lawn Tractor.
Date published: 2020-07-22
Will this Mulch kit fit on John Deere Z335E zero turn mower
Thank you for visiting the Lowe's website. No, this 42-inch Tractor or Zero-Turn Radius Mower Mulch Kit is not compatible with the Z335E Zero-Turn Mower. The compatible 42-Inch Mulch Control Attachment is part number: BM24794.
Date published: 2020-05-29
will the mulch kit fit the 160 John Deer tractor
Will this fit a 350 lawn tractor
John Deere Riding Mower Mulch Kit - 42-in Decks
is rated out of
5
by
121
.
Rated

4

out of

5
by
Shawn36
from
Don't overthink it
Its pretty easy to install if you don't make it harder than it really is. I ended up taking the safety chute off u wont need to have it on there anyway with the mulch cover installed just screw the nuts back on the studs and tighten them down so you don't lose em. I mowed once with out sharpening the blades and it worked nicely then i took them off and sharpened them worked great. With so many trees in my yard it chews them up nicely just make sure u don't mow up anything like sticks. In the end I'm glad i got the cover because i didnt want to get a bagger for my JD D 130.
Date published: 2014-08-23
Rated

5

out of

5
by
Medic
from
Works like a charm!
Bought this primarily for mulching the falling leaves rather than grass clippings and it does great! The leaves are finely chewed up and put back on the lawn to naturally fertilize the grass as they break down. Really beats raking leaves. I had used an attachment for my blower (Black & Decker) in the past but would just get covered in leaf dust, not so using the tractor now that this cover is in place. I'll be interested in seeing how it works next spring on the grass, but really expect it to perform great. Great addition to my lawn tractor! Also, was somewhat easy to install, no problems and fits perfect. [This review was collected as part of a promotion.]
Date published: 2019-11-12
Rated

2

out of

5
by
Ramondo
from
Good Product, Poor Instructions
This product does not live up to the John Deere name. The mulch cover is high quality and well designed. The problem is the poor instructions and the fastener clips. The clips defy logic and are unlike anything I ever encountered; commercial, industrial, or residential. I scratched the paint on my brand new D110 trying to install them. Bad form John Deere. The instructions are almost useless. The following is the method I used to install the cover: 1. Remove the deflector and inner guard using a 13mm socket and ratchet. 2. Install the mulch cover as illustrated on page 2 of the instructions. 3. Using a Dremel tool, I modified the clips to look and perform like a common safety pin. 4. Reinstall the deflector assembly.
Date published: 2013-08-15
Rated

5

out of

5
by
Silverfun
from
Fits on 2018 E130 Perfectly
Don't over think the design. I used a 13mm socket wrench to remove the shoot cover, installed this cover by first getting the tab in the back and then snapping into place the cover. It should over lap the top part of the deck. I put in the pins where the instructions said to. I left the shoot cover off as it was just getting in the way. I plan on leaving the plug in place for the life of the mower anyways. [This review was collected as part of a promotion.]
Date published: 2019-05-01
Rated

5

out of

5
by
palmetto
from
Works great, but difficult to install and align
The rubber attachment broke on the old one causing it to get sucked under the lawnmower and mangled, so I needed a replacement. This new one worked great once I got it installed, but it was quite difficult to align and stretch the rubber attachments to mount it on the lawnmower. Be prepared for some frustration!
Date published: 2012-05-04
Rated

1

out of

5
by
disgruntled-customer
from
This mulch kit doesn't fit my D130 properly.
The box indicates that the mulch kit fits the D130, D140 and a couple of other tractors, but it doesn't. It will not install as the directions say. I am surprised that nobody at the factory discovered this problem with the kit. I even went to the John Deere dealership in Salisbury, Maryland and asked their Customer Service reps to attach a kit on one of their mowers. Two men there could not do it on a D140, and were very surprised. The kit covers the opening in the mower deck ok when I put the kit's bottom edge in the deck's track, but the tab won't go in where the instructions says it should, and the hooks only fit in the holes specified if they are twisted, and they scratch the mower deck paint. This kit should be very simple to install. I don't care about you posting my product review... I just want you to fix the problem.
Date published: 2013-05-06
Rated

5

out of

5
by
Retired
from
Full time mulcher
The Installation Instructions recommend leaving the deflector and inner guard in place while installing this mulching kit. I guess that works, if you plan to switch between mulching and not mulching. I mulch every time I mow, so I removed the deflector and inner guard and installed the mulch kit over the hole. It is not a very tight fit, so some clippings can blow by at the corners, but not very many.
Date published: 2015-07-17
Rated

5

out of

5
by
Yes Deere
from
Works Great !!!
I'm very happy with this and would buy it again! It's much cheaper to buy it at Lowe's than buying one from my John Deere dealer! It works great and is easy to install!!!
Date published: 2011-08-06