High-Efficiency Electric Steam Dryer - 8.8 cu. ft.
Article #30005048
Model #YWED8500DC
Format 8.8CFT
RONA Langdon Hardware Ltd. / Fort Erie
(289) 320-8250
Description
Designed to keep your clothes looking their best, the large-capacity Whirlpool Cabrio(R) High-Efficiency Electric Steam Dryer has 10 drying cycles including Steam Refresh for reducing wrinkles and odours. Advanced Moisture Sensing prevents over-drying with sensors that read air temperatures while monitoring moisture levels so the cycle ends when everything is perfectly dry. Four baffles tumble clothes in randomized patterns so items open up more easily, increasing the effectiveness of the dryer for small loads and promoting balanced tumbling. Other handy features include Ecoboost(TM) which saves energy by using less heat and extending the cycle time, Wrinkle Shield(TM) Plus with Steam for superior wrinkle prevention, and the Quiet Dry System for quiet operation. Pedestal sold individually..

Product specifications
(10) Normal, Sanitize, Gentle, Steam Refresh, Timed Dry, Mixed, Casuals, Towels, Delicates, Bulky/Sheets
(5) Damp Dry Signal, EcoBoost(TM), End of Cycle Signal, Static Reduce, Wrinkle Shield(TM)
Yes - Left, Rear, Bottom - Max vent length 64
Reversible Door Swing (Y/N)
Flexible connector 3 pcs (01735521/3244-920) Sold Separately
Ecological advantages
Ecological Attributes
This clothes dryer is ENERGY STAR certified, which guarantees that it consumes up to 20% less energy than non-certified clothes dryers.

By using less energy, you help reduce the environmental impacts associated with its production.
Environmental Issues
This product is eco-responsible because it reduces the impacts associated with the following environmental issues:
Availability and quality of water
Frequently bought together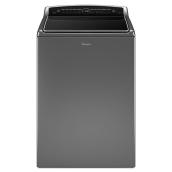 WHIRLPOOL(TM)
High-Efficiency Top-Load Steam Washer - 6.1 cu. ft.
Format 42 1/4x28x27 1/4"
Details
Article #30005033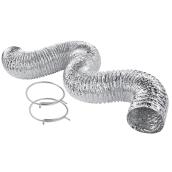 IMPERIAL
Flexible Foil Ducting with Clamps - 4" x 8'
Format 4x8'
Details
Article #12245451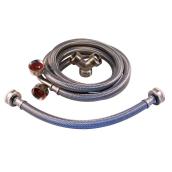 AQUA-DYNAMIC
Steam Dryer Connector Kit - 3 Pieces
Format 3PC
Details
Article #01735521