Description
This Maytag "Bravos(R)" High-Efficiency Electric Dryer features a large-capacity design that lets you tackle more laundry in one load. An IntelliDry(R) sensor monitors moisture and air temperature for optimized results every time. Steam Refresh uses fine mist to keep clothes looking great, while the Sanitize cycle removes up to 99.9% of household bacteria and eliminates odours. With 13 cycle options and 3 temperature settings, this high-efficiency dryer offers a wide variety of options to tackle all types of fabrics. Timed drying pre-sets offer ultimate convenience, while the Wrinkle Control feature offers a longer unheated tumbling period at the end of the drying cycle to avoid wrinkles until you can unload your laundry. Pedestal sold individually..
Product specifications
(13) 10 min Air Dry, 20 min Air Dry, 30 min Air Dry, Energy Preferred, Less Dry, Steam Refresh, Timed Dry 10, Timed Dry 20, Timed Dry 30, Timed Dry 40, Timed Dry 50, Timed Dry 60, Very Dry
(6) Dry Temp, End of Cycle Signal, Wrinkle Shield(TM), (3) Temperature Selections
Reversible Door Swing (Y/N)
Yes - Rear Only - Max vent length 64
Flexible Aluminum Duct (12245451/FX0456MC); Steam Dryer Connector Kit (01735521/3244-920) - Items sold separately
Frequently bought together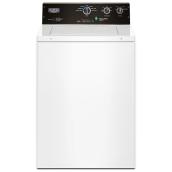 MAYTAG
Commercial-Grade Top Load Washer - 4 cu. ft. - White
Details
Article #30005838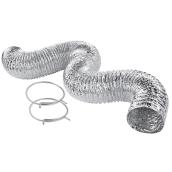 IMPERIAL
Flexible Foil Ducting with Clamps - 4" x 8'
Format 4x8'
Details
Article #12245451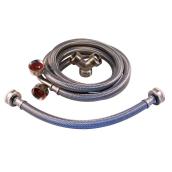 AQUA-DYNAMIC
Steam Dryer Connector Kit - 3 Pieces
Format 3PC
Details
Article #01735521
What is the horse power of the motor? 
High-Efficiency Electric Steam Dryer - 7.0 cu. ft.
is rated out of
5
by
482
.
Rated

5

out of

5
by
KennyK
from
Great machines
I brought this laundry pair about 3 months ago. I did not know what "high efficient washer" mean. I was pleasantly surprised about the water usage in each wash. With its auto-sensor in water level, it will adjust water level by itself. This is a new way of washing your cloths. My cloths come out cleaner than before. The tub is so big and I can wash my comforter in there. I am still using conventional laundry soap (not high efficiency detergent) without any problem.The cloths did not tie up like some may say. In general, very happy with the machine.
Date published: 2016-09-14
Rated

1

out of

5
by
Ifer71
from
Not very happy.....
This dryer does not work very well. I always have to put it through 2 full cycles to dry the clothes completely. In addition, the start knob has already come off once and is falling off again.....and I only purchased it 7 months ago!!! In order to fix it, i have to make an appointment with a repairman....and take time off work. Its very frustrating considering how new it is. Unfortunately, I will likely have to buy a new dryer within the next few years. It would be nice if the retailer would do something about this....like replace the product. But once you buy it and walk out the door, they won't deal with it....you have to contact Maytag directly or the repair shop. Not too happy....
Date published: 2017-04-25
Rated

4

out of

5
by
Lovinit
from
So Far So Good
This wasn't my choice for a dryer but sometimes due to my health my husband helps me with the laundry and he does not like computerized things. I kept it simple and chose this Maytag dryer April 23, 2016 to replace our old Maytag dryer that we purchased May of 1995. We blessed our purchase and we are looking forward to many good years with it. So far I really love it. Our clothes come out so nice. I always use the sensor dry with low heat for our perm press and sensor dry with medium heat for our other items, this way we don't get static cling. We really are happy with this dryer. [This review was collected as part of a promotion.]
Date published: 2016-05-02
Rated

3

out of

5
by
Anonymous
from
It's okay, but I'm not in love with it.
This dryer does not perform as well as my last Maytag. I have to restart the clothes and add dry time pretty consistently. The alarm to let you know the load is done cannot be heard from other parts of the house like my last dryer so I have to check on it, even though it is at its loudest setting. I'm not sold on the feature where the dryer stops and then restarts itself when it cools down. If you miss the signal the clothes start to wrinkle from laying there. My last Maytag continued to tumble through 3 ready signals before it stopped.It's not a bad dryer but it's not a great one either. I miss my old Maytag. [This review was collected as part of a promotion.]
Date published: 2016-06-17
Rated

4

out of

5
by
secheuse wow
from
La lumière à l'intérieur: Idée de génie!!!!!!!!!!
En ouvrant la porte de la sécheuse pour la 1ère fois, telle fût ma surprise de voir une lampe s'allumer à l'intérieur et de me permettre de contempler la capacité du tambour! Laissez-moi vous dire qu'il y en a de l'espace pour les grosses brassées. plus besoin de les diviser en de plus petites, donc gain de temps. Aussi, avec les fonctionnalités disponibles, on a l'occasion de se ''sauver'' du repassage et du service de nettoyeur pour les tissus plus capricieux telle la laine. De la façon dont ces appareils sont conçus, on est très de la qualité commerciale.......Tant du côte de la laveuse que de la sécheuse.
Date published: 2015-04-19
Rated

1

out of

5
by
LindaW99
from
Junk
I bought this new and it didn't dry right out of the box. I have had it repaired or so they said and it still does not dry. Takes 2 x 60 minute cycles on "sanitize" to dry 3 towels. I would like a new one (This review was collected as part of a promotion.)
Date published: 2018-02-17
Rated

4

out of

5
by
Anonymous
from
A good no-nonsense dryer with extra heat to kill germs
it's fine as far as dryers go. I just like to keep things simple without bells and whistles. BUT here is a suggestion regarding the lint filter. I liked my old maytag dryer that had the lint filter in the front, not on top. Here's why: every time I pull out the lint filter on top of this dryer, lint dust falls on top of the dryer. It's not the lint itself that falls off, but a fine dust from the lint, and it does make enough of a mess on top to have to wipe it off. That's all. Wish I had the old Maytag back, really. But this one is fine. [This review was collected as part of a promotion.]
Date published: 2017-03-20
Rated

2

out of

5
by
MC18
from
Really sad :(
We have a family of 6 and I'm sad to say about 6 months after using our dryer it had its' heating element repaired and now a second time it's stopped drying. From reading previous reviews.. it looks like its' a common problem. Really sad this is happening to my almost 2 year old dryer :( (hoses and vents were all cleared and cleaned... new one was put in with the initial dryer) :( Just hoping it can be easily repaired this time... I thought with a name of Maytag it would be worth the quality we paid for it.
Date published: 2018-01-18