Description
A great option for small and large laundry loads, this Whirlpool High-Efficiency Electric Steam Dryer easily handles everyday clothing and bulky items like comforters and sleeping bags. It has three temperature selections and 13 drying cycles including Steam Refresh to relax wrinkles and reduce odours. The AccuDry(TM) sensor drying system evenly dries garments by measuring moisture and temperature levels to help reduce damage caused by over-drying and automatically stop the cycle when the load is dry. The dryer has a handy end-of-cycle signal to let you know when clothing is dry. The Wrinkle Shield(TM) function tumbles clothes periodically to keep wrinkles from setting in so items look their best. Pedestal sold individually. It is highly recommended to use a 4" (10.2 cm) diameter rigid aluminum or galvanized steel duct with this product.
Product specifications
(13) 10 Min Air Dry, 20 Min Air Dry, 30 Min Air Dry, Energy Preferred, Less Dry, Steam Refresh, Timed Dry 10, Timed Dry 20, Timed Dry 30, Timed Dry 40, Timed Dry 50, Timed Dry 60, Very Dry
(3) Dry Temp, End of Cycle Signal, Wrinkle Shield(TM)
Reversible Door Swing (Y/N)
Yes - Rear - Max vent length 64
Flexible Aluminum Duct (12245451/FX0456MC); Steam Dryer Connector Kit (01735521/3244-920) - Items sold separately
Frequently bought together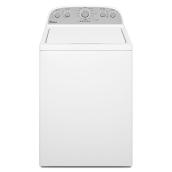 WHIRLPOOL
High-Efficiency Top-Load Washer - 5.0 cu. ft.
Format 42 1/4x28x27 1/2"
Details
Article #30005035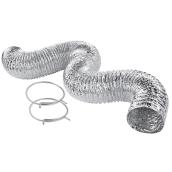 IMPERIAL
Flexible Foil Ducting with Clamps - 4" x 8'
Format 4x8'
Details
Article #12245451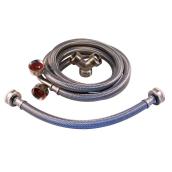 AQUA-DYNAMIC
Steam Dryer Connector Kit - 3 Pieces
Format 3PC
Details
Article #01735521
Hello, just wondering if this model allows soaking where the user can manually set how long to soak for before the cycle starts. Also, if a cycle is interrupted in the middle, does the machine automatically drain after a time period and restart the cycle
Hello there, Thank you for your question. The presoak option is for a set amount of time. The washer will fill and then alternate between a soak and a gentle agitation before beginning the selected cycle. If a cycle is interrupted, the machine will pause the load and continue when Start/pause is selected. If lid is left open for more than 10 minutes the water will pump out automatically.
Date published: 2018-12-27
Are these Energy Star rated?
Hi Veen, YWED49STBW and WTW5000DW are not Energy Star Rated. Annual Energy Consumption is 640 kWh/year and 179 kWh/year (respectively). This Washer offers the Smooth Wave stainless steel wash basket gently guides clothes and helps protect fabrics from fraying and snags and the Dryer allows for clothes to be ready to be worn, thanks to the Steam Refresh cycle. It releases wrinkles and reduces odors without rewashing. Hope this helps, thank you for your question!
Date published: 2018-12-19
Depth with Door Closed: 27¾ inches: Depth with Door Open: 3 feet 5½ inches WHICH EQUALS 41.5 inches Therefore door is only 41.5-27.75 = 13.75 inches wide?? My laundry room is dimensionally challenged but I doubt your specs are correct?????
Hi Tiachichilco, YWED49STBW measurements are 41 1/2 inches with door open 90 degrees and 27 3/2 inches with door closed. A great feature of this dryers is that Steam Refresh cycle that allows you to have clothes ready to wear, it releases wrinkles and reduces odors without having to rewash. Hope this helps, thank you for your question!
Date published: 2018-08-13
what is the differences between laundry pairs Whirlpool WTW5000DW-YWED49STBW and Whirlpool WTWYWED7300DW7000DW-
Hi 1MHM, The main difference is the 7300/7000 pair has our advanced what to wash how to wash system. This technology takes the guessing game out of laundry with an easy to use interface that allows the customer to choose what type of load they are washing/drying and how they would like the machine to wash/dry it. Thanks
Date published: 2018-06-12
Does this dryer have side venting
This dryer only vents at the rear
Date published: 2018-04-17
How wide and how high is this dryer? Also what is the depth of the dryer?
When you deliver do you pick up the old one. 
I would like to know the size of the power cord of the dryer. Thanks
High-Efficiency Electric Steam Dryer - 7.0 cu. ft.
is rated out of
5
by
2716
.
Rated

4

out of

5
by
Maggie the Super Critical
from
Hamper Doors are Best for Tight Spaces
Chose this dryer because I needed a hamper door. Dryers are now a few inches deeper than old dryers, making the space issue even worse. The dryer dries. I think dryers are all about the same, but washers now do a better job of getting the water out. So the clothes are dryer going in. I am disappointed in the moisture sensor - hence the four star. I believe my old Kenmore, built by Whirlpool, dryer's sensor was better, before it quit working... No matter which level of dry I choose, the clothes come out somewhat damp. I was really looking forward to having a dryer with a working sensor again, but I am pretty much back to using the timed dry feature.
Date published: 2015-08-08
Rated

4

out of

5
by
Busy laundress
from
Good large capacity dryer
This is a good basic large capacity dryer. It can hold a king size comforter. I thought the Steam Refresh feature would quickly get rid of wrinkles so you can skip the ironing. The results are inconsistent. Once my pants came out wet, not damp, so I could not wear them as planned. Other times the shirts come out damp but still wrinkled. I would not rely on this feature. The Wrinkle Shield feature merely keeps warming/tumbling the clothes about every 5 minutes until you empty the dryer, so don't turn this on if you're leaving the house or it will use a lot of energy. Clothes come out dry in about an hour. Gets the job done.
Date published: 2015-12-12
Rated

1

out of

5
by
rethinkthis
from
Noisy and inefficient; choose another model
Have been using this for one month and wish I'd bought a different dryer. It's noisy and inefficient; clothes get stuck against the paddles so they don't dry evenly and come out terribly wrinkled...sheets are a tangled mess. My 20 year old dryer stopped working and I had to get a quick replacement. Do your research on this one and choose another model. I can put six towels in the dryer on high heat for 40 minutes and they aren't dry which means I have to turn it on for a second time. And beware if you use the buzzer to signal the end of the cycle...even your neighbors will hear it! It's horrible. Bad product, Whirlpool.
Date published: 2020-07-15
Rated

4

out of

5
by
SJBKM
from
All OK...BUT...
[This review was collected as part of a promotion.] NOTE: at first it was taking AGES to dry (ie: 3 jeans needed 1 hour and 15 minutes!). Husband got on the computer and then went into the laundry room - seems that if the lint is not cleaned out the dryer does not get hot - so as NOT to have a fire - lint is very flammable). I always clean out the screen on the machine after each load and the outside vent every so often - but when we disconnected the exhaust line it was 3/4 FULL of lint !!. Cleaned that out and now the dryer is working great. Noticed on days of high humidity / rain it does take longer to dry but I think that is to be expected.
Date published: 2020-10-31
Rated

4

out of

5
by
Adrishap
from
Whirlpool Dryer QUIET
[This review was collected as part of a promotion.] I purchased a new dryer in the beginning of December, 2019. It's large enough to dry clothing along with queen sheets. I wasn't able to dry my queen lightweight comforter along with a patchwork cotton quilt. They got too tangled so both didn't dry. If whirlpool made a bigger size with the hamper door, I would have loved that. It is very similar to my last one, which lasted 38 years!! Yes 38 years and it was still working when I replaced it. My favorite feature is the hamper door. For my use, myself and all the dogs bedding, it works fine. I haven't used the steam feature yet. I do recommend.
Date published: 2020-02-23
Rated

5

out of

5
by
Anonymous
from
Drys Fast!
[This review was collected as part of a promotion.] I really like this dryer. In the few loads I have done, it seems to dry very fast. It has an eco mode so it doesn't waste extra energy to over dry your clothes, and the wrinkle shield occasionally spins the load after the cycle is over to help keep your clothes from getting wrinkled. The Steam Refresh cycle is a little deceiving. It more or less sprays water on your clothes and then drys them. It doesn't seem to shoot steam on the clothes. I do like how the door opens downward. This helps catch the clothes if they fall out of your hand and prevents them from hitting the floor.
Date published: 2016-12-26
Rated

5

out of

5
by
ShelleyLou
from
Great features, easy to use design
[This review was collected as part of a promotion.] I am so glad we got this Whirlpool HE dryer! I wanted a model with "old-fashioned" knobs, but modern features, and this dryer is exactly those things! This dryer has all the cycles and settings to take care of all of our laundry needs, and the Wrinkle Guard feature is such a bonus. I love the wide drum access and lighted drum...I won't ever miss small items again. The drum is quite large so it accommodates big loads easily, but it still handles my delicates beautifully. We don't have the Steam Refresh hooked up yet, as we are remodeling, but I sure look forward to that added feature. Such a great dryer!
Date published: 2017-03-08
Rated

4

out of

5
by
Anonymous
from
Pretty good dryer
[This review was collected as part of a promotion.] This dryer does the job well. My main complaint is that the buzzer that warns you when the clothes are dry is so loud I can't use it. It makes me jump out of my skin, even when I'm in another room. So, I don't always notice when the dryer shuts off, and then the clothes get wrinkled. Also, even when I set it for "Very Dry," it shuts off before the clothes are dry, so I have to restart it to finish the drying. One thing I like about it, which is getting hard to find in the new models, is that the door opens downward and makes a shelf to pull the clothes out on. This makes it easier to fold the clothes than a door that opens to the side.
Date published: 2016-10-12