Description
Cook delightful meals with the Grill Chef propane gas barbecue. Its 72,000 BTU heat capacity is ideal for cooking different foods to perfection. It has a side burner with 12,000 BTU heating capacity and five 60,000 BTU stainless steel tube burners. The cooking area on this stainless steel barbecue is sizeable at 4,613 centimetres square. The cast iron grilling surface includes porcelain coating. The large, steel warming rack adds to the food prep space capacity, and it has an enamel coating. Heat distribution plates also have a porcelain coating, and the built-in thermometer helps you monitor heat levels. The easy-to-start ignition system and simple controls facilitate easy operation. A towel bar, four tool hooks, and two side shelves offer storage to keep utensils and ingredients at hand.
Product specifications
Stainless steel and black
Porcelain-coated cast iron
Integrated ignition system
3 years on cookbox, 3 years on burners, 1 year on parts
Frequently bought together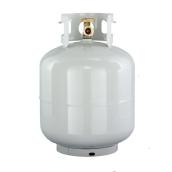 WORTHINGTON
Worthington Propane Gas Cylinder - Steel - 20 lbs
Format 20LB
Details
Article #1718026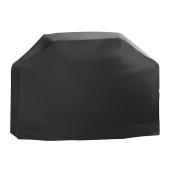 UNIVERSAL
Barbecue Cover - 65" - Black
Format 65"
Details
Article #34085087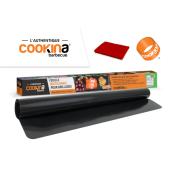 COOKINA
Cookina Cooking Sheet - 15.75" x 19.68" - Reusable - Black
Format 40x50CM
Details
Article #04705000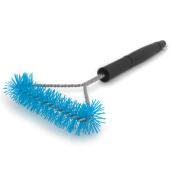 GRILLPRO
BBQ Brush - Nylon Bristles - 6.5 in x 17 in - Blue/Black
Details
Article #16665849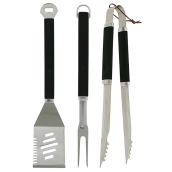 MR. BAR-B-Q
Barbecue Tool Set - 3 Pieces - Stainless Steel
Format SET3
Details
Article #34085090
Can this be converted to natural gas 
Yes, Its P/N 915190 and sold separately and available at many retailers. You can also call 1-800-667-7313 for details on where to order in your area.
Date published: 2020-08-02
Is assembly included. BBQ cover?
Assembly is not included, neither is a BBQ cover.
Date published: 2019-07-13
does it come with a cover ? 
It does not
Date published: 2020-05-23
Can this BBQ be delivered assembled?  Thanks in advance!
lowes will assembly the BBQ for you but you should asked if they there is a Fee for assembly
Date published: 2020-07-05
Can this grill be converted to natural gas 
With the proper parts 
Date published: 2020-06-05
Can this bbq be converted to natural gas?
Yes, it is dual fuel. LP/NG
Date published: 2020-06-19
Is assembly part of this deal ?
Always no charge for full size bbqs
Date published: 2019-07-04
does this have an electric start button?
Yes, the electric start is in the knobs. As you turn them they fire automatically.
Date published: 2020-07-05
Where are the Towel bar, 4 tool hooks on this model? I found the bottle opener, that was easy. 
Hey Kate i also had the same problem about towel rack and hooks did not come with bbq so look inside your manual there is a phone # to call for how to put together and missing parts call them they will send you towel rack and hooks within 2 or 3 days. Hope this helps
Date published: 2019-05-30
Who makes this grill?
S.R. Potten
Date published: 2019-05-30
Does the Grill Chef 5 burner BBQ have a back burner?
No it doesnt. It has 5 burners on grill and 1 burner for pots on the side.
Date published: 2019-05-02
Do the sides fold down 
We have received a uniflame bbq from a friend does it run on propane only and briquettes
Ou se procurer les grilles de rechange et déflecteur????
Can you purchase a new bottom? 
What is the warranty on this grill?
Convertible Valve System™ Does this product has a convertable valve system??
need recommendation on a cover fits this BBQ
Can you use a rotisserie in this bbq
can this bbq be converted to natural gas?
is this bbq can we use for natural gas. 
where can I download the manual for this BBQ
What is the warranty on this bbq,
Does this bbq have a back burner
what size BBQ cover is needed for this BBQ
does this bbq come with the chicken broche ?
Il mesure combien de large ? Pour être sur qu'il fit sur mon balcon 
What size bbq cover do I need?
Grill Chef Propane Gas Barbecue - 5 Burner - 72,000 BTU
is rated out of
5
by
36
.
Rated

5

out of

5
by
Barb
from
Great value for the price~
I just purchased this on sale and am super happy with the quality for the price. Wanted a larger BBQ for our family gatherings and this doesn't disappoint. Took 2 of us about 1 1/2 hours to put together and all tools and parts are provided. Instruction manual is very clear for each step. Used it tonight and heat was even and worked great. There is no actual "bottom" body of the BBQ - it is actually a removable tray with grease pan. This is genius as there is no more "scraping" the crud out of the bottom of the BBQ - just remove the tray, clean and slide back in. We BBQ almost year round so will be interested to see if the quality and consistency lasts. I haven't had it long but so far am impressed.
Date published: 2019-04-14
Rated

4

out of

5
by
chris341234
from
Don't get what the fuss is about
So i just bought this bbq today, was on sale for 349$ and they price matched the Brick for 329$. I was a bit uneasy about it after seeing the reviews here but after putting it together and grilling sausage, burgers, corn on the cob, veggie skewers and lastly marinated chicken breats, i have no idea why people are giving it a poor rating. If you're burning your food on here its because you don't know how to grill. The set up was easy, and the only thing holding this from 5 stars is it is a *bit* flimsy, but what do you honestly expect for the price??? I think it's a heck of a deal and the only question now is how it will hold up over time. If you're on a budget and looking, i would definitely recommend giving it a shot.
Date published: 2020-06-01
Rated

4

out of

5
by
Bill Vallier
from
Great Product at a Great Price
I purchased this on Fathers Day as it was a weekend special. very glad that I did. Very easy to assemble as it took 45 minutes to put together. It even came with the tools that you will require. I liked it so much I bought another one for my son as he and his wife just purchased a new home and I thought it would make a great house warming gift. You can't beat the price.
Date published: 2018-07-17
Rated

5

out of

5
by
ramfan0480
from
Great purchase
I bought this bbq about a month ago, easy to put together works amazing. Never have any issues so far. We love the styling of it and would buy another in a heartbeat.
Date published: 2019-03-31
Rated

5

out of

5
by
Carol S.
from
Powerful, Food taste GOOD
We bought this gas barbecue at the end of the summer. My husband installed it by himself with no complains. It is a quite powerful barbeque, as you can tell by the 72,000 BTU. Cook all food nicely. Especially steak because how powerful it is. Both my husband and I are satisfy with the purchase. We recomend the product.
Date published: 2019-09-03
Rated

4

out of

5
by
CarlosR
from
Not perfect but very good for the price!
The delivery took longer that expected but not a big deal. The grill itself looks of very descent quality. The assembly instructions were clear enough and it was not hard. We took about 1 hour to complete the assembly with a friend. Since is not the sturdiest grill I have had, I think is sturdy enough. For the price, I think is one of the best you can get. Regarding performance...... it does the job and we are happy with it. I do recommend the product.
Date published: 2019-07-30
Rated

2

out of

5
by
Debi
from
Cheap Cheap Cheap
Im giving it 2 stars because is looks nice but im afraid the wind will blow it over and it will fall apart. very light and very thin aluminum-plastic knobs. i have what i thought was the same BBQ. I thought the price was less on this one because this one doesn't have a rotisserie as my last one did but there is no comparison in quality. You get what you pay for. If you want a heavy duty BBQ you will have to spend at least 3x's the amount of this one. If you cant, this one it looks nice and will probably do the job for a while.
Date published: 2019-06-22
Rated

4

out of

5
by
Hasan
from
Really good for the price I paid for it.
I bought this BBQ last year, it was on sale and after days of research it was the best value for the money I could find. it was really easy to put together and it looks shiny and nice afterwards. works great and cooks the meat perfectly the way we like it. its easy to control the temperature and I especially like the size! its easy to clean as well. The only issue with it is its so light that it will fly away in the wind so it has to be tied pretty well. I do recommend it.
Date published: 2020-05-05