Description
Performance, function and style come together in this Grill Chef propane gas barbecue. It features 6 stainless steel main burners that provide 60,000 BTU of heat output and a side burner that delivers 10,500 BTU for easy side dish and sauce preparation. Great for entertaining guests and for feeding the family, the BBQ offers 590 sq. in. of primary cooking space and 240 sq. in. of space for the porcelain-coated warming rack, therefore totalizing 830 sq. in. (5354 cm²). The aluminum-plated distribution plates ensure even heating, while the integrated ignition system lets you start up the barbecue easily. Porcelain-coated cast iron cooking grills deliver flavourful results. The gas features stainless steel cabinet doors, a powder-coated steel cart and two side shelves as well as 4 casters for easy mobility.
Product specifications
5 years on cookbox, 3 years on burners, 1 year on parts
Enclosed cart, side shelves, 4 x casters
Electronic ignition system
Frequently bought together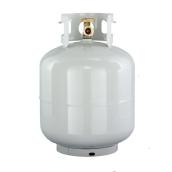 WORTHINGTON
Worthington Propane Gas Cylinder - Steel - 20 lbs
Format 20LB
Details
Article #1718026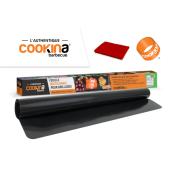 COOKINA
Cookina Cooking Sheet - 15.75" x 19.68" - Reusable - Black
Format 40x50CM
Details
Article #04705000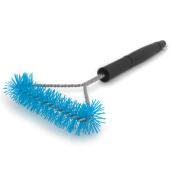 GRILLPRO
BBQ Brush - Nylon Bristles - 6.5 in x 17 in - Blue/Black
Details
Article #16665849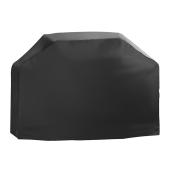 UNIVERSAL
Barbecue Cover - 75" - Black
Format 75"
Details
Article #34085088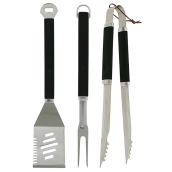 MR. BAR-B-Q
Barbecue Tool Set - 3 Pieces - Stainless Steel
Format SET3
Details
Article #34085090
if burners light but strength of the burners reduce their flame when all are lit is it the Regulator I need to replace?
Propane BBQ - 6 Burner - 830 sq. in.
is rated out of
5
by
9
.
Rated

1

out of

5
by
Melb
from
Started out ok
Seemed decent enough...except middle burner never worked right. However...1.5 years in and the entire bottom.of the BBQ box dropped right out. Bbq is completely useless with nothing shielding the propane tank from the burners above it. I bought a cover at the same time as bbq and always covered it. Pretty pricey bbq which should last longer 1.5 years. Not impressed.
Date published: 2020-06-05
Rated

1

out of

5
by
Mm111
from
Pièces minces, non résistant.
Au bout de 2 ans, nous devions changer la tôle du fond, les grilles et les brûleurs ...! tous les morceaux ont brûlés et rouillés, ils ont fini par défoncer et tomber sur la bonbonne. Racheter les morceaux coûtaient presque le même prix que le bbq lui-même. Difficile d'avoir une température précise. Utilisation : plusieurs fois par semaine, couvert avec une toile tout l'hiver, brossé et bien entretenu.
Date published: 2019-10-07
Rated

1

out of

5
by
LCBoucher
from
Durabilité d'environ deux ans avant de changer
J'ai acheter ce modèle et après 2 été les diffuseurs sont pourris et brûleur commence à être abîmer et avant d'avoir son 3e anniversaire le fond est pourris et tout les diffuseurs le sont aussi et 3 brûleurs sur 6 a changer ... environ 300$ à mettre pour qu'il soit de nouveau fonctionnel ... la pire marque à acheter dans tout les bbq est surment grill chef... je ne recommande vraiment pas cette marque ... beaucoup trop chère pour ça qualité de pièces médiocre
Date published: 2020-04-26
Rated

1

out of

5
by
Elie1973
from
Une chance qu'il est beau!
Construction en tôle tres mince Les grills se promène beaucoup au lavage Le fond trop près des brûleurs, les aliments tombés prennent facilement en feu. Le montage est correct
Date published: 2019-06-12
Rated

1

out of

5
by
Grill-Chef Cancer
from
Pas touche
J'ai acheté ce produit il y a deux ans et déjà l'an passé je ne pouvais plus utilisé le côté que j'utilisais le plus souvent. Les brûleurs étaient déjà fendues. L'autre côté commence à fendre. Bref, très mauvaise qualité et cuisson inégale. Si vous avez de l'argent à jeter par les fenêtres, allez-y fort. Pour ma part, Grill-Cheff est barré à vie!
Date published: 2020-06-02
Rated

1

out of

5
by
TomTom
from
Tout pourri
Nous en sommes à notre 3ieme été , et le dernier , brûleurs fendus, tout l'arrière n'existe plus tout est parti en rouille, les diffuseurs partent aussi en rouille, et bientôt, ce sera au tour du fond. N,achetez pas cette Scrap .
Date published: 2020-07-18
Rated

2

out of

5
by
Mallory
from
Après 1 an plateau rouillé
Après 1 an toujours couvert, le plateau du fond était tellement rouillé qu'il est tombé au fond du BBQ. Pas moyen de trouver la pièce.
Date published: 2020-04-16
Rated

3

out of

5
by
Harley
from
Nice BBQ, heats up nicely
It's a great BBQ, I just wish the parts would fit together more seamlessly.
Date published: 2019-09-15