Green Cross® GRASS SEED
Give a sharp, fresh new look to your lawn thanks to this premium grass seed by Green Cross®.
GRASS SEED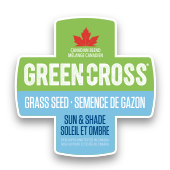 Cold tolerant
Resists and recovers from salt and pet damage
Maintains colour in drought conditions
Green Cross® Sun & Shade Grass Seed is formulated to perform well in areas that receive a mix of sun and shade exposure. Includes grass seed types that deliver tolerance to cold, drought, salt and other stresses while providing excellent colour and turf quality.

Suitable for repairing bare patches, thickening an existing lawn or starting a new lawn.

Contains high quality varieties of Creeping Red Fescue, turf-type Perennial Ryegrass, turf-type Tall Fescue and Kentucky Bluegrass.