Description
The Google Home Mini speaker is a smart personal assistant with voice commands to use with smart services through the home. Use your voice to quickly find information about the weather, news, sports and more. Control your favorite music, movies and shows, using only your voice and get personalized responses for everyone at home with voice recognition. It can distinguish up to six voices. It is covered with a durable fabric top and non-skid silicone base. It requires a Wi-Fi network, a nearby electrical outlet, and a compatible mobile device. Controlling audio on your speakers requires a Chromecast Audio or Chromecast built-in and controlling video on your TV requires a Chromecast or Chromecast built-in. 1-year limited warranty.
Product specifications
Durable fabric and silicone
Frequently bought together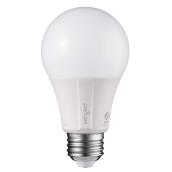 SENGLED
Element Classic - A19 Soft White - 2700 K Bulb
Details
Article #43695000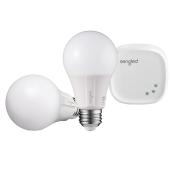 SENGLED
Element Classic - A19 - Soft White 2700 Kit
Format 3PC
Details
Article #43695001
GOOGLE
Google Home - Smart Speaker - White/Grey
Details
Article #64145017
Is this google mini 2nd gen?
Is this the new Google Home NEST Mini or the the Google mini
Google Home Mini - Smart Speaker - Charcoal
is rated out of
5
by
983
.
Rated

5

out of

5
by
TV
from
Google Home Mini
Product arrived and I was skeptical as to whether we would use it. Boy, were we surprised. We use it for everything from checking the weather, help with homework assignments and especially playing music. The installation was super easy. The sound quality is great. So easy to use even my grand-daughter uses it to answer her questions. I would highly recommend this product. I have found out that it easily recognized all the voices in our family after following the installation instructions. Easy to install and use. Installation took less than 10 minutes from unwrapping to use. [This review was collected as part of a promotion.]
Date published: 2018-12-13
Rated

5

out of

5
by
Jack
from
Love these little guys
I have these little guys in each bedroom and I love them. They are small and fit nicely on the nightstand or dresser and look good too. With all the features they provide it's nice to be able to walk into the room and say "Hey Google" and have it do pretty much what ever I need. My kids and guests enjoy it very much too. Being able to tell it to turn on or off a light is very convenient and saves on electricity. I can even control them while away from home in case I forgot or want to make my home look occupied at night. Highly recommend this product to add to or to start building your smart home system. [This review was collected as part of a promotion.]
Date published: 2019-01-13
Rated

4

out of

5
by
Sed
from
Great addition to have
Ok, there are tons of pros and a few cons which is why it's 4 stars instead of 5. I love that you can control the brightness via app or voice control. Ok google adjust brightness living room light to 75%. Of course "living room" and ## percent change for your situation. I also like that you can turn off the light away from home unlike Alexia's Philip Hue. Google home is also better at providing information. For example, I asked "what is the ideal home humidity to prevent mold." Answer below 60% ideally between 30% - 50%. So even if you love Amazon Alexia you will want to add a Google mini to your home automation. [This review was collected as part of a promotion.]
Date published: 2018-12-07
Rated

5

out of

5
by
Mandrake
from
Fun Product
The Google Home Mini is a good very small speaker system. The sound is good and the volume can be adjusted from very low to very loud and the sound is good at all levels. The volume is controlled by voice only. The device is approx. the size of a bagel but has very rich sound for such a small speaker. The Google assistant is fun to use and can provide almost anything you can ask on the Google search website. The speaker was easy to setup with the Google Home app. Just plug it in to an outlet. It works with most of the music services but not with Amazon Prime. I recommend this device. [This review was collected as part of a promotion.]
Date published: 2018-12-12
Rated

5

out of

5
by
Tami
from
Christmas gift
Bought the google mini for my parents to help them with everyday task. And already my parents are loving it, they set reminders for doctors appointments, up coming events for the church and whatever other reminders they need to remember. They also listening to music as well as asking the google home questions.It has been very helpful to my parents and they enjoy the producted Oh yea I have the google mini and google hub for awhile so I would recommend it to anyone So heres at least one photo of the google home product i have. i should of took a pic of the other 3. LOL [This review was collected as part of a promotion.]
Date published: 2018-12-29
Rated

5

out of

5
by
KnightDev
from
A Puck-Sized Personal Assistant
I've spent a few weeks with the Google Home Mini, and I have to admit I'm impressed. My previous assistant I used for my bedroom, the Amazon Echo Dot, pales in comparison with the Google Home Mini. The Google Assistant provides better + more accurate answers, the speakers on the Mini sound crisp and clear with just a touch of bass to surprise you, and its helpful integration points into day-to-day life are well appreciated. For its low price of $49, it was well worth the money and continues to deliver.
Date published: 2017-12-20
Rated

4

out of

5
by
Mark
from
The device works well, the service so-so
I like the great sound from a speaker this small, and it is very good at picking up 'ok google' in a fairly noisy room. It is a simple device, plug it in to the wall socket that's it for the hardware. You need an additional android device (at 4.4 or newer) in order to add it to your router and complete the setup. That's my complaint. I shouldn't have to have yet another device to set this up. By the way, even if you get it set up, set up for multiple users voices doesn't work with just any android 4.4 device. That is why I gave it 4 stars (instead of 5). It works very well with Smartthings and with Logitech Harmony.
Date published: 2017-12-29
Rated

4

out of

5
by
Bryce
from
controlling interest
December 22, 2018 I have a full size google home that I love. this one has the same great functionality in a smaller case. well made quality product. It doesnt have the impressive audio of the full size but still sounds much better than any phone or cheap bluetooth speaker. I put in the guest room so they can play music and also control the lights. For the price it's well worth it as a second or a gift. the GE bulb works perfect and required no setup, my Phillip's hue have more functionality but at a much higher price and complexity. this pair is perfect. [This review was collected as part of a promotion.]
Date published: 2018-12-22