Description
Store and heat 40 gallons of water with a giant gas water heater as has a rating of 40,000 BTU. This heater works on natural gas and is Energy Star-certified. The 40-gallon gas water heater measures 22 in in dia x 48 in H. This heater has temperature and pressure relief valves that prevent it from water damage.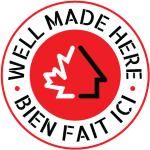 Ecological Attributes
This natural gas water heater (with a storage tank) is ENERGY STAR® certified to save 14% in energy.
Product specifications
Six (6) year limited warranty against leaks and on component parts from date of installation