Description
The Guardian series by Generac® features the Mobile Link technology that allows you to monitor the status of the generator from anywhere in the world using a smartphone, tablet or PC. The generator is air cooled and features an aluminum enclosure. This product is backed by a 5-year limited warranty.
Frequently bought together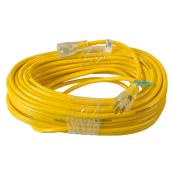 WOODS
Outdoor Extension Cord
Format 30M

Details
Article #40255058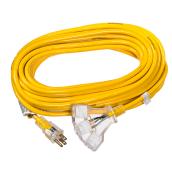 YELLOW JACKET
Outdoor Extension Cord - 50 ft. - Yellow
Format 14/3 50'
Details
Article #21685137
I have heard that propane and natural gas engines are difficult to start and/or keep running in very cold weather. How easy is it to start this engine in say -25C weather?
If you buy the optional cold weather kit you will be fine, the kit comes with a heater for the battery and oil filter to keep the oil warm and reduce friction on cold weather start. Had ours 3 years and its started every time.
Date published: 2019-04-01
Does it come with the transfer switch in the picture ?
Ours did, but we also changed to a full panel
Date published: 2019-03-05
What is the manufacturer's warranty on this unit if I were to order one today?
What kind of base do the generators sit on and do you supply