Description
Silicone for doors and windows. 35-year warranty. Clear. 290 ml.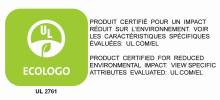 Ecological Attributes
This sealant is ECOLOGO® certified (UL 2761: Sealants and caulking compounds). It rmits fewer VOCs for better air quality.
I have a sliding shower door which has separated from the from the aluminum frame , where the glass is just a press fit . If I were to remove the rubber material from the aluminum channel ; would I be able to use GE SE11 Silicone , in its' place .
Yes, you should ne able to! 
Date published: 2018-12-08
Is it toxic I wanna make a mold to cast lego bricks out of jello and i dont know if i will be able to eat the bricks after
If this is silicone number 1 it is harmful if swallowed
Date published: 2018-09-23