GE 25.1-cu ft Stainless Steel Side-by-Side Refrigerator with Ice Maker and Water Dispenser
Article #23085872
Model #GSS25IYNFS
Format 25CFT
This item is not currently available for immediate purchase, but can be ordered by visiting the selected store.
Description
Rethink food organization with this GE side-by-side refrigerator, designed with multiple storage features for all your fresh and frozen ingredients and meals. Even the smallest food items can be found in no time thanks to the flush showcase LED lights that illuminate every area of your freezer and refrigerator. Adjustable edge-to-edge slide-out shelves in the refrigerator feature a polished look, provide easy-access cleaning and extend the full width of the refrigerator. Multi-level drawers provide just the right environment for a large number of fruits and vegetables. Fingerprint resistant stainless steel finish means you can easily wipe away smudges and fingerprints for a look that's always sparkling clean. Moreover, this refrigerator gives you easy access to fresh, purified water. Advanced water filtration uses XWFE replacement filter that removes up to 98% of trace pharmaceuticals that can be found in drinkable water.
Product specifications
Side-by-side refrigerator
4 door bins (2 gallon door bins), 1 fixed shelf, 3 removable shelves, 3 drawers (1 humidity-controlled crisper), dairy compartment
5 door bins, 4 shelves, ice storage bin, 2 baskets
Reversible Door Swing (Y/N)
Number of Refrigerator Shelves
Useful information
DELIVERY AND INSTALLATION
Our experts are dedicated to ensuring your new appliance is delivered with the utmost care.
Learn More
PROTECTION PLAN
Enjoy exclusive privileges.
Learn More
RETURNS AND REFUNDS
We stand behind every product we sell.
Learn More
Credit available
Frequently bought together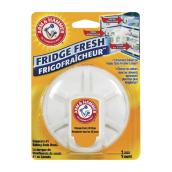 ARM & HAMMER
"Fridge Fresh" Refrigerator Air Filter
Details
Article #53975000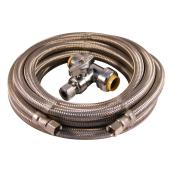 AQUA-DYNAMIC
Ice Maker Connector Kit
Format 1/2x1/2x1/4" 10'
Details
Article #01735520
GE 25.1-cu ft Stainless Steel Side-by-Side Refrigerator with Ice Maker and Water Dispenser
is rated out of
5
by
5786
.
Rated

2

out of

5
by
hugoboss
from
Good but noisy
From the very first day we were annoyed by the sound of the compressor. We first thought it was because it is new, but no, it's constantly louder than the GE fridge we had before. We called for service and the mechanic told us that the new GE's are louder than the old ones due to a new "high efficiency compressor". Had we known, we would have not bought this fridge but kept our 10 year old GE that was running quietly in the background. No we're stuck with the noise level. So anybody who is noise sensitive should stay away from this unit. Other than that, we have no complains. Looks good, cools good.
Date published: 2015-05-06
Rated

2

out of

5
by
OF27
from
Looks good on the outside
I just bought this refrigerator and it was delivered on 04/08 but later that night I noticed the freezer had nothing but frost in it, the lining was not secure and was sucked in. I called for service and had to wait for someone to come out. They came out and really couldn't do much so we had it replaced. I had the new one delivered on 04/13 and I called to have it served on 04/14 as the freezer has some frost in it again and the freezer light isn't working. I have to wait until 04/18 until someone comes out to look at it. I really hope this is not the start of a bad product. As of right now I can't give a good review, maybe if things change I will change my review.
Date published: 2016-04-14
Rated

1

out of

5
by
Vicmon
from
cheap
We bought this after our kemore died (15 yrs) . I was very disappointed with this refrigerator. 1st one came with the seal on the freezer door warped cool air was leaking out and caused frost everywhere. they came out and heated the seal to make it close. the freezer door wasn't flushed by 1/4 in it stuck out. they told use it would be 2 months for a replacement. I got the new one and the seal is still warped and I am losing cold air from the bottom of the doors. the water dispenser tray doesn't snap in and slides when you put pressure on it. I am waiting for them to come and heat the seal again. Just want my money back and go to another brand. cheap save your money
Date published: 2021-01-18
Rated

5

out of

5
by
shellyb9115
from
Love it!!
We replaced a very old fridge that we'd had for 20 years. I did my research and decided that this GE model was perfect for us. It had been many years since we'd owned a side by side and were hesitant due to freezer space. This one is plenty big enough! I am so delighted with being able to dispense water, ice cubes, and crushed ice through the door! The refrigerator portion is large enough to suit our needs perfectly. I like the humidity controlled drawers, each having separate controls for fruits and veggies. I look forward to keeping my vegetables longer, thus saving me money. All in all, we couldn't be happier with our new GE refrigerator!
Date published: 2019-06-16
Rated

4

out of

5
by
UtahKris
from
Tons of room!
The house we just bought has all GE appliances except the fridge so we picked this one. It was just delivered a few hours ago. It's very spacious inside and looks great. Tons of room, and I love the deli drawer. I hear the ice maker working so I'm hoping we'll be able to use the ice dispenser soon. The handles are not fingerprint resistant but the rest seems to be and will save me tons of time cleaning! It took forever to unpack everything, peel all of the plastic and tape off, and install the drawers, but seems totally worth it. Just wish they would make a stainless finish with magnetic doors. Hope it ends up working as good as it looks!
Date published: 2021-01-28
Rated

5

out of

5
by
Jpd39
from
Well made
One of the big surprises was the doors close themselves when you get the doors within about 5 to 8 inches of the main body of fridge. No more doors left ajar. If they might, the door alarm is so loud and annoying, you'll run to the fridge just to get rid of that noise. The led lighting is so bright, l suggest you put on your suglasses before opening. So quiet you don't know it's running. Very well designed for food storage. Ice maker started making ice within about 5 hours. Black slate is not black. It's a very dark grey, but it's beautiful. Could be hard to match unless you buy strictly GE. Has many more nice featuures. So far great fridge.
Date published: 2020-09-17
Rated

5

out of

5
by
NanaJannie
from
Lots of little features add up to a great fridge!
Love the LED lighting. You can see exactly what's in the fridge--nothing gets pushed to the back & forgotten for six months. Shelves in door attach securely, no pickle jars or milk containers dumped on the floor because shelves fell off. Light in freezer door automatically turns on and off when dispensing water or ice. Ice cubes stop dispensing abruptly when pressure is released--no ice cubes vomiting across kitchen after glass has been removed. I would have preferred a textured front to hide fingerprints, but it cleans up easily, and I love that the filter is easily accessible inside the fridge instead of being behind a grill at the bottom.
Date published: 2016-01-26
Rated

5

out of

5
by
RJKJR
from
Well built refrigerator.
I was not expecting the fridge to be made so well. The body is very rigid and is not easily bent or tweaked as other manufacturers I checked out. The doors are very rigid too and close tightly. The Ice make began production in as little as 2 hours after setup. There was a notification stating that it may take up to 24 hours to start. I was surprised that the ice container was almost 40% filled in 24 hours. The water and ice are one of the important features why I purchased this make and model. There were more good than bad reviews across the web as compared to other manufacturers. I've had this fridge for about 1 week and I'm very happy so far.
Date published: 2016-11-20