GE 23.2-cu ft Slate Side-by-Side Refrigerator with Ice Maker
Article #23085830
Model #GSS23GMKES
Format 23.2CFT
This item is not currently available for immediate purchase, but can be ordered by visiting the selected store.
Description
Store your many grocery items in a well-organized refrigerator, designed with user in mind. This 23.2 cu. ft. slate refrigerator features adjustable slide-out glass shelves with raised edges that contain spills, and humidity-controlled drawers that preserve your multiple fruits and vegetables in a perfect storage environment. Large containers and tall bottles can fit on adjustable door bins. Built-in Arctica icemaker includes a special access door so you always have ice cubes at your fingertips. Even the smallest food items can be found in no time thanks to the flush showcase LED lights that illuminate every area of your freezer and refrigerator. Advanced water filtration uses XWFE or MWF replacement filter that removes up to 98% of trace pharmaceuticals that can be found in drinkable water.
Product specifications
Side-by-side refrigerator
Spill-proof glass shelves
Number of Refrigerator Shelves
4 door bins (2 gallon door bins), 1 fixed shelf, 3 removable shelves, 3 drawers (1 humidity-controlled crisper), dairy compartment
3 door bins, 3 slide-out shelves, storage basket
Reversible Door Swing (Y/N)
Useful information
DELIVERY AND INSTALLATION
Our experts are dedicated to ensuring your new appliance is delivered with the utmost care.
Learn More
PROTECTION PLAN
Enjoy exclusive privileges.
Learn More
RETURNS AND REFUNDS
We stand behind every product we sell.
Learn More
Credit available
Frequently bought together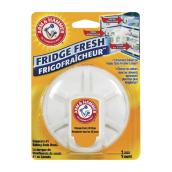 ARM & HAMMER
"Fridge Fresh" Refrigerator Air Filter
Details
Article #53975000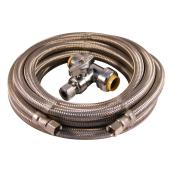 AQUA-DYNAMIC
Ice Maker Connector Kit
Format 1/2x1/2x1/4" 10'
Details
Article #01735520
GE 23.2-cu ft Slate Side-by-Side Refrigerator with Ice Maker
is rated out of
5
by
1580
.
Rated

1

out of

5
by
NewHomeOwner
from
Almost Started A Fire
After 2 weeks of having this brand new refrigerator I heard a crackling noise coming from the freezer. Opened the freezer door and felt the panel over the evaporator inside and it was burning hot despite the freezer being cold. Took off the cover and the electrical inside was bright red and crackling so unplugged the fridge immediately and was left without a working fridge and lost all of my groceries. If I were deaf, not home, etc., I would not have noticed this noise and burning before it started a fire. Fridge looks good but I cannot comment on its functionality aside from almost starting a fire.
Date published: 2017-09-29
Rated

5

out of

5
by
Jfonta
from
Love it!
I've had this fridge for only a couple months and we love it. It looks awesome & runs quiet, yes you can hear ice cubes when they fall into the bin but I was used to that sound from a previous fridge. We purchased the matching stove, hood & range and love them all. We did have to reset the ice maker with the help of customer service from GE because 2 days in it wasn't producing ice but once reset it's been working great! I thought at first that freezer compartment looks awfully small because I had ordered this size fridge sight unseen but once I started using it I found it to be quite adequate for a small family. If I had room I may have been happier with a larger one but this fit the area perfectly and I'm a 100% happy with it!
Date published: 2017-03-04
Rated

5

out of

5
by
Sarge
from
Beautiful and functional!
It was time to replace our white side by side from 2003. By the way it was still running! We chose to buy another side by side and in the new slate color which resists fingerprints and smudges. It's beautiful and can still use a magnet for my notes. Nice LED lighting, deep shelves in the door, pull out shelves and I like the smaller drawer for cheese and deli meats. We like the 10 lb. ice bin. It produces ice fairly quickly even though it produces fewer ice cubes at a time than our old one, but faster. I read the reviews of the loud noises which is caused by the water filling up the ice trays and ice cubes dropping in the bin. Were getting used to it. Love the space saver doors which allow you to sit the unit in further yet clearing the wall. Great fridge!
Date published: 2017-06-15
Rated

4

out of

5
by
marcybq
from
SIDE BY SIDE
Just had this refrigerator installed yesterday to replace one more than 20 years old. We were restricted on size and this one fit. At first, I found it quite noisy, but that seems to have gone away. Right now, everything seems fine. Would have given it 5 stars except for 2 items. First, the inside light takes up so much room on the top shelf, it restricts usage for storing any tall items. Had to adjust shelves to store taller items on lower shelf. Second, would have liked a 4th shelf in the freezer so called and ordered one at an additional cost, but I definitely feel it will be worth the cost to assist in an organized freezer with easy access.
Date published: 2017-05-05
Rated

4

out of

5
by
slkrik642
from
Perfect Size for 36 Inch opening
We struggled to find a side by side fridge with an ice and water dispenser that would fit in the opening and not be shoe horned in the opening. This GE fit the bill perfectly the Fridge is nicely laid out with plenty of room for all your perishable needs. The freezer is alot smaller than our last fridge but we knew that when we bought so we bought a freezer chest, the storage on the doors in the freezer is a joke, I couldn't even fit a Lean Cusine in there, I am using to hold frozen pizza dough. Ice Maker works great, water dispenser as well, the amount of water dispensed is much more than our previous fridge and I like that the drip tray can be cleaned
Date published: 2021-08-18
Rated

5

out of

5
by
Jnbnmcm
from
Amazing so far!
This is perfect for the people that love a nice organized refrigerator! There are so many shelves on between the door and fridge part. The freezer is small on this one and not as many shelves. This was ideal for us as we have a separate freezer chest we use. But if you don't have this option than it may be too small for the average family. Upside is if they sell additional shelving there's multiple slots to utilize. The slate gray is a very nice color. It is smudge proof which was a must! Opens and closes very nicely. Cannot rate the ice and water dispenser as it's not hooked up yet but the functions are straight forward and easy to press.
Date published: 2021-02-04
Rated

4

out of

5
by
Bluescat1
from
Plenty of room in refridgerator
I had my last GE side by side for 37 years and thought I was pushing my luck. I have been looking for a refrigerator that could fit in my tight space and this one barely made it. The unit is 33 inches wide and I had to make some minor adjustments to my current opening. The refrigerator side is well designed with plenty of room. I only gave 4 stars because the freezer side is a little small with the ice maker. I can't put the items in the door like my old GE. However with a little creative stacking and packing I was able to fit my stuff inside but it is tight.The icemake works well, so I guess you ghave to give up something to get something
Date published: 2020-06-02
Rated

4

out of

5
by
BSMI
from
A great refrigerator so far
I pretty much like everything about the GE refrigerator. Due to size restraints I had to get the 25 cubic size so the freezer is pretty small (narrow). The shelves in the door are sturdy and can store lots of dressing bottles etc. my only complaint so far is the light in the fridge side. It's really big and takes up a lot of room so tall bottles don't fit near the middle of the top shelve. In my last refrigerator the ice maker was constantly having to be repaired because it was a French door type and we were told an ice maker shouldn't be in the refrigerator part. It should be in the freezer and that's why we went to a side by side type.
Date published: 2021-07-05