Description
This GE Appliances(TM) gas range features continuous corner-to-corner grates with plenty of cooking space and made in porcelain-enameled cast iron that can handle heavy pans. The burner provides 15,000 BTUs of heat power for faster boiling, while the low simmer burner (5000 BTUs) is ideal for sauces. In addition, the burners are fully sealed, which helps contain spills and crumbs for quick and easy subsequent cleaning. As for cleaning the oven, it is easy: fill the included reservoir with water and press the built-in "Steam Clean" option. Once the process is complete, simply scrub the remaining residue for sparkling cleanliness. Backed by a 1-year limited warranty on parts and labor.
Product specifications
Left front burner: 15,000 BTU, left rear burner: 5000 BTU, right front burner: 9500 BTU, right rear burner: 12,000 BTU, center oval burner: 10,000 BTU
2 nickel racks, 6 positions
Designer style stainless steel handle
Porcelain-enameled cast iron upswept cooktop
Convection Conversion (Y/N)
Numeric pad and rotary manual controls
Reversible Door Swing (Y/N)
Electronic Touch/Rotary Knobs
Number of Burners/Elements
Frequently bought together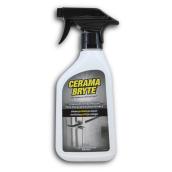 CERAMA BRYTE
Stainless Steel Cleaner
Format 474ML
Details
Article #8307003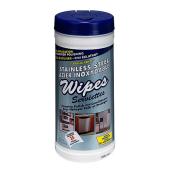 CERAMA BRYTE
Stainless Steel Cleaning Wipes
Format 35/PK
Details
Article #8307005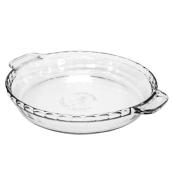 Pie Plate - Glass - 1 5/8" x 9" - Clear
Details
Article #97737604
Is this the stainless steel that does not show fingerprints 
Depends on how dirty your fingers are. It does decent and the unit works well. Good instructions and easy to change to propane with all parts included. For an economy unit it exceeds.
Date published: 2019-08-15
Does it need 120 or 220 volt
120
Date published: 2019-08-08
Can this be run on propane
There is hardware kit in the installation instructions to change the orfice to propane.i didn't use it as we were not gas but it looks easy
Date published: 2019-05-21
How do you clean the griddle? Does it detach?
The griddle comes off and is easy to clean.
Date published: 2019-03-07
Does the range come with additional grill to replace griddle if you want to use 5th middle burner normally 
No.  Unless they sell it separate.   Love the stoves.  Cooks great.  
Date published: 2019-07-14
What are oven dimensions please
Standard
Date published: 2018-12-27
Can it be converted to propane
Yes. Mine came with a conversion kit. They all do "LP Conversion Kit Included" if you scroll down the product description. Very simple to install.
Date published: 2019-07-20
Does this range comes with a conversion kit for propane hook up?
It does not.  I am not sure if it's available as an option 
Date published: 2018-12-27
Free-Standing Gas Range with Steam Clean - 30" - 5 cu. ft - SS
is rated out of
5
by
6462
.
Rated

4

out of

5
by
Momof5kiddos
from
Nice Look, easy to clean.
Love the look of the stove. The 5th burner and griddle are a plus. Very easy to clean. Love how all the cook top elements break down and that the grates are dishwasher safe. Only two downsides so far is the broiler, doesn't pull out in a drawer (makes it harder to access) and no drip pain included. I don't use the broiler to often so not a major issue for me. Other downside is the location of the oven vent (under the digital section on the top of the stove). When the oven is on and the griddle is in place it becomes very hot. I just bought a center grate which allows for better ventilation and only put the griddle in place when in use.
Date published: 2016-07-03
Rated

1

out of

5
by
JudyJudyJudyB
from
All looks
I can't believe i keep getting asked to review this product. This stove looks amazing but the burners run hot. The burners start at HI then 9 down to 1 then low. You would think that 5 would medium heat right? NO. Medium heat is a 3 I think the oven runs a bit warm too. My main issue with this stove is the broiler. You literally have to lay on the floor to use it!! If I'm broiling something I like to keep an eye on it and the broiler is a flip down door not a drawer. WHO thought this was a good design !?!?!?!? Oh right, someone that DOESN'T COOK. It would also make more sense if the griddle flipped over and was a grill. Yup, ONE STAR
Date published: 2020-05-25
Rated

2

out of

5
by
Dbh409
from
Looks great, some features wanting
I love the color and cleanability of this range. My complaints are 1) the griddle has hot spots in the front and middle and the rear never really gets hot, 2) the two mid-size burner caps push the flame out the sides more than upward at higher settings, so the pots take forever to heat up, 3) the space between the burner caps and the grill is large, so it takes a while for pots to get hot and there's a lot of wasted energy, 4) the oven preheats well below the requested temperature — we've placed a thermometer in the oven and if we set the oven to 400, it says it's preheated at 250; eventually it gets there, but it's slow.
Date published: 2019-04-14
Rated

4

out of

5
by
BobLE
from
Nice range for the money
Bought this range when our old one failed... the LED is a bright white and can be seen under bright kitchen and hood lights, Burner grates are cast iron, griddle is aluminum with a non-stick coating and works great, We added the cast iron griddle grill listed in the accessories its side tabs fit on the cast iron burner grates and matches the grate level nicely. The broiler is not a drawer,this is the reason for 4 stars... the door flips down and the grate slides out a bit. No broiler pan included. You can calibrate the oven temp up or down to correct it if its off a bit. We Like it, it's a nice range for the money.
Date published: 2018-11-15
Rated

3

out of

5
by
karkaypa
from
NICE LOOKING APPLIANCE
Received this as a gift...Wow, Beautiful, much appreciated gift! (Stainless and Black Color) Installed today...But, be careful if you purchase this particular range; Just realized that the broiler is where the door opens on the front bottom! It will be difficult to watch closely as I broil; practically have to get on the floor. Plus there is no room for storage. This is also a "steam cleaning" oven which I have never used before, I will have to add water to the inside; I've always had "self" cleaning ranges...I'm anxious to see how it will clean. I do love the stove top look, middle is a "griddle"! I'm looking forward to using my new stove!
Date published: 2018-11-30
Rated

3

out of

5
by
gedon
from
GE 30" STOVE OVEN
This is a basic stove-oven with some great features; center griddle is real nice, broiler is available down in bottom drawer if needed. Burners work well, oven seem to be good. But, the bad side is, the oven door does not close completely; it closes like a V. This is apparently very common with this model and because we already gave up our original stove on our first delivery, we are going to keep it and see if we can get it repaired. How can you make an oven door that doesn't completely close? Super hot to your finger touching this gap area when oven is on. To be told it is common for this model like it is normal does not make a lot of sense.
Date published: 2020-06-02
Rated

2

out of

5
by
Alhern
from
Brand New and Damaged
This was the first appliance me and my huband purchaced brand new. Our previous oven's igniter stopped working, and instead of fixing it we took the chance and finally got a new one. We were so excited and anticipating the first use. Everything was going great til we opened thw broiler boor and found it was damaged from the inside. Somehow it's bent to the point whwre we can't even place the rack. Now weve never been the type to use our broiler religiously, but when purchasing a brand new appliance, wouldn't you expect everything to be in perfect shape? It definitely put a damper on our excitement. Besides that, everything else seems to be in working order as you'd expect.
Date published: 2020-07-21
Rated

3

out of

5
by
AnmlFan
from
It gets the job done
We had to replace our 15 yr old stove. This one works well, with accurate temperatures. The iron grates are impressive and sturdy, but the burners seem sort of flimsy. The burner caps, for instance, are less than 1/2 the thickness of the ones on our old stove. The burners themselves drop into the stove top, and jiggle around a bit in their seat. The controls are easy to use, and the interior is roomy. I'm not sure how I feel about the broiler being under the oven. Our old stove had a broil burner inside the oven and a storage drawer underneath for things like cookie sheets and muffin pans. Still, this one works well and bakes beautifully.
Date published: 2019-04-01