Description
Easily prepare meals the whole family will enjoy with this Whirlpool gas range. The SpeedHeat(TM) burner offers precision that brings water to boil quickly. The fan convection cooking eliminates cold spots for even heating, so you can get great results and bake on any rack. The keep warm function ensures meals stay at temperature until you're ready to serve them, while the Frozen Bake(TM) option lets you skip the preheating step to get favourites like pizza and lasagna cooked more quickly.
Product specifications
Frozen Bake(TM) technology, fan convection cooking, keep warm setting
Hidden Bake Element (Y/N)
Hot Surface Indicator Light (Y/N)
Electronic Touch/Rotary Knobs
Number of Burners/Elements
Useful information
DELIVERY AND INSTALLATION
Our experts are dedicated to ensuring your new appliance is delivered with the utmost care.
Learn More
PROTECTION PLAN
Enjoy exclusive privileges.
Learn More
RETURNS AND REFUNDS
We stand behind every product we sell.
Learn More
Credit available
Frequently bought together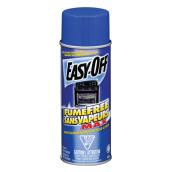 EASY-OFF
Easy0Off Oven Cleaner - Fume Free - 400 g
Format 400GR
Details
Article #17085054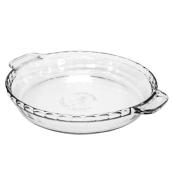 Pie Plate - Glass - 1 5/8" x 9" - Clear
Details
Article #97737604
Why are there no reviews on this item
I have only been using the stove for a couple of weeks. I am very happy with it so far, baked some cookies with the convection on and found that I had to reduce the temp. I baked them at 325 instead of 350 and they turned out fine.
Date published: 2018-06-01
Gas Range with Fan Convection - 5 cu. ft. - White
is rated out of
5
by
526
.
Rated

1

out of

5
by
Anja25
from
Terrible...Sad, but True.
Had the stove for 3 months now and the stovetop is already scratched and discolored. Hey Whirlpool, soap and water does not remove burnt on grease. BTW, those are the only recommended cleaning products and no scrubby sponges. I don't understand why someone would put such a delicate finish on a stovetop! It's almost moronic. There aren't even any drip pans available. That's not all. The grates are designed poorly. You have to position your small pots and pans just so or they tip to their sides. To top it off, I am using the self-clean option on the oven right and it stinks to high heaven. It is burning my eyes. Buyer Beware!!!
Date published: 2020-02-19
Rated

4

out of

5
by
tardiffbt
from
Overall Good
[This review was collected as part of a promotion.] I bought this a few weeks ago because I heard that Whirlpool was one of the better companies. This particular product is quite nice. The oven heats quickly. The cast iron grates seem high quality, but the manual didn't say how to maintain them. The drawer at the bottom seems a bit flimsy and I'm not the biggest fan of the buttons. (They don't push in at all). The only other concern is that a screw fell out right above where the I've door closes and it won't go back in. Though it doesn't seem like it's very important. Other than those things, it seems like a nice product.
Date published: 2018-06-07
Rated

5

out of

5
by
gDr9
from
A pleasure to cook on
[This review was collected as part of a promotion.] This range was the builder's spec and I'm very happy with the choice. Coming from electric ranges, gas is much easier to regulate for even cooking and these burners are nicely arranged and highly functional. Ignition is electronic and quick; adjusting the flame is smooth and response is positive. The cook top has a nice look and three separate, easily removable cooking surfaces. Cleaning around the burners is very easy due to effective design considerations. I have not used the oven yet, so unable to comment. The overall appearance is nicely matched with the other appliances and electronic display is quite easy to use.
Date published: 2019-05-10
Rated

2

out of

5
by
elou15
from
bad burner placement
(This review was collected as part of a promotion.) ordered it site unseen because the description was exactly what we were looking for with the two large burner one medium and one small. It seemed great till we tried using more than two pans. The burners are placed in such a manner that the pans will not fit and still be over the flame. It was a disaster cooking thanksgiving dinner. The oven is a nice size and seems to work but the burners are unless the way they are. the timer is so low you have to be in the same room close to hear it
Date published: 2018-10-22
Rated

4

out of

5
by
Paulita
from
It's a great range!
[This review was collected as part of a promotion.] I love the self-cleaning spacious oven with the convection option. However, I have suggestions to improve the cook top. The center "griddle" burner is wonderful but, if I'm using it, I can't really use any of the 4 regular burners. They are spaced too close to the center 5th burner. I love the edge to edge grids and the fingerprint resistant stainless steel. However, the black painted top surface shows every speck of dust. Could it be gray to match the stainless? Finally, the center circular plate on 2 of the burners have already made a snapping sound while only on "low" and I discovered a part of the top finish had chipped off.
Date published: 2020-06-12
Rated

1

out of

5
by
soxer
from
Specifications incorrect
The arrangement of the burners on the range we received were different from Whirlpool's. Also did not receive the large burner, orifice or burner base. We called Whirlpool to get the correct orifice, which they are shipping to us, but had to buy the correct burner base and cap (and we had to order all four caps because they come as a set.) We're out one hundred dollars! Hopefully will get the orifice soon but the burner caps are backordered and not expected to ship for a another month. Will never buy another whirlpool product. Great job Whirlpool!
Date published: 2019-06-26
Rated

4

out of

5
by
Peter184
from
Good Quality & Modern Looking Range
We bought the range about a month ago. Everything operates well, but my wife says the 3 grates on the stove top are way too heavy to lift when cleaning and there are no indentations to line them op on the stove top to make sure the grates are even. The timer will not stop automatically so you have to manually turn it off. That can be annoying if you are in another room - the timer keeps cycling! Also, there is only one display for this timer and the oven temperature. so if the timer is on you don't know what the oven temperature is. Whirlpool could have easily had 2 displays for time and temperature!
Date published: 2019-05-19
Rated

4

out of

5
by
Diane
from
Great Purchase!
[This review was collected as part of a promotion.] Replaced my 9 year old gas Whirlpool range with oven problems with this model. Loved my old one and this one was very comparable. There are a few changes that I miss from the old one and why I rated only 4 instead of 5. My old model had a handle on the bottom drawer and was easier to grab than reaching in opening to open drawer now. Also nice feature to have oval burner for larger pans or a griddle, but does make cleaning a tag more difficult due to having to align 3 grates now and center grate must connect to the other 2. The range itself works great and recommend to anyone wanting a quality range.
Date published: 2021-01-14