Description
The sleek contemporary style of the Artisan Keter garden shed will fit perfectly in more modern settings. Made of durable and sturdy resin that can withstand any weather and a heavy-duty floor that can take heavy loads. The Artisan shed features wide double doors. crystal clear windows and the DUOTECH® wall hanging D-clip system for the ultimate storage solution. It is possible to paint the shed with the colour of your choice. One of the sturdiest shed in the market, it can take 40 sq.ft. of snow load on the roof without any damage. The shed measures 7' x 7' and is covered by a 10-year limited warranty.
Frequently bought together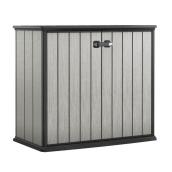 KETER
Horizontal Resin Storage Shed - 55" x 29" x 47,2" - Grey
Format 54.9x30.3x47.2"
Details
Article #16525024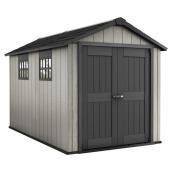 KETER
Oakland Resin Garden Shed - Grey
Format 7.5'x11'x95.2"
Details
Article #16525006
can you paint this shed?
The instructions say you can paint the shed. Beware! Our package may have been compressed during storage, which made assembly difficult. The tongues of the panels were significantly larger than the grooves and the wall panels were warped. We had to use considerable force (we used a 2x4 and hammer on the corners) to get the wall sections together tight enough to fit them in the "trough" in the base and fit the window and roof sections on at the top. At times it was a three person job.
Date published: 2020-08-30
Does it come with selves? And second question can you put a portable heater in the shed during the winter?
Hello, No the shed only comes with brackets. You would need to use a plank of wood to create your own shelf. No and it is not recommended. Melting point for polypropylene resin is 320 degrees F.
Date published: 2020-05-08
Bonjour. Je voudrais savoir la hauteur du produit à l'extérieur et à l'intérieur. Merci.
Hello, Here are the dimensions: 214Ex218Dx226H cm.
Date published: 2020-03-18
The pictures all show shelving that looks to be attached to the walls. Are there drill points in the walls to attach shelves, brackets, etc or is it just deceptive photos?
Yes there are accessories to drill holes where you would like to attach shelves at whatever height or location you would like 
Date published: 2020-07-13
Is Keter a Canadian company?
A quick Google search tells me this: Keter Group is an Israeli manufacturer and marketer of resin-based household and garden consumer products. The company, established in 1948, has a chain of retail stores throughout Israel and operates 29 plants in Israel, Europe, Canada and the United States. Keter products are marketed worldwide. This is the second Keter shed we have purchased. They are well made and straightforward to put together, and they last. Our last one was 15 years old and we sold the house with the shed still looking like the day we built it.
Date published: 2020-06-26
Second request for an answer! I KNOW where the windows are as stated in my first request, but you are not answering me! DOES THE SHED COME WITH THE GLASS FOR THESE WINDOWS? Answer me plz!
Yes it does.
Date published: 2020-06-28
Please answer clearly. The product description on your website states this: "Number of Windows: 0". However, the pictures clearly show windows along the top in the front AND both sides. Does the glass for these windows come with the shed?
Yes the windows come with the shed - not glass - plastic clear windows. Brad
Date published: 2020-06-27
When picking up, will the box fit in a small suv?
No way, it took me two trips from the store with a 2015 dodge caravan and the boxes barely fit in it. The shed comes in two big flat boxes. Or you can open the boxes outside the store and load all the parts(so you can check them out, I found 2 panels damaged from the factory), but even in this case you still need at least a minivan.
Date published: 2020-06-26
Garden Shed Artisan - 7' x 7' - Grey and Black
is rated out of
5
by
14
.
Rated

5

out of

5
by
Wolfir
from
It is very sturdy and looks great
I installed this up north. The product looks great and seems very sturdy. You need to give yourself lots of time to do this correctly. Also, the instructions need to be very closely followed. I missed one page altogether (lots of bugs up north, and distracted me) and had to go back and redo a portion - painful. One wall piece was very stubborn to fit to the next, so I used a bit of vegetable oil. There are lots of extra screws, which is very considerate.
Date published: 2019-07-15
Rated

1

out of

5
by
Hn1990
from
Parts around door already rusting, poor fit
I bought this a month ago, and already it's giving me issues. We had it professionally installed and I'm guessing some parts came damaged as the installers showed me there was no way of closing the door without scraping a little. Each time you open or close the door it gets caught since the door framing and the door latch do not fit well together. Some of the holes on the door were already stripped. I can already tell because of these doors this shed won't last me more than a year or two. Feeling a lot of regret right now and it's a shame since it's an otherwise very good looking shed.
Date published: 2020-09-08
Rated

5

out of

5
by
Anne112
from
Excellent achat
Cette remise est très esthétique. Elle se monte facilement, les instructions sont très claires. Cela nous a pris à peine 3 heures pour l'assembler, nous étions 2 adultes. Elle a été installée sur un plancher de bois, monté sur des blocs de béton et elle est super solide. J'ai un léger doute sur la robustesse des murs par contre, ils me semblent assez minces. Seul le temps me dira si c'est solide ou pas....
Date published: 2019-06-20
Rated

5

out of

5
by
cri31
from
tres satisfait
acheter la 7x11, facile a monter aucun problème, ne manque aucune pièce, instruction facile , 4 hrs a 2 adultes. reste a voir si resistera au hiver QC
Date published: 2019-07-01
Rated

5

out of

5
by
Tiapet
from
Great Product
Put together last night and took 2 people approx 4-1/2 hours. The instructions were great and we are very happy with it.
Date published: 2019-06-29
Rated

4

out of

5
by
ffighter69
from
Very good shed
Went up very quickly by myself in about 6 hours. Would like to have seen denser material so screws would grab better. Only issues I had were that the doors can be installed one way, no altering which side opens first and ran out of screws for the wall panels. i liked the egineering aspects as to lighting and the way its designed to keep water out.
Date published: 2020-06-01
Rated

4

out of

5
by
MBFlatlander
from
Nice Little Shed
The material is pretty minimalist. The corners can be pretty flimsy. Fitting the wall panels can be tricky as the joint can be pretty tight. But once fully assembled, it's a nice little shed. I am awaiting a typical prairie downpour to see how it holds up. See how it holds up with snow as well. But appears sturdy one fully assembled.
Date published: 2019-05-03
Rated

5

out of

5
by
Pinball_Newf
from
High quality product
This went together very easy. Instructions were great and called out specific spots to pay extra attention to. No parts were missing or damaged, and some extra parts were supplied. Unit is very sturdy with metal roof and wall reinforcements. The textured plastic looks great.
Date published: 2019-10-06