"Garage Coat" Coating - Grey
Article #03305852
Model #282151
Format 2.25L This item is not currently available for immediate purchase, but can be ordered by visiting the selected store.
Description
The "Garage Coat", like all RockSolid Floors(R) Polycuramine(TM) coatings, offers unsurpassed durability. Polycuramine(TM) is 20 times stronger than epoxy. With its resistance to salt, oil, gas and other harsh chemicals, this is one of the toughest floor coatings on the planet. It's easy to maintain and will last a lifetime while still looking fantastic. It is ready for light traffic in 8 to 10 hours, and drive ready in 24 hours. The coating is offered in grey in a 2.25 L size and covered by a manufacturer warranty.
You may also like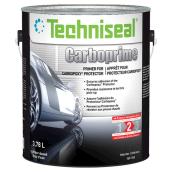 TECHNISEAL
Techniseal - Primer For Carbopoxy Protector - 3.78 L -White
Format 3.78L
Details
Article #79245096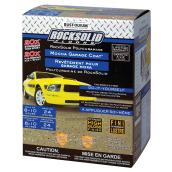 ROCKSOLID FLOORS
"Garage Coat" Coating - Mocha
Format 2.25L
Details
Article #03305853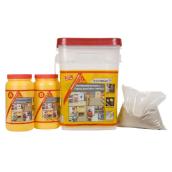 SIKA
Sika - Epoxy Paint Kit - 3.2 L - Grey
Format 2x3.2LT
Details
Article #66145003
Mon garage a des cracks, puis utiliser rock solide sans boucher les cracks au préalable?
Can this product be applied over an existing epoxy floor. My current floor has lost its lustre and has worn thin in some areas but shows no signs of peeling. I'm planning to sand entire floor with 120 grit sandpaper and wipe clean with denatured alcohol.
How maney square Ft. does 2.25 liter go?
how many square feet does this product cover?