Description
This 36" range hood with stainless steel canopy is an efficient appliance which fits perfectly with any refined design kitchen. The centrifugal fan offers a choice of 3 speeds for a 400 CFM maximum air flow. This appliance comes with 2 dishwasher-safe aluminum filters and a built-in halogen lamp system which effectively illuminates your cooktop when you prepare delicious meals. This Frigidaire(R) unit is backed by a 1-year limited warranty on parts and labour.
Product specifications
Dishwasher-safe aluminum filters
58.6 to 69.9 dBA (minimum to maximum speed)
Convertible ducted or ductless vent installation
Frequently bought together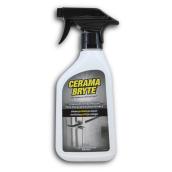 CERAMA BRYTE
Stainless Steel Cleaner
Format 474ML
Details
Article #8307003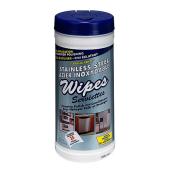 CERAMA BRYTE
Stainless Steel Cleaning Wipes
Format 35/PK
Details
Article #8307005
Frigidaire(R) Wall-Mount Range Hood - 400 CFM - 36" - SS
is rated out of
5
by
59
.
Rated

4

out of

5
by
movalmike57
from
Looks Great...Works Great
This hood was delivered 1 week early with zero damage. Thanks Lowe's. I installed this myself and I'm glad I did. Labor estimate was way too high in my opinion. Had to drill new holes to hit studs. I would not want this hood mounted to drywall. Now I know it will last a long, long time. The hood looks beautiful. The lights are halogen but that's okay. They give off a nice light. I would give 5 stars but the fan, although it works extremely well is loud. If I had to do over, I probably would have spent even more money for a little more quiet. But my wife and I are very happy and in this price range, it is a really nice hood.
Date published: 2015-08-20
Rated

1

out of

5
by
Bogie1950
from
Noise level
Recently remodeled our kitchen with Frigidaire appliances, cook top,wall oven, refrigerator & aforementioned exhaust. Very happy with all but exhaust. The exhaust is extremely noisy,so much so that. It is impossible to carry on a normal conversation while it is in operation. We have had a technician here to evaluate the problem, but his only comment was that there are two squirrel cage fans going & that is what we are going to hear. I find it hard to believe that we are the only customers that are being affected this way.
Date published: 2016-06-09
Rated

5

out of

5
by
Shoba
from
Great features but a bit loud
The motor died in a week of using it. The technician who came did not even check it and claimed it was the motor. ( so it's a common occurrence ) and he coughed all over my kitchen ( active Covid time ) and was NOT wearing a mask. Needless to say this made me very unhappy. I had to clean and sterilize my entire kitchen afterwards ! Please tell your techs to be more mindful. Even the one that came to fix the motor a week later did not wear a mask. But the work was done efficiently. So thank you. [This review was collected as part of a promotion.]
Date published: 2020-05-28
Rated

4

out of

5
by
BDNate
from
Looks good, does the job. With one drawback.
So far so good, the motor is quite strong. My only complaint would be that, for some reason, it only comes with 2 Hood Filters when there are 3 slots. What ends up happening is you have an open gap in the hood, unless of course you buy an extra one. I guess it's just a form of nickel and dimming. You shouldn't have to buy an extra filter unless you need to replace a damaged one.
Date published: 2016-01-14
Rated

1

out of

5
by
mike2711
from
LOUD LOUD LOUD Beyond Belief
This is useless as a vent hood because even on the lowest setting it is incredibly loud. I had the appliance store and builder listen and they just shrugged their shoulders. It's too bad because it looks nice. The appliance store had me listen to other brands on display in its showroom. None of them was as loud on its highest setting as this one is on it's lowest. Very disappointing. How can they sell this when so many reviews complain about the same thing.
Date published: 2016-12-17
Rated

1

out of

5
by
Pk82
from
Too loud and unreliable
I got this unit from builder. It is loud for its application with the highest setting being unbearable. The unit died within the 3rd month of usage and a replacement part is being requested. Better spend some money for a quality unit than this.
Date published: 2017-10-12
Rated

1

out of

5
by
Harby
from
Very poor quality Exhaust Motor.
This was installed in my brand new DrHorton home, the hood motor stopped working within first week of move-in. The first day we decided to cook in the kitchen the exhaust motor did not work. During our new home walk-thru we had turned it on to test how it was working we found out that the motor makes huge noise (like a commercial level exhaust sound). This is the worst product to have in home. [This review was collected as part of a promotion.]
Date published: 2019-09-10
Rated

3

out of

5
by
AWTY
from
Great Looking Cooktop Hood
This cooktop hood was included in the appliance package with our new home. It is very nice looking and provides great light over cooktop. The only reason I didn't rate it higher is because of the fan noise. There isn't any difference between the low, medium and high setting and is very loud. cant carry on a conversation while it is being used. [This review was collected as part of a promotion.]
Date published: 2017-11-15