Description
The modern Frigidaire(R) cooktop features a low-profile black trim and 4 radiant elements of different size and power, meeting different needs when preparing your daily meals. The SpaceWise(R) element has an expandable diameter, ranging from 6" to 9" with a 3000 W maximum power output for quick water boiling. Ready-Select(R) rotary controls are easy to use, ensuring precise temperature control. The Frigidaire(R) Fit Promise ensures that the device can be safely installed in your countertop cutout and refunds up to $100 in case of any modification. In addition, the cooktop is approved for installation over an electric wall oven from the same brand.
Product specifications
19 5/8" to 20,5" (49.85 cm to 52.07 cm)
28,5" to 29 7/8" (72.39 cm to 75.88 cm)
Number of Burners/Elements
Hot Surface Indicator Light (Y/N)
Left rear: 9" - 2500 W, left front: 6" - 1200 W, right front: 6/9" - 1600/3000 W, right rear: 6" - 1200 W
Ready-Select(R) rotating controls
Useful information
DELIVERY AND INSTALLATION
Our experts are dedicated to ensuring your new appliance is delivered with the utmost care.
Learn More
PROTECTION PLAN
Enjoy exclusive privileges.
Learn More
RETURNS AND REFUNDS
We stand behind every product we sell.
Learn More
Credit available
Frequently bought together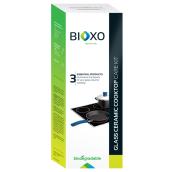 BIOXO
Bioxo Ceramic Cooktop Care Kit - Biodegradable - 500 ml
Format 500ML
Details
Article #30135135
What type of cooking pans can you use on this.
Frigidaire(R) Electric Cooktop - Ceramic Glass - 4 Elements - 30" - Black
is rated out of
5
by
481
.
Rated

5

out of

5
by
Marti
from
Quicker cooking and easy clean up
[This review was collected as part of a promotion.] This Frigidaire cooktop has a quick boil element which heats up quickly. That feature helps a lot when in a hurry. Electric cooktops can take a while to heat up so this is very helpful. Of course having a smooth glass top is so very convenient when it's time to clean up. I don't know about you, but buy the time I'm done making dinner and eating it, I'm usually not looking forward to cleaning up but with this cooktop it's a breeze. Also having a known and respected brand like Frigidaire doesn't hurt in my confidence that I will be enjoying it for many years to come.
Date published: 2019-09-03
Rated

5

out of

5
by
GBQS
from
LOVE this cooktop!
[This review was collected as part of a promotion.] We bought this to replace an older stovetop and are very pleased. It's both beautiful and functional and we like the placement of the burners and knobs. The elements heat up super quickly which, honestly, took a little getting used to (apparently our older stove had slowed down). I'd recommend starting with lower heat and going up from there if replacing an older stove - there's a small learning curve. We love the quick boil feature as it's super convenient! The unit was shipped and arrived in perfect condition. It also came with a small bottle of cleaner which was an added bonus!
Date published: 2020-09-04
Rated

4

out of

5
by
Zipperdoo
from
Crazy for Cooktop!
[This review was collected as part of a promotion.] So far I am loving my new cooktop! I had an issue putting it in because I had to enlarge the existing cut-out in my counter top but once I did that it was very easy to install. There actually is a perfect fit guarantee that comes with the cooktop through the manufacturer up to $100 which I may take advantage of. It does show fingerprints and dust with the black surface but I found a microfiber cloth works well for that. The price was affordable but now I want new counter tops lol....
Date published: 2019-11-03
Rated

5

out of

5
by
mik
from
Frigidaire glass cooktop
[This review was collected as part of a promotion.] Most beautiful stove ever! Cooks very well! Cleanup was a challenge at first, then i learned " wax on,wax off" just like waxing a car! Very proud of this cooktop!
Date published: 2019-05-08
Rated

5

out of

5
by
daveaz
from
Good value
[This review was collected as part of a promotion.] I have this 30" Frigidaire cooktop for about a month. Is woeking perfect. I chose this model because the box under is a little smaller and it fit good into my old opening. For other 30" models I would have had to enlarge the opening on countertop. Also I like the control buttons on the side, rather than in front. Only thing different is that this has two medium coils and two large (one with small option), while my old GE had one small, two mediums and one large with small option. The wiring was easy. Have both options of power from wall black-red-ground, or black-red-white-ground.
Date published: 2019-12-23
Rated

5

out of

5
by
Anonymous
from
Nice cooktop
[This review was collected as part of a promotion.] The pros are the controls are on the right side. So minimal chance to drag a hot pan Over the knobs. The front right burner has a dual ring. Left side small ring. Left rear bigger solid ring and right rear small ring. I would prefer two large in the front because I wind up with a larger pot in the back and can be heavy. But no one makes that configuration. All the knobs have a red line to match up to off spot. It s simple to see if one is still on. I clear any crustys with glass top spray and a single edge razor blade. I looked at a lot of cook tops before this one. I think I chose well.
Date published: 2019-12-17
Rated

3

out of

5
by
Nitadacoco
from
HANDLE WITH CARE!
[This review was collected as part of a promotion.] We purchased our brand new home October 22, 2019 with Frigidaire appliance too include the glass stovetop and less than 30 days later it was cracked in 3 places. I used a Dutch oven to cook a pot of greens. After completion, I placed the pot on a low heat with the top on the pot. The pot became too hot and when I went back to it my stovetop was cracked there was an indentation on the stove from the bottom of the pot. Needless to say, my stove was out of commission for Thanksgiving because we had to wait for our new one to be repaired. My suggestion is that these stovetop be made with thicker glass and if you're a consumer pay very close attention when using this appliance.
Date published: 2020-01-06
Rated

5

out of

5
by
Walt
from
Stove Top
[This review was collected as part of a promotion.] No delivery issues, well packed and looks great. Easy to install including the electrical hookup. It blends in well with our granite counter top.
Date published: 2019-10-03