Description
This high-capacity Frigidaire(R) horizontal freezer is a compact appliance perfect for tight spaces. It features a manual dial that lets you control temperature easily and a defrost water drain that lets you conveniently remove water during defrosting. The freezer includes a Store-More(TM) removable sliding wire basket for improved storage. It has a horizontal design for easy access and a clean white finish that complements any décor setting.
Product specifications
1-year limited warranty on parts and labor
-13 to 1.4 °F (-25 to -17 /)
Store-More(TM) lift-out sliding basket
Frequently bought together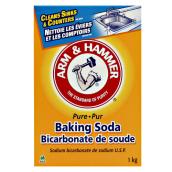 ARM & HAMMER
Baking Soda
Format 1KG
Details
Article #53975001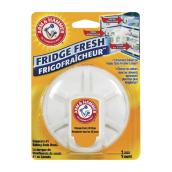 ARM & HAMMER
"Fridge Fresh" Refrigerator Air Filter
Details
Article #53975000
Could you tell me the energy star rating? Thankyou.
250
Date published: 2019-01-31
Does this product have rollers in addition to the leveling legs?
Hey, MySonsMom! The model you selected only comes with 2 adjustable leveling legs. I hope this helps! ~Courtney
Date published: 2019-01-01
I'm looking at your 7.2 cubic foot chest freezer whose depth is 20.6875 inches.  I take it that this depth measure does not include the brackets and hinges for the freezer top.  Can these be removed to go through a 21.5 inch space?
I just measured the freezer and it is just over 20" deep and the hinges add an in, so it's just over 21" including the hinges.  I'm not sure if the hinges come off, as it fit through our relatively narrow door (about 23.5 in. opening.
Date published: 2018-07-18
How much electric power daily does this freezer use.I intend to buy this freezer for my cottage is I am of the grid and on solar only my systym is geared down to 120 volts
Hi Jake5! We certainly would like to assist you with researching this information. In order to do so, we would need the model number. If you can resubmit your question with the model number. -Thanks!-
Date published: 2018-09-16
pour la livraison d,un electro, est ce qu,on peu choisir l,heure de livraison dans un delai de 3a4hrs
I want two more coated metal baskets for my new 7 cu ft Frigidaire freezer. The interior length is 16", but the top extends a bit so it can rest on the lip of the freezer. Where do I get those?
Frigidaire Horizontal Freezer with Manual Defrost - 7.2 cu. ft. - White
is rated out of
5
by
205
.
Rated

4

out of

5
by
DCnMe
from
Working Very Well to Date
Have had this unit for just less than a month and it is working just as expected. In fact, it was keeping our foods even colder than we needed at 0 degrees F, so we backed off the temperature a bit for faster thawing of our frozen items. This is a simple, no nonsense design without any bells and whistles that IMHO are just unnecessary opportunities for failure). The only reason that this isn't a five star review is because lifecycle is very important to me, and that has yet to be proven. My last freezer (similar size, but different brand) lasted thirty years. I hope this unit will perform for an equal life. [This review was collected as part of a promotion.]
Date published: 2019-02-28
Rated

4

out of

5
by
K Diederichsen
from
Excellent freezer
The temperature inside the freezer is perfect...minus 12. From 0 to minus 20 is a good temperature to keep meats and this freezer does just that. It is a good working freezer and the quality is excellent. It is a good investment to sum it up. Most want a larger size freezer for food storage so I would not recommend the 7 cu ft one I purchased. Half a cow needs more than twice the size, but I am completely satisfied as a senior person that does not feed an entire family. The size is what I would not recommend, but a Frigidaire freezer larger I would recommend to anyone as an excellent choice to be very satisfied with.
Date published: 2018-04-07
Rated

5

out of

5
by
KTSF
from
Well made
I purchased this about a month ago and am very happy with it. I love the inside color of the walls of the freezer as it makes it much easier to detect frost build up, and the fact that I can scrape off the frost with a plastic spatula in between defrosting. Great features: temp control on front of freezer and drain plug. Neither of those features were available on my old chest freezer. It is longer and not as deep as my other freezer making it easier to reach items on the bottom yet still giving the 7 cu ft of my old model. Very happy customer [This review was collected as part of a promotion.]
Date published: 2017-11-15
Rated

5

out of

5
by
Gunner70
from
Very Satisfied!
This freezer has been such an amazing addition to our home. As a father of 6 kids and one more on the way this freezer has given us plenty of storage for our frozen foods that we purchase on a weekly basis. Even more impressive was the time it took to break it out and plug away. It came with clear instructions on how to clean and prep prior to use and all the safety features were easy to read. This freezer is a testament of its promise and ability to get the job done and further highlights Frigidaire's ability to meet the demands of family homes and businesses world wide! [This review was collected as part of a promotion.]
Date published: 2018-02-05
Rated

5

out of

5
by
reviewer999
from
Works great!
We bought this as overflow space to our regular fridge-freezer (we make a lot of soups, chilis, and stews and freeze them ready for quick meals) and we're always short on freezer space. The 7cuft is compact yet roomy inside and lightweight. It was freezing cold within an hour of plugging it in, and keeps everything rock-solid frozen at the recommended middle setting. There is only a single hanging wire basket included - a suggestion to the manufacturer would be to either include or separately offer stackable wire baskets- to make retrieving items at the bottom of the freezer much easier (it is fairly deep). We have looked for simple baskets elsewhere but baskets tailored to the dimensions of the freezer would be more attractive. [This review was collected as part of a promotion.]
Date published: 2019-02-18
Rated

5

out of

5
by
MrsLoLe
from
Great Buy
We bought this freezer after shopping around for the best bargain. This freezer was cheaper than our other options and is brand name! We plugged it in and put a water bottle in to determine when it was at the right temperature. We couldn't believe how quickly the water bottle froze, even though the temperature gauge was in the middle on the recommended temperature. I like the easy clean sides and metal basket features. Hoping these freezer lasts us for years to come.
Date published: 2018-12-19
Rated

4

out of

5
by
Mamipookee
from
Freezer is great, packing is horrible...dents
The freezer is working great. No complaints. But the packing was not good enough. Upon delivery, there were already 5-6dents at the bottom of the freezer. On top of it the numbers around the dial at the right bottom were faded. Nothing to do with it's function, but a little bit disappointed to find all. I felt like we got an used freezer. I had wished we would have returned it but i am nine months of pregnancy. I don't want to deal with any trouble, so had to give up...:( [This review was collected as part of a promotion.]
Date published: 2019-02-26
Rated

4

out of

5
by
Jennifer O
from
Perfect size and works as needed
We've had this chest freezer for about a month and so far, so good. It has already accumulated some frost at top around the lid, but I assume this is normal. I ordered this sight unseen because it wasn't available in store, but I knew this was approximately the size we wanted and was familiar with the Frigidaire brand. My only complaint is that it doesn't come with more dividers so that food isn't just stacked on top of itself making it difficult to find things. We store it in the basement so I can't attest to how well it does in a garage. [This review was collected as part of a promotion.]
Date published: 2018-07-20