Frigidaire(R) Convection Range with Air Fry - 5.4 cu. ft. - SS
Article #10355474
Model #CGEH3047VF
Format 30" 5.4CFT
This item is not currently available for immediate purchase, but can be ordered by visiting the selected store. Orders typically take 3-7 days from date of order to be received at your selected store.
Description
You will enjoy the many convenient features of this innovative range from the Frigidaire(R) Gallery collection! The Air Fry feature lets you prepare healthier and delicious meals, while its true convection system provides faster, more even baking results. In addition, this oven features a quick preheat function which starts the cooking process in a few minutes, perfect for frozen meals. The ceramic glass cooktop features a SpaceWise triple expendable elements for pots of various sizes and a 3200 W element with Quick Boil(TM) setting. The fast steam cleaning option removes stubborn residue from grills and walls. At the end of the cleaning cycle, simply wipe with a soft rag without having to use any chemical product. Finally, the range includes a rear fill kit that gives the unit a built-in look, enhancing the overall aesthetic of your kitchen. Backed by a 1-year limited warranty, parts and labour.
Product specifications
Number of Burners/Elements
Electronic Touch/Rotary Knobs
Smooth ceramic glass surface
Left front: 6"/9" - 1400/3200 W dual-ring element with Quick Boil(TM) function, left rear: 6" - 1200 W, right front: 6"/9"/12" - 1200/2000/3000 W triple-ring element, right rear: 6" - 1200 W, center: 100 W warming zone
3500 W bake element, 3900 W broil element
Visualite(R) door with extra-large window
Standard self clean, steam clean
Convection Conversion (Y/N)
Hidden Bake Element (Y/N)
Hot Surface Indicator Light (Y/N)
Bake, broil, convection bake, convection roast, convection convert, quick preheat, air fry, self clean, steam clean, keep warm, delay start
Frequently bought together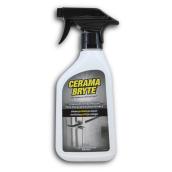 CERAMA BRYTE
Stainless Steel Cleaner
Format 474ML
Details
Article #8307003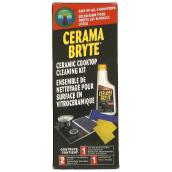 CERAMA BRYTE
Ceramic Cooktop Cleaning Kit
Details
Article #83075006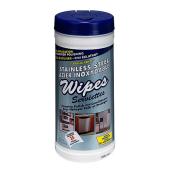 CERAMA BRYTE
Stainless Steel Cleaning Wipes
Format 35/PK
Details
Article #8307005
anyone purchased in the last 6 months? overall performance details? how long to preheat oven, functional burners? does glass top clean well? thanks,
Does anyone have this range?? How is it?
Frigidaire(R) Convection Range with Air Fry - 5.4 cu. ft. - SS
is rated out of
5
by
472
.
Rated

5

out of

5
by
Greg223
from
Great range
I bought this the same day that I read about the product. I had no idea that such a thing existed. After my old range required expensive repairs, I searched the web for info on ranges. The air fryer feature appealed to me immediately, but after reading specs and reviews I knew I had to have it. After using it for a few weeks now, I must say that I love this stove. Having no previous experience with an air fryer, I am still learning to adapt to it. The quick preheat setting on the oven is amazing. It took only two minutes to reach 400 F. I also like the placement of the controls facing the front as it keeps them clearer of spatters and much easier to clean. [This review was collected as part of a promotion.]
Date published: 2019-11-10
Rated

4

out of

5
by
JP DO
from
Get your polishing cloth out!
Works fine. They do not give you the air fryer parts that is a selling point for this range. You will hesitate using it because it's hard to keep clean. Oh, you can polish it and buff it to look great - takes about 15 minutes after say making a grilled cheese. It smudges and streaks. Like having a black car - who designed this? The touch pad is too touchy you can't wipe it off without starting the oven - sigh... Again poor design. It's huge - much bigger than whatever you currently have and sticks out too far. Positive note - the turkey was fabulous. [This review was collected as part of a promotion.]
Date published: 2019-12-03
Rated

5

out of

5
by
EBTEK
from
SLEEK but performs like a tiny Major Industry
Purchased this range about6 or 7 weeks ago and after a very brief learning curve, discovering all that it can perform - now it becomes 2nd nature, without hesitation. HAD a small Air Fry unit that was faulty so essentially NO experience. First time I tried the Air Fry Method: Wow, what a difference a little air, rather than grease makes. Had Chicken Wings (the ultimate test, IMHO) and they came out crispy, still moist on the inside and DELICIOUS. Standard Baking performs equally well and with the fan built right into the oven, NO Hot Spots, NO semi-cooked areas. In other words, performed admirably. [This review was collected as part of a promotion.]
Date published: 2020-03-15
Rated

5

out of

5
by
saa114
from
Great features and looks
This stove offers quick, consistent heating from both the range and the oven. Range burners quickly get to temperature and evenly heat across the pan. This functionality has helped me create the best omelettes I have ever made. And the AirFry setting on the oven is perfect for cooking frozen meats. My game-day chicken wings were throughly cooked, but moist, and not desiccated. On top of all this, the low rise back and the slightly industrial feel of the controls matches our updated kitchen wonderfully. [This review was collected as part of a promotion.]
Date published: 2019-10-23
Rated

5

out of

5
by
DLise
from
Great Look & Easy to Operate
I bought this stove around November 2019 and I totally am pleased with the Frigidaire brand. This is my first Frigidaire product and from delivery to use its has been a wonderful experince. The "Air Fry" option is a great addition and it works extremely well. I use it for crisp fries and will be cooking chicken wings soon. I also use it to crisp other foods and have not been dissapointed. This stove was also very affordable. To sum it up, great features, easy to use, great look, works very good and does all t lists, and it is very affordable. Totally recommend this product. [This review was collected as part of a promotion.]
Date published: 2020-01-11
Rated

3

out of

5
by
Shull123
from
Frigidaire service failure, ovens great
I bought this and it was delivered in January at some point. Upon set up we realize that there were some screws missing and screws that hold the foot pedal that were stripped. We had a customer maintenance worker come out he viewed the issue on the oven and said that he would call when the parts came in to fix it, we're looking at a month later and I still have not heard back from the maintenance worker that was supposed to fix this issue. Stinks to spend this much money on an oven that came missing pieces and part of it broken and a maintenance worker that has yet to fix it or call to tell what the holdup is. [This review was collected as part of a promotion.]
Date published: 2020-02-26
Rated

5

out of

5
by
Dms1130
from
Love everything about this range.
I purchased this the day it arrived at Lowe's. This is my first convection oven and I love it. I ordered the fry basket from Frigidaire and it arrived when my range did. I used the air fryer to make wings. I love the triple burner in the front. The quick boil is fast. To clean it I use glass top cleaner but it seems you really have to buff it to not look smudgy. I filled a spray bottle with equal parts distilled vinegar and water and after cleaning it with cleaner I spray with the mixture and it's perfectly shiny and no more buffing..I'm still learning but I'm loving it [This review was collected as part of a promotion.]
Date published: 2019-10-16
Rated

3

out of

5
by
CBarrett44
from
Touchy Control Panel
I bought this Frigidaire Front Control Electric Range to cook our Thanksgiving Dinner. We had been without a full size oven for years and have been using a toaster oven. While the turkey was cooking, I reached over the front of the stove to check on the potatoes. With that light pressure, the oven was turned off. Fortunately I heard the slight beep and looked at the control panel to see that the turkey was no longer roasting. I was able to quickly rectify the situation. This design flaw has led to many more instances of inadvertently shutting down the oven processes. [This review was collected as part of a promotion.]
Date published: 2019-12-16