Description
Frigidaire Gallery(R)'s Fits-More(TM) 5-element cooktop provides you with enough space and performance to prepare multiple meals for your family and/or friends. The 3200 W center element takes only 3 minutes to bring water to its boiling point, while the SpaceWise(R) element adjusts its diameter to fit the pan or pot size, going from 5" to 7". The surface features Express-Select(R) front control knobs that are easy to access and intuitive to use, while indicator lights inform you if an element is still hot, even when turned off. The Frigidaire(R) Fit Promise ensures that the device can be safely installed in your countertop cutout and refunds up to $100 in case of any modification. In addition, the cooktop is approved for installation over an electric wall oven from the same brand. This 30" ceramic glass cooktop is A.D.A compliant and comes with a 1-year limited warranty, parts and labor.
Product specifications
Right front: 7" - 1800 W, left front: 5" to 7" - 750/1800 W, right rear: 6" - 1200 W, left rear: 6" - 1200 W, center: 9" - 3200 W
Express-Select(R) control knobs
Number of Burners/Elements
Hot Surface Indicator Light (Y/N)
Frequently bought together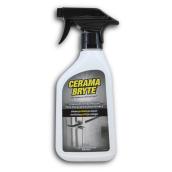 CERAMA BRYTE
Stainless Steel Cleaner
Format 474ML
Details
Article #8307003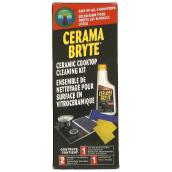 CERAMA BRYTE
Ceramic Cooktop Cleaning Kit
Details
Article #83075006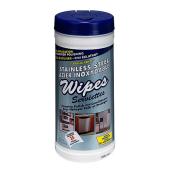 CERAMA BRYTE
Stainless Steel Cleaning Wipes
Format 35/PK
Details
Article #8307005
Fits-More(TM) Cooktop - Ceramic Glass - 30" - Stainless Steel
is rated out of
5
by
40
.
Rated

2

out of

5
by
xyzp
from
Fair
I mainly got it because it has a rapid-boil burner in the center. It is not all that rapid though. Plus the other burners seem smaller than on my old cook-top. The knobs are lined up in the front, bottom in the center of the cook top. So, when I take a sheet-pan out of the over to sit it on the stove, there is now not enough room to the right or left.... They should be in a 4-piece configuration. Plus, there is not enough space between them to clean up. There is always something........................ [This review was collected as part of a promotion.]
Date published: 2019-09-06
Rated

4

out of

5
by
YuriH
from
Great Electric Cooktop
My husband and I got this product with the new house that we purchased. I'm very satisfied with how well and evenly the food is cooked. Is easy to use and I love the 5 burners. I gave it a four star because eventhough it is quite easy to clean, it requires so much care to keep it looking brand new. The hardest things to remove are the stains that you get when water is burned. Also, if you have a large frying pan, half of the other burners are pretty much useless. [This review was collected as part of a promotion.]
Date published: 2020-01-24
Rated

5

out of

5
by
Emiky
from
Clean and lots of space!
I bought the new cooktop about a month ago and love it! It provides a good amount of space for various pita and the tea kettle. I really appreciate the feature indicating whether the stove is on or just a burner is warm. It's a helpful reminder at the end of a long day while juggling food and kids!! It cleans up easily and is a beautiful feature against an all-white kitchen! Beautiful contrast and love having it! [This review was collected as part of a promotion.]
Date published: 2020-01-17
Rated

4

out of

5
by
bellabella
from
5 burner 30" cooktop
I've had this cooktop for a little over a month and it works great. It replaced another cooktop that was also great and much more expensive but the only large burner on it went out--because that was the one i used most. I was unable to repair it myself so I went for some time just using 3 burners --the other one was a warmer only. When I had to replace another appliance that was under warranty, I decided to get another cooktop at the same time and save on installation time. I decided I was old and probably wouldn't out live the cooktop so I went with something much cheaper. This cooktop was perfect. It had the features I wanted and it fit perfectly. I thought about getting controls flush with the cooktop but changed my mind. This cooktop has the five burners but they could be spaced better as it is difficult to cook on several at one time but that is minor. I would have preferred one with a speckled top since the all black is hard to keep clean and shiny but, again, that is minor. All in all, I love the cooktop. I like the controls and I like the double burner option. It takes a little getting used to regarding temp, but that is all part of "breaking in." I gave it four stars because of the solid black top versus the speckled. [This review was collected as part of a promotion.]
Date published: 2020-03-31
Rated

4

out of

5
by
jules123
from
Heats up quickly
Love the raid boil feature on the middle burner, although wish that burner weren't so big since we have lots of smaller pots we'd like to boil quickly! Also wish at least one other burner was bigger than it is. Otherwise, very happy with the quality of everything. The cooktop is hard to keep looking really clean but that's the case with all glass cooktops! [This review was collected as part of a promotion.]
Date published: 2020-03-31
Rated

5

out of

5
by
BLKWLF
from
Awesome Features
The stove top is amazing. It heats up fast and it regulates the heat on the burners. And 5 versus 4 burners very nice upgrade. It's easy to maintain and it's looks Beckens me to cook something tasty right up. Looks really great in my kitchen. I highly recommend this Stove top addition to any home [This review was collected as part of a promotion.]
Date published: 2020-03-23
Rated

2

out of

5
by
Cloann54
from
Not good for a real cook.
I received this in my newly purchased home. Big burner is right in the middle and you cannot put another pan anywhere else near it when you want to cook something else! I have also yet to find ANYTHING to clean this top that won't smear it! it's one of the worst cook tops I've had. Only getting 2 starts because it does heat up well.
Date published: 2019-07-29
Rated

5

out of

5
by
Aunt Kee Kee
from
Double the oven. Double the fun!
After struggling with the right temperature baking our holiday cookies we finally decided to give in and replace our 25 year old oven. Baking couldn't be more fun. Kids love the idea of a double oven. Twice as many cookies to eat. So happy with our Frigidaire Gallery Double Oven [This review was collected as part of a promotion.]
Date published: 2020-02-09