Description
This range hood with stainless steel canopy is an efficient appliance which fits perfectly with any refined design kitchen. The centrifugal fan offers a choice of 3 speeds for a 400 CFM maximum air flow. This appliance comes with 2 dishwasher-safe aluminum filters and a built-in halogen lamp system which effectively illuminates your cooktop when you prepare delicious meals. Backed by a 1-year limited warranty on parts and labor.
Product specifications
1-year limited warranty on parts and labor
Minimal height: 31 11/16" (80.49 cm), height with flue extension: 45" (114.3 cm)
Dishwasher-safe aluminum filters
Frequently bought together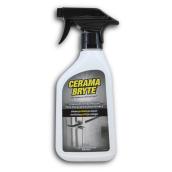 CERAMA BRYTE
Stainless Steel Cleaner
Format 474ML
Details
Article #8307003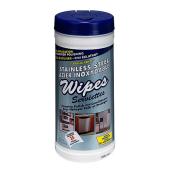 CERAMA BRYTE
Stainless Steel Cleaning Wipes
Format 35/PK
Details
Article #8307005
Chimney Range Hood - 30" - 400 CFM - Stainless Steel
is rated out of
5
by
67
.
Rated

2

out of

5
by
Mod80
from
Nice looks but with a major flaw
The hood looks very nice, controls are very easy and practical, lighting is good. The problem I had is that it is extremely loud even at the Lowe fan speed way above the specifications (several sones above). I know hoods are loud and I used many loud ones before, but this one you have to shout in the ear for someone else to hear you and that's in the living room next to the kitchen (you cannot stay in the kitchen without ear plugs or some sort of noise reducing headphones). I suspect i have a defective unit and will be contacting the manufacturer. I hope this is not how it's supposed to sound!
Date published: 2014-11-13
Rated

2

out of

5
by
Frank
from
VERY LOUD
I bought this because it was in budget, it looks nice and ignored the reviews of it being loud and figured it couldn't be THAT loud. It is like a jumbo jet taking off above your range. If you are at the stove and this is on low you cannot hear anything around you. You would turn it on high if there was a nuclear meltdown going on and you needed to evacuate your kitchen. It looks nice but I am seriously considering returning it and spending twice as much money on something that doesn't sound like its going to take off into space.
Date published: 2016-05-12
Rated

1

out of

5
by
ISHAN
from
Motor broke down within 4 months
I got this along with 4 other Frigidaire appliances in my new home. We always use the furnace at low fan speed to reduce the noise since we have 2 infants in thw house. However, 4 months in, the fan just abruptly stopped. I called in for support and the service person who visited us informed that its just a bad motor and bappens, what we should do is buy this additional coverage plan because we dont always honor warranty, here are 5 times when we dont. So, i was upsokd a new warranty type in my existing warranty period to address a faulty motor that came with my hood? [This review was collected as part of a promotion.]
Date published: 2020-05-18
Rated

1

out of

5
by
andrea
from
beautiful but shockingly loud
Love the way this hood looks, and the easy-to-clean finish, but this hood is so loud I cannot believe it actually was approved for sale to customers! we regret the purchase unfortunately. loudest hood I ever heard, we can't even use it.
Date published: 2014-11-13
Rated

3

out of

5
by
GM
from
Loud
I purchased this hood online, thinking it was identical to the Frigidaire Professional Hood we had at our previous home, but it is not the same. It has a much shallower profile, and even the lowest fan setting sounds like a freight train when in operation. In addition, it came scratched and dented, although a quickcall to Frigidaire resulted in a fast replacement being sent; just need to completely disassemble and reassemble now with the new one... :-(
Date published: 2013-12-16
Rated

1

out of

5
by
Alexxm
from
Worst hood even worse warranty service.
I bought one and the second time I turned it on just stopped working. They sent out a repair guy three times who was an able to solve the problem. This back-and-forth continued for a couple of months. Finally I was able to get a replacement unit. That was installed only to fail again with the same issues 5 months later. Best part is I have a tile backsplash and now I have to pay out of pocket to have the backsplash redone before installing a completely different hoodfan. This needs to be done so that I can cover the holes which were made to install the original hood fan.
Date published: 2019-03-12
Rated

2

out of

5
by
Aworrell26
from
Looks great, but extremely loud
While the hood performs well, the noise is extremely loud. Even on low, the hood is so loud that you can't hear anything else around you. For that reason, I tend to only use the hood when absolutely necessary. Disappointed, especially considering Frigidaire is normally such a great brand.
Date published: 2016-06-29
Rated

2

out of

5
by
lllhome
from
VERY LOUD
Just had it installed and am wondering if we can return it already....It looks great. But even the lowest setting is extremely loud. And I dont mean its kinda loud. its VERY loud.
Date published: 2012-10-08