Description
This Frigidaire horizontal freezer has a large capacity that ensures it meets the needs of your family. It includes two sliding SpaceWise(R) adjustable basket to help keep frozen foods organized and accessible. You can adjust the temperature to create an optimized environment, and Led lighting brightens the interior. You can lock up the freezer with the automatically ejecting key, so you don't mistakenly leave it in the door. The freezer is also easy to move where you want it with the included optional casters.
Product specifications
-10 to 10°F (-23 to -12°C)
2 Store-More(TM) lift-out sliding basket
Defrost water drain with white plug
Frequently bought together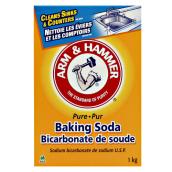 ARM & HAMMER
Baking Soda
Format 1KG
Details
Article #53975001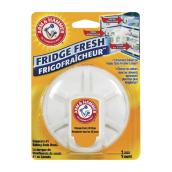 ARM & HAMMER
"Fridge Fresh" Refrigerator Air Filter
Details
Article #53975000
does the width of 29" include the door handle? I have an door frame of 29" so need to know if the handle is included in the measurement and if the door can be removed along with the hinge to make it smaller?
Hi Jbremmer! Thank you for your inquiry. In researching, we are not showing this chest freezer has a handle. However we were able to see the dimensions are listed as follows: Height (Include Lid): 32-1/2", Height: 32-1/2", Depth: 29-9/16" and Width: 55-3/4". We hope this helps. -Thanks!-
Date published: 2018-08-09
does it need 220 voltage ?
Frigidaire Chest Freezer - 55 3/4" - 14.8 cu. ft. - White
is rated out of
5
by
441
.
Rated

1

out of

5
by
Junger1988
from
Piece of crap!
My wife and I purchased this chest freezer not even a month ago. It does not work. It thaws everything out and we have lost meat twice. Called Fridgidaire because it's a warranty issue and they won't even send anyone out to fix the piece of junk! Instead, they offer to buy it back without taxes. So now, I am out of a chest freezer and out of money that I paid in taxes, what kind of crap is that. Then you call customer support, which is suppose to be there until 8, nope. Then you email them and nothing. I'm going to make this go viral. This is crap! Sell people products and you can't even back up your warranty that's in your manual!!!
Date published: 2020-07-13
Rated

4

out of

5
by
East Dallas Gardener
from
Deep Freezer
I bought this about a month ago so I can only comment on how well it has done so far. Ask me again in a few years and I can tell you more. It freezes a large amount of bulk meats and veggies quickly, the power on indicator is a must have, and the wheels help cleaning under it. It has a couple of basket type shelves that help but would be nice if it came with more or some type built in adjustable shelving. I would have given 5 stars if there was a built in drain for cleaning (some frost forming) and a temperature gauge to show how cold everything is. Good basic deep freezer. Good purchase.... [This review was collected as part of a promotion.]
Date published: 2019-12-05
Rated

5

out of

5
by
Donald 2
from
The thicker walls, and the constant temperature
I bought it as I had a older unit go out and the units appearance of a better capacity to hold the temperature and it has proven so, as I place my online Lacrosse temp probe in it, allowing me to monitor the units temperature while I'm away, and know that the food inside is safe. The unit gives me a graph and table ,of the temps at any time interval that I want. I usually watch them hourly giving me a lot of security. this way of monitoring your freezer may be an option that you incorporate this into your freezers for additional sales, profit and happiness, knowing my food is safe . [This review was collected as part of a promotion.]
Date published: 2018-09-18
Rated

4

out of

5
by
Jpneely
from
Way better than my previous freezer!
I bought this about a month ago when I began to run out of space to store the excess breast milk that my wife was pumping. I had a 5cuft freezer for maybe 5 years that I thought was pretty good. It was just a basic cheap as they come freezer and it's temperature fluctuation could be pretty bad. It would routinely swing 10 degrees. I thought this was normal due to the wild temp swings of ambient air here. Well this freezer has a swing of 2 degrees. Also it's super quiet compared to my old one. O have to get down really close to the compressor to hear it running (which isn't very often). Plus it has wheels! [This review was collected as part of a promotion.]
Date published: 2019-10-20
Rated

5

out of

5
by
Clandy
from
Best Freezer we've owned!
We purchased this freezer to replace our old one. We love the fact that the drain in in the front which will make it so much easier when it comes time to clean the interior. The light is very bright, the two included baskets are generous in size, and the freezer can be locked with the included key. It also came with heavy duty castors which we installed when it was delivered making it a breeze to move when needed. Our garage which gets wet with melted snow in the winter and now I don't have to worry about water getting trapped under it. All in all we love this freezer and the size is perfect for our small family. [This review was collected as part of a promotion.]
Date published: 2019-11-16
Rated

5

out of

5
by
Maggie48
from
Great upgrade
We had our old freezer for 47 years, and it was still working pretty well, but the seal was broken, so we decided it was time to get a new one. Oh my goodness! What an improvement! We love that it's got lights; makes finding what you're looking for so much easier. Also, with a good seal, there's less frost buildup. And we love that the lid holds itself up, after all the years of trying to rummage through the freezer with one hand while holding the lid with the other. But our favorite thing is the improvement in our electric bill. Nice! At this rate, it will have paid for itself in just a few years. Great product! [This review was collected as part of a promotion.]
Date published: 2019-03-22
Rated

5

out of

5
by
Mcot98
from
Very happy with it
I bought this freezer to be able to stock up on meats for the family. It has more than enough space to do everything I need, as well as store stuff for other family members from time to time. The wheels were easy to put on it so that I can move it out from the wall easily enough whenever necessary. The Led light inside is perfectly bright, and I was happy that it came with 2 baskets. The lid seals well, so I don't have how much frost buildup, and even if I did, the drain port is located on the front of it which is very easy to access. I'm very happy with the product and I will definitely recommend it to my friends and family. [This review was collected as part of a promotion.]
Date published: 2019-10-11
Rated

2

out of

5
by
Lou_S
from
Noisy
Bought this last week to replace an old high-quality chest freezer that had developed a hum in the compressor. Should have kept the old one, this is noisier (more than 60dB, the volume of a conversation). Also, the wheels have locks that dont stay locked, so it tends to move around when getting into it. Noise might be OK for a garage or basement, but not in a room off the kitchen. Now trying to quiet it without blocking the airflow and overheating the already hot compressor.
Date published: 2018-05-13