Description
This Frigidaire(R) 22.1 cu. ft. side-by-side refrigerator ensures optimal organization of your groceries thanks to its Store-More(TM) interior storage system, which includes a deli drawer, 2 humidity-controlled crispers, 2 adjustable full-width shelves and an adjustable gallon door bin. Multi-level LED lighting provides excellent visibility in every corner of the refrigerator, eliminating any guesswork. A built-in dispenser on the door with PureSource(R) 3 filtration system provides purified water and ice, while Ready-Select(TM) touch controls let you adjust internal temperatures in no time. This unit is backed by a 1-year limited warranty on parts and labour.
Product specifications
PureSource(R) 3 water filtration
Reversible Door Swing (Y/N)
Side-by-side refrigerator
Number of Refrigerator Shelves
4 fixed door bins, deep basket, 3 fixed wire shelves
Ready-Select(R) LCD controls
2 fixed door bins, 2 adjustable gallon door bins, 2 Store-More(TM) humidity-controlled crispers, deli drawer, fixed full-width shelf, 2 adjustable full-width shelves, dairy compartment
Frequently bought together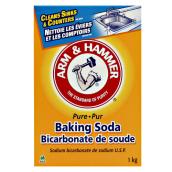 ARM & HAMMER
Baking Soda
Format 1KG
Details
Article #53975001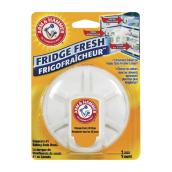 ARM & HAMMER
"Fridge Fresh" Refrigerator Air Filter
Details
Article #53975000
Frigidaire 33" Side-by-Side Refrigerator - 22.1 cu. ft - White
is rated out of
5
by
1101
.
Rated

5

out of

5
by
Cathie0120
from
Amazing refridgerator
I bought this great fridge by Frigidaire . After doing my research found this is a top appliance . I had a Samsung that was unrepairable after 2 years. My warranty had ran out and they didn't want to replace even though they deem it unrepairable . I am completely satisfied with my new Frigidaire fridge my food is cold it makes ice and water. This is very helpful. I went on social media and told family and friends what a sleek fridge I bought I am happy and would love the chance to replace my dishwasher stove and microwave and get Frigidaire products . Thank you for making beautiful fridge . [This review was collected as part of a promotion.]
Date published: 2020-01-24
Rated

5

out of

5
by
Denae
from
Beautiful Black Stainless but its noisy
I love everything about this fridge except that it runs sooooooo loudly! My last fridge was a standard Kenmore, I bought it in 2004 and we could never hear it run. When we did hear it, it was only the ice Maker dropping ice and that was very seldom because we didn't use it. This new side by side is so loud that it sounds like my microwave is running. (It's pretty loud when in use) I am extremely disappointed and if I didn't love the look of this fridge, I'd return it. I may still return it and get a different brand? I'm undecided. I'm looking online at others and trying to compare [This review was collected as part of a promotion.]
Date published: 2019-12-25
Rated

4

out of

5
by
Cam37
from
Love the look, but....
This refrigerator is just the style I wanted. It fits great in my space, is stylish and not obtrusive. As with any side-by-side, you give up some interior space in both the fridge and freezer, but with just me and my daughter at home that isn't a concern. What is a concern is just how slow the water dispenser is! I mean, really slow. I know this is a first world problem in our current on-demand world, but it may take a full minute to fill a glass, maybe more. I'm grateful to finally have an automatic ice maker and water dispenser, but it seems it should dispense much more quickly. [This review was collected as part of a promotion.]
Date published: 2019-08-26
Rated

4

out of

5
by
fitzy0825
from
Small but it works
I bought this for a space that is only 34 inches wide and it replaced a french door style fridge. Compared to the french door style, the refrigerator side feels much smaller. It seems pretty narrow and I have trouble betting everything I used to have to fit. A large pizza box from Pizza Hut barely fits through the door. However, it is quiet, has a bigger ice maker, and does its job. There's not much to choose from in the 34 inch wide size out there, so that is frustrating. This one is working well for the two weeks we've had it, so we'll see how it goes.k [This review was collected as part of a promotion.]
Date published: 2019-10-17
Rated

3

out of

5
by
Kooper59
from
A little noisy but does what it's designed to do.
I bought this unit a few months ago to replace the G.E. unit that failed after owning it for nine years. The unit looks very nice but does not to be seem to be materially as high quality as the G.E. unit was. The unit makes a number of noises during operation that the G.E. unit did not make but they are not overly objectionable. Overall the unit is acceptable and is doing what it was designed to do. In summary while the unit has some deficiencies in direct comparison to the G.E. it replaced it was less than half the cost and does the job equally as well. I am happy with the purchase. [This review was collected as part of a promotion.]
Date published: 2019-10-16
Rated

3

out of

5
by
Eddie K
from
Poor design & bare bones features
The unit is 45 days old & I would send it back if I had that option. The fridge is a basic model, the vegetable bins are plastic on plastic with no rollers or glides of any kind. Not only are the difficult to use but they screech when you fight to open them. Even small apartment size units I've had in the past were far superior. The in-door ice & water buttons are click buttons that are prone to wearing out and have no LED lights at all. For the price point on this unit, it is very disappointing. There was no floor model to see at the store so I bought this unit based on trust & prior products from Frigidaire. Not a happy customer. [This review was collected as part of a promotion.]
Date published: 2018-10-12
Rated

4

out of

5
by
CPopenFam
from
Great Size for a Great Price
I bought this three weeks ago and replace our old Samsung with this Frigidaire. Our Samsung has a bucket bottom freezer, so storage with this refrigerator is different. Its better! I am able to fit SO much more in there. My family loves the ice and water feature. The drawers and side shelves in the refrigerator are wonderful, especially the milk shelf. It saves so much more space! We also like the deep produce crispers which allows us to load more vegetables in there. The price was great, and to receive this product for the price we paid for a good and trusted brand was great. [This review was collected as part of a promotion.]
Date published: 2020-04-28
Rated

2

out of

5
by
thedudehere
from
Nice Looking but NOISY
We bought this fridge to finish a remodel project we did 7 years ago and to replace our 18 year old Frigidaire, which has been a work horse but was outdated. It fits our space great, it's an exact replacement of our old one, so the functionality is familiar, but the thing is absolutely noisy - believe the reviews on this. They have also removed the automatic light feature when you fill a cup of water from the dispenser, so you can't see the contents of the glass as you're filling it unless you manually turn the light on or have all your kitchen lights blaring. Lame. It otherwise looks great and functions well, but the noise sucks. [This review was collected as part of a promotion.]
Date published: 2019-09-13