Description
This Maytag refrigerator has a 21.7 cu. ft. capacity. The PowerCold feature cools the refrigerator back down with the touch of a button, and a Beverage Chiller compartment is up to 4°F colder than the rest of the refrigerator so there's always a cool, refreshing drink whenever you need it. This appliance also has an ice maker, humidity-controlled FreshLock crispers and a temperature-controlled Wide-N-Fresh deli drawer.
Product specifications
Number of Refrigerator Shelves
French doors, 4 shelves, 3 door bins, 1 beverage chiller, 2 humidity-controlled drawers, 1 temperature-controlled drawer
Bottom drawer, 2 baskets with dividers
Reversible Door Swing (Y/N)
Frequently bought together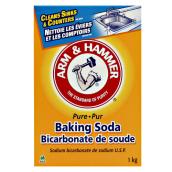 ARM & HAMMER
Baking Soda
Format 1KG
Details
Article #53975001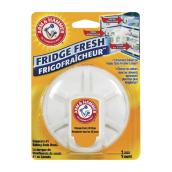 ARM & HAMMER
"Fridge Fresh" Refrigerator Air Filter
Details
Article #53975000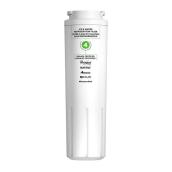 EVERYDROP
Refrigerator Water Filter - Everydrop(TM) #4
Format #4
Details
Article #30005202
French Doors Refrigerator - 33" - 21.7 cu. ft. - Black
is rated out of
5
by
607
.
Rated

3

out of

5
by
DewMan33
from
Fits the space and has good features.
We just purchased this 33" bottom freezer model with water and ice dispenser in the door. We needed to buy the smaller width because of space constraints. This model fits great in our kitchen and although we lost a few cubic feet of space, it has plenty of room for us empty nesters. However my one complaint, for the price we paid, the humidity control drawers are really flimsy and they don't pull in and out smoothly. As long as this model has been produced, I would have expected Maytag to listen to their customers and make some running design upgrades /improvements in this area. I see there are multiple complaints for this problem dating back several years.
Date published: 2020-03-06
Rated

5

out of

5
by
tlpinbcc
from
I LOVE my Refrigerator
I am a paraplegic and love all of my ADA Maytag Appliances! I specifically purchased all of my new kitchen appliances and the easiest to use is the Fridge. As an ADA compliant appliance I was so pleased to finally be able to reach everything easily and love the pull our freezer drawer. I can reach to the back with ease and the filtered water and ice cubes are awesome. Used the humidity control during monsoon season and was amazed at the function results. My fruit and veggies stay fresh for weeks. What an awesome machine and quality of life improvement for me! Trying to reduce my energy was also a factor in buying my Maytag appliances as they will shutdown automatically and run very efficiently. My dream home complete! [This review was collected as part of a promotion.]
Date published: 2018-12-03
Rated

3

out of

5
by
Polarisdude
from
Cool machine 2020
We bought this to replace an older machine that was no longer doing the cool thing. The refrig works wonderfully but still not used to layout, our original device had extremely well thought out shelves, egg tray etc. The new one not so much I think the design form overlooked function consequently our condiments are scattered amongst the other things. However having said that the refrig does what's 'posed to do cool or freeze stuff. I wish there was an ice maker delete option cuz that portion of the fridge is a total waste of space we don't use a whole lot of ice, when the need arises we pick up a bag of ice. (This review was collected as part of a promotion.)
Date published: 2020-05-13
Rated

4

out of

5
by
Sease family
from
Easy to use, bright and roomy.
The fridge is working great ! The features we love are: The brightness inside the fridge and freezer The different zones to adjust the temperature The easy to see thru glass shelves, with some being adjustable The easy to change water filter The large multi-use fridge drawer The freezer drawers are very easy to slide on their own when shutting The feature that could use improvement: Have the water come out faster Have the ice not fall out after release A bigger opening at the ice/water dispenser, to put large glasses, would be nice Overall we are very pleased with our purchase and happy we switched from side-by-side to French door model. [This review was collected as part of a promotion.]
Date published: 2019-02-04
Rated

3

out of

5
by
Suzanne R
from
Had to settle for this
Bought this by default. My other refrigerator was a Kitchenaid and was 35 wide. I could not find a refrigerator that size any more. If I went wider I would have had to cut into cabinets or a wall. I wish I would have stayed with a side by side because I am constantly reorganizing the drawers. Also we both have a hard time controlling the ice as it comes out. Cubes miss the glass and fall in the floor. There is a big difference in space because of the old one being wider. Loved my kitchen aid side by side, Sad, but this was the best we could do during a pandemic. Keeps food cold and matches my white appliances. [This review was collected as part of a promotion.]
Date published: 2020-07-16
Rated

5

out of

5
by
Cabo
from
Quiet and well built
This replaced a Kenmore Elite(LG manufacturing) that was 8 years old and falling apart everywhere(shelves cracking, door sleeve broken, ice maker won't make ice ) The shelves and door compartments are well built and engineered correctly— not like previous ones that were flimsy. LOVE THE BEVERAGE CHILLER- nothing like ice cold milk. Freezer design is real nice too with drawers for easy access Pretty sad when Sears repair man says, everything with Kenmore name in last 9 years has been nothing but problems! Maytag has always been good quality products. [This review was collected as part of a promotion.]
Date published: 2019-01-03
Rated

5

out of

5
by
Tlm1986
from
Very organized!
We've had the fridge for almost 2 weeks. My kids live to get ice and water now. It is very well made and keeps they veggies very crisp. My milk is always cold. And my freezer dosnt serve any soft or melted ice cream and it dosnt seem to produce frost on the items either. Oh yeah and it makes ice very fast I love it. It's a little pricey if you could afford it tho it's worth every penny. Would definitely recommend and I'm already looking at other appliances. [This review was collected as part of a promotion.]
Date published: 2018-03-28
Rated

2

out of

5
by
Rumbolt4057
from
Not sure if I love it yet.
We bought this fridge in the fall, it throws ice cubes out of the maker with a lot of force and usually dispenses them onto the floor, which enDs up with them under the fridge and all over our flooring. Lots of room, bright lights but wish the ice maker was in the freezer so we could take it out and not have it thrown at us. It also makes a constant humming noise that we can hear in our bedrooms at night, not a sound that it's something wrong, it's just louder than the fridge we had 10 years ago.
Date published: 2018-02-10
Rated

3

out of

5
by
Anonymous
from
Fair prce for what you get
I purchased this unit because I was very limited on the size that would fit in my current space. Wanted to have Ice and water in the door. My only complaint about this unit is the ice dispensing hole is way to big and even when you hold a glass up close ice gets blown all over the floor. My fix was to fabricate a funnel to go inside of the chute direct the ice [This review was collected as part of a promotion.]
Date published: 2017-07-18
Rated

4

out of

5
by
Sunsinger
from
Great Purchase
I love this refrigerator! Having the ice maker in the top really gives me the extra space I needed in the freezer. Being a single person, I do not need as much space in the refrigerator section. The size was great for my small space. This refrigerator has all the features of a larger, standard size unit. The only issue that I have currently is with the dispensing of the ice. The dispenser is very sensitive to touch and ice continues to dispense as I am removing my glass, causing ice to fall on the floor. [This review was collected as part of a promotion.]
Date published: 2018-05-03
Rated

1

out of

5
by
Marty123
from
Ice maker problems
Ice maker is the biggest problem. Very dangerous with ice all over the floor. There us no way to get all of ice in glass. Other problem is moisture on door edge. So bad you have to run edge heater to stop water build up. [This review was collected as part of a promotion.]
Date published: 2017-11-30
Rated

4

out of

5
by
Snap1019
from
Better then average
I bought it after returning a larger one which I viewed in the store that was bigger & didn't fit at the delivery. I could only look at a website and not a actual model. The fridge drawers annoy me b/c they don't slide open & close easily and get caught on the marker for humidity control. Not as much door storage space as I was used to but I'm getting used it it love, love, love the freezer size & dividers/drawers. The water & ice maker dispenser on the outside is ok. Would like more holding space for ice but like that I can access this from the outside. Lastly, I couldn't figure why the left side top door kept dripping water from the inside when I would open it. Finally figured out there is a button on the front you push which warms this to stop humidity control. This takes more energy to run it & $$ our of my pocket! Overall, I really like the upgrade. [This review was collected as part of a promotion.]
Date published: 2018-06-20
Rated

4

out of

5
by
Baxmolbel
from
Looks beautiful
We had the same exact refrigerator in biscuit color for ten years, but it had some issues after a power outage. We replaced it with the stainless to match the rest of our appliances. It fits nicely in the small space we have and it looks great. The only issue I'm having is the crisper bins are not moving as smoothly as they should. They're sticking a bit so I need to empty them to see if there is a problem. Otherwise, we love the ice and water from the door, the slide-out shelves, and the humidity control ( a great feature for summer in NY). This is not a very big fridge, but it's just my husband and myself, so it works well for us. [This review was collected as part of a promotion.]
Date published: 2019-06-25
Rated

5

out of

5
by
jcb4255
from
excellent fridge for a smaller openng
We bought this fridge about three weeks ago and have been very happy with it. Although the capacity is smaller than our last fridge, we needed something to fit in a smaller opening and this fridge has been excellent. Two drawers fro vegetables and one for cheeses. Freezer on bottom has plenty of room for us empty nesters. ourson and his family have the same fridge and found it to be great. We bought the smudge free finish and it shows no fingerprints. Like that it beeps if you've left fridge door open. Has other user friendly programmable options. [This review was collected as part of a promotion.]
Date published: 2018-08-26
Rated

5

out of

5
by
tish42
from
So far, love it!
Have had this fridge for about 3 wks. Love it! I like some other reviewers had limited space dimensions so was limited on what I could get. This was it! Design, interior space fridge and freezer can to me hold a lot of groceries. This is my first in the door filtered water and ice. I love it, wish I could have had one years ago. Better late than never :) In reading the reviews before I purchased, people did complain about the ice spitting out, that is true. However, I have been able to maneuver it in such a way, not a problem really, but you do have to think and strategically remove your cup as you release pressure on the ice button. What I realize is, is that the area should have been deeper, so you can release the button with cup in place. Just not enough room, and yes ice will tumble out and hit the floor. And you shouldn't have to think about it. Other than that, water is cold enough, and love that the ice and water are filtered. My only other negative is the cost to replace the water filter, really $50.00? Think those should be a sale item always!! JMO [This review was collected as part of a promotion.]
Date published: 2018-11-16
Rated

5

out of

5
by
Allaura
from
Love it!!
We bought this fridge online through Whirlpool Inside. It was a great experience. The delivery guys were excellent at installing and explaining how to use. We ran into a couple complications and the guy was very calm and did not get frustrated at all. They even had to wheel.the appliance across a busy road as they could not get close to the house because of wires. The only complaint I have is that there is not enough storage in the doors. I had a side by side before. I love the freezer in the bottom. Can see everything that is in there. [This review was collected as part of a promotion.]
Date published: 2019-08-13
Rated

1

out of

5
by
Melted ice mopper!
from
Ice dispenser
Would never have bought this Maytag had I known that I would have to keep a towel on the floor to mop up ice that erratically comes out!
Date published: 2017-10-07
Rated

1

out of

5
by
very disappointed in PA
from
Garbage, Don't buy!
This is an update to my negative review from 11 months ago and it's only gotten worse. The refrigerator was delivered with missing parts, but my local dealer made it right within a week. Since then I have had to get the ice maker replaced at 6 months and now, one year to the date of purchase, the hinge pin on the large crisper/deli drawer broke, on Thanksgiving, while I was trying to prepare a meal for guests. I can't even get my local dealer on the phone because it's Black Friday and they won't answer or return messages.
Date published: 2019-11-29
Rated

1

out of

5
by
Spoonge
from
Garbage
Uneven cooling, plastic parts are cheap and break and are not cover by any extended warranty. The gasket tears easily. The ice maker shoots ice everywhere. The handle came loose. I already had a repairman out twice for this refrigerator. Worst refrigerator I have ever owned.
Date published: 2019-04-18
Rated

4

out of

5
by
Eyesuckle
from
Some of what you've heard is true. . .
So, after owning this fridge for a few weeks, here's my take on this model, and some of the common complaints about it I've read in reviews: 1) The claim that the outside door dispenser spews out cubes that somehow end up on the floor: Maybe my drinking glasses have particularly big mouths, but I haven't had a problem. I press the dispenser lever with the rim of the glass; ice cubes fall into it. I haven't had an ice cube hit the floor yet, but it took me a while to hook the fridge up to a water supply, so I've only been using it for a few days. But so far, I can't substantiate these complaints about the icemaker. It works for me. The water that comes out of the door dispenser is fairly cold, but not ice cold. I did expect it to be a little colder. But that's a matter of personal preference. 2) The claim that the crisper drawers don't slide well. True! While all the other drawers in the fridge and freezer have nice metal sliders with ball bearings, the crisper drawers feel cheap and slide poorly. And they do keep catching on the humidity slider control, as one other reviewer noted here. They're just plastic sitting on plastic. Why they didn't make these drawers--possibly the most commonly accessed--up to the standards of the other drawers, I have no idea. Pretty poor choice in a fridge costing almost two grand. 3) The claim that the chiller compartment cover (in the door) gets stuck or is hard to close. Also true. It can lock into the open position and then it takes a lot of pressure to lower it again. And in doing so, it makes a loud snapping sound that makes you think you've broken it. You can avoid this by putting a little pressure on either side of the cover as you lower it, but it's a poor design. Other than that, the chiller compartment is a great feature if you like keeping your drinks really cold or having the milk last a little longer. In fact, I think it's this fridge's best feature. The problem about the crisper drawer and the chiller compartment cover aren't huge problems, but this next one is something you might want to consider: I did some testing with thermometers to track temperature uniformity throughout the fridge, and constancy of the temperature. The fridge did well on this first aspect. Temperature throughout the fridge is very uniform. That's good. Where it didn't do so well is in temperature constancy. Unfortunately, rather than holding a constant temperature regardless of room temperature (which is what you want) the refrigerator compartment tends to get warmer inside when the room temperature goes up, and cooler when the temperature in the room drops. Admittedly, I have a kitchen with some pretty wild swings in temperature (I live in a poorly insulated attic suite) but the fridge should do a lot better at holding a temperature. Oh, one other thing: I live in Canada. The Canadian Energuide rating for this fridge is pretty good--although I don't believe it's Energy Star rated. The American energy guide rated this fridge as something of a pig. Their estimate for how much power it consumes in a year is one of the highest I could find for a modern refrigerator. So, there's a big discrepancy there, for some reason. I have no idea which country's test results to believe.
Date published: 2018-06-24
Rated

4

out of

5
by
Don80449
from
Very Good
If you plan on using the ice dispenser to fill large or over size cups/mugs (e.g. Yeti insulated mugs) be prepared for 2 or 3 cubes to land on the floor. Very tricky to avoid it. When and closing the left side door always double check to insure the right hand door is also closed all the way. Freezer drawer can be filled too full and drawer still closes and looks closed but isn't. If you see frost build up around the or right side adjust the food height and keep an eye on it to be sure the frost clears in a couple days time. Water dispenser to 50. Wish it were 40. Water dispenser outlet is located so you can not refill narrow mouth bottles. [This review was collected as part of a promotion.]
Date published: 2017-05-11
Rated

5

out of

5
by
Charite
from
Larger than it looks!
I bought this a month ago to replace a larger fridge that did not fit the new space. This fridge actually holds more and I can see everything much easier than in the previous one. It's design is excellent! (This review was collected as part of a promotion.)
Date published: 2018-11-12
Rated

3

out of

5
by
Girlda
from
Does the job until the compressor stops.
I've had the fridge just over 3 months. True to other reviews, the ice maker does tend to spit ice everywhere. It's a win when i don't have to chase a cube or two across rhe kitchen floor. Last week it started to make a clicking noise (on the weekend, of course) then one morning I woke to a puddle of water from the fridge. The freezer was no longer frozen, but the fridge seemed ok. Hubby called the repair guy that day, but came home to find the fridge at 65 degrees. Next day repair guy came down and said compressor was not working and parts were 3 days away. Enter another weekend and we're currently on day 6 with only a small bar fridge. Lost the majority of our food, which hopefully gets replaced through warranty program. (This review was collected as part of a promotion.)
Date published: 2019-09-16
Rated

5

out of

5
by
Anonymous
from
Love my new fridge
I've had my new fridge about 2 weeks. I went from a side by side to the French doors with the ice and water on the door. There was somewhat of a learning curve getting use to the new fridge. I was a bit concerned about prior reviews regarding the ice maker shooting ice all over the place. I've found there really isn't an issue with that concern. Just don't remove the cup/glass while the ice is still dispensing Two weeks after delivery, I love it! [This review was collected as part of a promotion.]
Date published: 2020-02-06
Rated

5

out of

5
by
Dave R 11
from
Really like our new Refrigerator
I bought this refrigerator a couple of months ago and really like it. I like the chiller feature on the door. Also the interior lighting is excellent and it maintains the temperature well as compared to my previous refrigerator that was a different brand. We had limited space for a refrigerator and this just fit and gives us plenty of storage space with the room we have. It looks great also with the stainless steel that doesn't show fingerprints. [This review was collected as part of a promotion.]
Date published: 2019-12-28
Rated

5

out of

5
by
Jackie2010
from
Great storage space!
I purchased this refrigerator about a month ago and it's been great, I love the amount of storage drawers. Especially the deli meat drawer that pulls out. The freezer seems to fit more in it then my vertical freezer did and in a more organized fashion. The only thing I wish it had was one more door storage. I ran out of room for some of my condiments since there are only two shelves on the door. Other than that I couldn't be happier w my purchase! [This review was collected as part of a promotion.]
Date published: 2020-03-11
Rated

5

out of

5
by
GreenRose
from
So far so good
Had this for a few weeks. Was limited bc we have 33" space. I wanted French doors, bottom freezer and ice and water in door. Love everything about it. The only thing is the veggie drawers I guess u have to lift up tonshut all the way other wise there is a 1/4" space which still works, but not shut all the way. [This review was collected as part of a promotion.]
Date published: 2019-07-15
Rated

5

out of

5
by
Liyahmc81
from
Amazing Fridge!
I am absolutely in love with this appliance! It has a ton of space with all the different size drawers and compartments and the interior is very well lit, so nothing gets lost in the back. The fantastic tasting water from the built-in ice maker and water dispenser not only make getting your eight glasses of water a day a breeze, you also cut out all the waste from buying bottles of water; and you never have to worry about refilling a water jug so you have fresh clean great tasting water. Just change a filter every six months! (This review was collected as part of a promotion.)
Date published: 2018-01-22
Rated

4

out of

5
by
Wimmd
from
Visibility
I can see everything, the lighting is great. I think my last fridge had more door space for condiments. It was delivered with a broken water dispenser and popcorn in the bottom drawer, not packaging popcorn but someone was snacking while putting it together and then left their mess inside. [This review was collected as part of a promotion.]
Date published: 2018-06-25
Rated

5

out of

5
by
Kevin101
from
Big Changes Since my Last Refrigerator
I love the refrigerator and would highly recommend it. I do have one concern and that is when the power went out to my house for 5 hours (Very Rare for me) the ice started melting and because of the design of icemaker, the water from the ice drained down the front of the refrigerator onto the wood floor. I also have to make sure the left hand door is closed as for some reason I have left it open several times unintentionally. [This review was collected as part of a promotion.]
Date published: 2019-08-25