Description
Enhance the refined and professional look of your kitchen with this GE french door refrigerator. This quiet 26.7 cu. ft. slate-finish appliance allows you to preserve a large quantity of fresh food for a long time thanks to its multiple door bins, temperature-controlled deli drawer and 2 humidity-controlled crispers. The freezer is equipped with FrostGuard(TM) technology that prevents frost from building up, reducing freezer burns. A built-in internal dispenser provides ice and water which is filtered through a premium filtration system that removes major pharmaceutical residues commonly found in running water. This Energy Star-certified refrigerator comes with a 1-year limited warranty on parts and labor.


Ecological Attributes
This refrigerator is ENERGY STAR® certified to save up to 10% in energy.
Product specifications
2 humidity-controlled crispers, temperature-controlled full-width deli drawer, 8 door bins, 5 shelves
2 shelves (1 sliding shelf)
Reversible Door Swing (Y/N)
Pharmaceutical grade water filter
QuickSpace(TM) shelf, spill-proof glass
Number of Refrigerator Shelves
Frequently bought together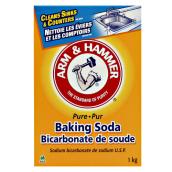 ARM & HAMMER
Baking Soda
Format 1KG
Details
Article #53975001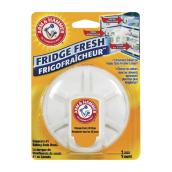 ARM & HAMMER
"Fridge Fresh" Refrigerator Air Filter
Details
Article #53975000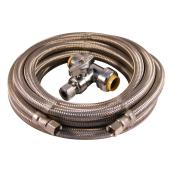 AQUA-DYNAMIC
Ice Maker Connector Kit
Format 1/2x1/2x1/4" 10'
Details
Article #01735520
Just organized our new refrigerator and noticed that on top of the fridge doors there is not a cover/plate. Is there supposed to be one?
I just changed the water filter and pressed the reset button that is red. There is no filtered water coming out. What should I do? Thank you.
French Door Refrigerator - 36" - 26.7 cu. ft. - Slate
is rated out of
5
by
2909
.
Rated

5

out of

5
by
Thewife
from
First impression
[This review was collected as part of a promotion.] We picked ours up at the store, it was packed very well. This refrigerator is huge and I love it we have been using a small one for the past 4 years with a family of 6 is was becoming a challenge and I kept losing stuff in the fridge because it was so small and packed, lots of experiments found. Anyway, I love the cheese meat drawer, and the fruit/veggie drawers. The only thing I had trouble figuring out where to put milk spaced evenly the shelves are about 1/4-1/2 in to close to put in a jug. A jug fits on the door but it's awkward trying to get it out and I could see my kids breaking the shelve trying to get it out. I love the shelve that slides back to store tall bottles.There also no butter space but I'll let that slide. I like the freezer dividers and love the door alarm.
Date published: 2019-03-13
Rated

5

out of

5
by
GoIrish0823
from
Amazing
The water tap on the inside of the fridge is super convenient versus one on the outside of the door. We have a curious puppy who would love to press any door buttons and make a big old mess. This prevents that. The amount of storage is unbelievable, and I love the LED lighting. It was super easy to install, and there wasn't a scratch on anything! One minor thing: I like all of my instructions in one place. This unit had instructions taped onto the sides and all over. But I kinda understand why they did it this way (idiot proof). Seems like heavy construction too! It is also cool that I can somehow put magnets on the front of the refrigerator even though it is SS??
Date published: 2018-07-15
Rated

5

out of

5
by
Del
from
lots of room
[This review was collected as part of a promotion.] there is a lot of room we had a side by side and it was to small this rerig has plenty of room easy to find what you want the old one you had to move everything around to find what you what you wanted. Very quite and makes a lot of ice fast .I also love the water dispenser the water comes out very cold.
Date published: 2019-03-16
Rated

3

out of

5
by
surcraig
from
Pretty good, but repair needed after 15 months
Overall, it's a good refrigerator. Lots of space. Adjustable shelves. However, after 15 months, water was intermittently squirting out of the interior dispenser while the doors were closed. It was filling up a door shelf, and dripping down into the ice tray and also I the floor. Water was also being released into the ice tray, presumably through the ice maker. I've ordered the main intake valve, so hoping that fixes it. Seems to me refrigerators should take longer than 15 months before needing a repair. My 16 year old beer fridge in the garage has only needed one repair: the ice maker at about year 12. And that was cheaper than this new valve.
Date published: 2020-06-07
Rated

3

out of

5
by
bb2323
from
doing fine
I love the slate color of these appliances however I needed a large refrigerator and I preferred to have a bottom freezer with one top door and that option was not available. I'm personally not a fan of the french doors. You have to open both doors to see everything anyway and the bottom full length drawer can never be used when you only open one of the doors. The ice maker was leaking water a ton after installation, best buy came out to repair it a few days after installation and said it was a manufacturers defect but they got it to stop leaking. now it squeaks every time you open the freezer. it seems to be doing just fine otherwise.
Date published: 2019-08-27
Rated

4

out of

5
by
ivanj126
from
Very nice refrigerator
We love this GE refrigerator. The lighting is terrific and it helps identify food that could be hidden in the back. The bottom freezer is also laid out well and well lit. I chose this model, as I do not plan to hook up the ice maker or water dispenser, so I wanted both features to be hidden and not intrude too much into the refrigerator space. I gave it a 4 over 5 stars as the interior plastic shelving on the door is a bit flimsy, and could be smaller to accommodate smaller food items on the doors. The bottom deli door should have been split to accommodate the French door design—both doors have to be opened to open the deli door.
Date published: 2020-01-07
Rated

4

out of

5
by
ag15
from
Clean looking fridge
this fridge has a great overal look, very ample space in the fridge area specially the doors. we like that the water dispenser and the ice maker are separately and the option to set up the shelves makes it very convinience to adjust to your needs. * what needs to improve: - the drawers have a cheap apperance and they are not easy go in and out as they get stuck very easily - the water dispenser button is too hard to press to make it work, is also makes a very loud when you stop dispnesing - dispese water is not too cold. only the first 6 oz came out cold anything after that the warter coming out is warm. *
Date published: 2020-06-15
Rated

5

out of

5
by
Joanne24
from
Great Features!
I love this GE Refrigerator because it finally addressed all that I didn't like on my prior refrigerator. GE really got it right. They took away the bulky ice maker on the left door and now the water is so inconspicuous and doesn't take up any room. I gained all that fabulous storage space on the left door as well as the same on the right so my taller and larger objects fit on both sides of the door so now there is so much more room in the refrigerator!! The ice make which is now located at the rear left back of the refrigerator is not in the way and they have a large drawer for ice. I love how light and bright it is on the inside.
Date published: 2020-11-24