Description
Maximize food preservation with a high quality appliance! This 25.5 cu. ft. french door refrigerator is equipped with a dispenser on the left door which gives you filtered water and ice at your fingertips. It features a temperature-controlled full-width drawer for your deli meats, cheeses and prepared dishes, as well as QuickSpace glass shelves which can be quickly adjusted to optimize food storage. Built-in LED lighting provides a natural and non-dazzling light letting you see the refrigerator's content without having to turn the kitchen lights on. Moreover, the freezer features FrostGuard technology which removes frost as it forms on food or inner walls, so you never have to empty the freezer for a manual defrosting. Finally, its 38 dBA operation is one of the quietest on the market. Backed by a 1-year limited warranty on parts and labor.


Ecological Attributes
This refrigerator is ENERGY STAR® certified to save up to 10% in energy.
Product specifications
Number of Refrigerator Shelves
1-year limited warranty on parts and labor
Reversible Door Swing (Y/N)
2 shelves (gliding shelf)
2 humidity-controlled crispers, temperature-controlled deli drawer, 5 shelves, 7 door bins
Frequently bought together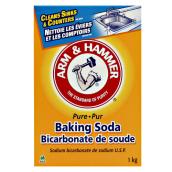 ARM & HAMMER
Baking Soda
Format 1KG
Details
Article #53975001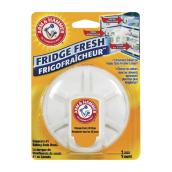 ARM & HAMMER
"Fridge Fresh" Refrigerator Air Filter
Details
Article #53975000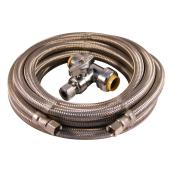 AQUA-DYNAMIC
Ice Maker Connector Kit
Format 1/2x1/2x1/4" 10'
Details
Article #01735520
French Door Refrigerator - 36" - 25.5 cu. ft. - Slate
is rated out of
5
by
3067
.
Rated

4

out of

5
by
Annie
from
Like my new refrigerator
[This review was collected as part of a promotion.] I am pleased with this refrigerator. Has plenty of refrigerator space and the lower freezer seems to allow for more storage than my previous side by side. Shelving is adjustable which helps in storing tall items. Love the shelf that can adjust for very tall items when needed. Ice maker works well, however because it is in the door it does not hold as much as my previous side by side but it works well and being in the door allows for more refrigerator storage. I just empty it and store in the freezer for when I need more ice for entertaining.
Date published: 2019-06-20
Rated

5

out of

5
by
Sherry
from
[This review was collected as part of a promotion.] So far so good. Just love the roominess I have with the French doors. I can now get larger items in my refrigerator. Wasn't sure if I'd like the freezer drawer as much as my old side by side but that too is just fine. Glad I made the decision on this refrigerator. Thanks much to the delivery guys at Lowe's for working their magic and manuvering through all the obstacles to get my refrigerator in to the tight spot.
Date published: 2018-12-07
Rated

1

out of

5
by
KmtCT
from
Poorly designed handles, no door space
We purchased this about three months ago. Every three days, the freezer handle comes off and you need to reattach it. We have uninstalled and reinstalled it. The handle is not directly attached to the door, but rather you need to hook the handle to a piece of plastic on the door. There is also minimal door space for condiments, etc because of the ice bucket built into the door. There is also no way to arrange the shelves so that they all fit in a way you can put a gallon of milk in- it is too tall and so you have to take one of the shelves out. The one plus is great freezer space
Date published: 2020-07-13
Rated

3

out of

5
by
Retired 12
from
Could be better
Choose the best I could do in my price range that was available in my area. Large plastic drawer at bottom for meats, cheeses, slides awkwardly and I am afraid it will last. In door ice maker is small, but this style was recommended over the type that is in the box, due to repair issues. Shelves do not adjust as much as I would like. Somewhat limited. Freezer drawer is smaller than that of my previous fridge, which was the same size. Door panel is difficult to read. A bit noisy, although rated to be not too noisy. Saw comments from some reviewers indicating that it is noisy, but had to make some assessments and consider the price range and availability.
Date published: 2020-01-10
Rated

4

out of

5
by
Bill
from
Good Value Refrigerator
[This review was collected as part of a promotion.] Purchased this refrigerator about a week ago. Would give five stars to the guys that delivered it (the were fast, conscientious, thorough and very polite). The refrigerator was a little louder than expected at start up but once we got over start up it runs as expected. We like the interior layout and both the ice and water dispense nicely. Assuming we do not run into any problems over the short run we will be very happy....so far it has been great.
Date published: 2018-12-11
Rated

4

out of

5
by
vms17
from
Good value
Had a GE Profile that was very similar to this. I like this however it is noisy compared to the Profile I had to recycle. Also, although the overall size is a smidge bigger the compartments on the door where the water/ice is is a waste. The compartments are very small. Almost too small for anything other than a mustard container. The ice/water dispenser is nice to have (on the profile I just had water) but everytime you want ice of course it flips out onto the floor. Overall I am pleased with the refrigerator but I am sorry I didn't opt again for the Profile. I just chose this because of its similarities and much less price.
Date published: 2019-11-19
Rated

1

out of

5
by
DStep1231
from
Incredibly Unhappy
Two things make this refrigerator incredibly frustrating. First of all, the water dispenser. It does not work for larger cups or water bottles. The water spout angle causes you to have to use two hands. One to press the dispenser and one to line the cup up with the spout. If you don't, prepare to spill the water everywhere. Incredibly poor design. Second, the freezer handle is so cheaply made and does not actually lock into place once secured. The amount of times it falls off when pulling, or if you barely brush against it, it falls off, will drive you mad. I have bruised feet from the bar landing on them constantly. The installation technician came back and even tried to re tighten. I should have returned it when I had the chance.
Date published: 2020-12-20
Rated

5

out of

5
by
Twonell
from
Convenient, and stores a lot of food
I bought this GE refrigerator to replace one that was made by a well known manufacturer from another continent. The GE is convenient (the other wasn't!) The GE holds a lot more food than the other one did. The other one NEVER made ice, the GE provides all the ice I can use. The well known but not American brand had to be repaired in the first 6 months I owned it. Then, it needed the same repair at the end of the first year that I owned, it. The foreign brand company would not repair it again when it turned one year old! I am so glad that I bought a GE to replace the refrigerator that the company from across the world would not stand behind!
Date published: 2018-08-24