Description
This 24.6 cu. ft. refrigerator from Samsung has large French doors that open wide to let you find everything you are looking for at a glance. The high-efficiency LED lighting offers better visibility and more space, and is more power-efficient that conventional lighting. The Twin Cooling Plus(TM) technology cools the fridge and freezer compartments separately, so food stays fresher and odors don't mix. Independent systems ensure optimal cooling and humidity. This appliance features an elegant black stainless color finish that will enhance the décor of any contemporary kitchen decor.


Ecological Attributes
This refrigerator is ENERGY STAR® certified to save up to 10% in energy.
Product specifications
Power Freeze, Power Cool, Twin Cooling Plus
French doors, 6 door bins, 2 humidity-controlled crispers, 1 pantry drawer
Reversible Door Swing (Y/N)
Number of Refrigerator Shelves
Frequently bought together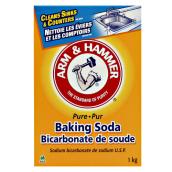 ARM & HAMMER
Baking Soda
Format 1KG
Details
Article #53975001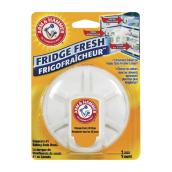 ARM & HAMMER
"Fridge Fresh" Refrigerator Air Filter
Details
Article #53975000
What size/type of connection is there for the water line?
Is it necessary to purchase extended warranty from the store? Do you think it will break down after a year or 2?
French-Door Refrigerator - 36" - 24.6 cu. ft. - Black Steel
is rated out of
5
by
913
.
Rated

1

out of

5
by
bess222
from
water leaks from ice maker into fridge
leaking water from ice make into fridge as soon as warranty passed. Everything replaced. Spent 100's of dollars on a problem that obviously cant be fixed due to poor design!!! Also, ice make freezes up about once a month, along with the massive leaking into the meat tray of the fridge. I have figured out that I can use a blow dryer and defrost the ice maker to make it work again for a short time until it happens again. Piece of Junk! Also bought a Samsun washer that the entire side blew out during the spin cycle!!! Less than a month old. Samsung, you should stick to making TV's. You do well with that.
Date published: 2018-10-23
Rated

3

out of

5
by
Consumer
from
Not for the money you spend
Overall we loved the look, feel and 4th door option. However, we have had the repairman out after only 4 weeks of owning this for the ice maker. It turns out that Samsung admits they did a poor job of engineering the ice maker. They make the ice freeze faster than normal causing air bubbles in the ice cubes. This causes the ice to break up when dispensing meaning you always get some crushed ice. Crushed ice also create residue ice which melts, drips and stains the stainless steel. We are very disappointed there is no fix for this and would not have purchased this model for the money paid for it.
Date published: 2015-01-18
Rated

1

out of

5
by
ElwaysOwner
from
Freezer and water puddling issues
We moved into our house 3 years ago and bought this refrigerator new in the Fall of 2014. The first issues arose about 12-15 months later and it's been a battle ever since. I'm not submitting anything new here if you read any of the other poor reviews. The ice maker freezes up and water puddles under the deli draw at the bottom. I'm actually going to cancel my repairman from coming this week because I now realize there is NOTHING I can do. A few other issues: I've noticed mold in between the french doors. The touch screen is sometimes difficult to use when selecting between water, ice and crushed ice. Sad. Time for a new refrigerator - not a Samsung though.
Date published: 2018-02-17
Rated

1

out of

5
by
puzzleco
from
Cheaply Made Refrigerator
We've had our refrigerator for over 3 years so our warranty no longer covers the mass of things that have gone wrong with this refrigerator. First of all, this is our second Samsung refrigerator because the first one died after a year. They replaced the refrigerator because there were numerous leaks coming from a variety of spots. Next, we have had the ice maker go out twice in two years and both times were fixed under warranty. Now our ice maker is going out and no longer covered under warranty. Our last refrigerator lasted 15 years and still worked when we go rid of it. Goes to show manufactures don't make products to last.
Date published: 2018-02-22
Rated

5

out of

5
by
New2Samsung2016
from
Great Refrigerator, just 2 things...
This is a great refrigerator compared to our 12 year old past GE fridge. We love the sleek black stainless look. Just 2 things: 1. The touch sensor letters and numbers on the keypad illuminate when touched, but at night it can be difficult to see which touch sensor to press since the background doesn't illuminate. We kinda have to feel around until we've pressed the water vs. ice touch sensor, since it's one flat surface or turn a our kitchen light on at night. It would be nice to see a background illumination. 2. The ice maker is kind of loud. It's a total contrast to our new Samsung dishwasher where we have to open the door to be sure it's on.
Date published: 2016-04-21
Rated

5

out of

5
by
InKitchenHeaven
from
Love this refrigerator
Yes it is big, yes it is expensive but it is amazing! Looks so good, everything fits, love love love the freezer. Nothing is buried, everything is easy to find and well organized. I have more room than I need which is great, I won't have to throw away as much food as I did cleaning out the old one, food was buried and freezer burnt. I found things that I know I put in there 2 years ago. Only issue... it is BIG, we measured the spot it sits in but did not think about getting it in the front door.... they had to take its doors off to get it in the house. Love it.
Date published: 2014-12-06
Rated

5

out of

5
by
ArmyAirborne
from
Superior Design Compared to other refrigerators
We received the new refrigerator today and love it. We looked at several other stainless steel refrigerator models and chose Samsung for it's superior design, LED lighting, interior layout and beautiful exterior. The price was within our budget compared to other manufacturers comparable models which were more expensive with less features. Samsung really surprised us, topping our choice of refrigerator models within our price range. The feature that sold us was the water filter location inside the model in addition to the "clam shell" deli drawer. This is our first Samsung product purchase and we hope it performs and lasts as good as it looks.
Date published: 2014-10-22
Rated

1

out of

5
by
IluvSal
from
I'm sorry we bought this refrigerator.
When we viewed this refrigerator in the showroom we were impressed by its' appearance, in particular, the black stainless finish. However, when it was delivered and we started placing items in it, we learned it is not a very functional refrigerator. The ice cabinet in the refrigerator takes up a lot of needed space. You cannot properly retrieve gallons of products like milk and juice without a struggle. The plastic used to cover the refrigerator is nearly impossible to remove because it is imbedded in the creases of the unit. We are very dissatisfied with this refrigerator and if we could we would return it. We have only had this unit for 1 week. The vendor stated that they consider it a used time and we cannot return it. We would like to hear from Samsung.
Date published: 2016-07-10