Description
This Kitchen Aid(R) french door refrigerator offers 21.9 cu. ft. of storage capacity and longer shelf life for your fresh foods. First, the FreshChill(TM) full-width pantry drawer features a manual temperature control which lets you choose the amount of cold air that can enter the drawer, which is convenient for foods that require specific preservation. Furthermore, the 2 humidity-controlled crispers come with a filtration system designed specifically to absorb ethylene gas released by fruits and vegetables, greatly extending their shelf life. In addition, the refrigerator is equipped with ExtendFresh(TM) Temperature Management System, which preserves the texture and flavor of fresh and frozen foods. Finally, a built-in dispenser located inside the appliance provides you with quality filtered water with a simple push button. Backed by a 1-year limited warranty.
Product specifications
Number of Refrigerator Shelves
Water filter, produce preserver
2 humidity-controlled crispers, FreshChill(TM) temperature-controlled pantry drawer, door bins, 5 shelves
Reversible Door Swing (Y/N)
Frequently bought together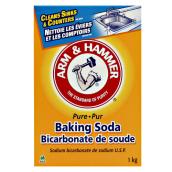 ARM & HAMMER
Baking Soda
Format 1KG
Details
Article #53975001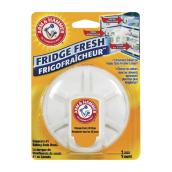 ARM & HAMMER
"Fridge Fresh" Refrigerator Air Filter
Details
Article #53975000
French Door Refrigerator - 36" - 21.9 cu. ft. - Black
is rated out of
5
by
887
.
Rated

1

out of

5
by
Debbie
from
SOOOOOOO disappointed!
Apparently, all of us who purchased this refrigerator are not very smart because we expected this to sit flush with our expensive built-in cabinets. The ad refers to it as counter depth and integrated. No way is this integrated, it sticks out like a sore thumb! From all of the reviews that I've read, KitchenAid has disappointed many faithful customers. This is my third KitchenAid kitchen and it will be my last. KitchenAid has done nothing but give lame apologies, nothing to really accept any blame or give any sort of consideration Shame on you KitchenAid!! Very, very misleading product. (This review was collected as part of a promotion.)
Date published: 2016-08-15
Rated

3

out of

5
by
sher4
from
Liked the style of this fridge.
Bought this about a month ago to replace a Samsung that was nothing but trouble from the beginning. I decided against the door ice and water dispenser for that reason. However, I find the temperature in the refrigerator is no even and have frozen a few things when place near the back. Things can not be placed too close to the back as the shelves are not deep enough and even cans of pop will fall if placed too far back. I so wanted to love this and was hoping perhaps an "American" made fridge would be better but now I am having some doubts. Overall am rather disappointed with this purchase. [This review was collected as part of a promotion.]
Date published: 2019-10-15
Rated

2

out of

5
by
DanL
from
Fully fills a standard cutout/poor shelf design
I bought this because it looks like a built in since it's counter depth and is nearly 72" tall filling out a standard 36x72 refrigerator opening. Why that means it should cost $1000 more than the non-counter depth (and larger) model I can't say. The glass shelves are truly a horrible design since a soda can fall down the back. It also lacks a slide back shelf so tall items like a wine bottle can't fit standing up. They only fit on the doors or the goofy under shelf mount wine rack that I threw out. Freezer section works well. Bottom line: looks great on the outside, very poor shelf design, too expensive for what you get. Understand the trade offs.
Date published: 2017-11-26
Rated

4

out of

5
by
shoogstr
from
What's with those shelves??!!
I have had this refrigerator for a few months and have loved it. Just yesterday I was trying to cram a few more things into it and things started falling down the back side. I had never noticed that the shelves don't go all the way back. I was hoping to find some sort of adaptor on line that would fix this but so far have not found anything. Pretty disappointing and a little bit concerning if a glass item falls on one of the glass shelves. KitchenAid please make a fix for this. I also agree with other reviewers that the left-hand door takes an extra nudge to get it to close completely. Glad it is alarmed but I often don't hear it if I'm in a different part of the house.
Date published: 2017-12-31
Rated

3

out of

5
by
LeslieAnn
from
Recommend with reservation
I would recommend the refrigerator with reservation. If you are thinking of buying it, there are a few things I would tell you to consider. The interior shelves do not reach the back wall of the refrigerator so small items can fall off the shelf. The left door has a hinged seal. We have had trouble with the door closing since we got the refrigerator. You have to be diligent about making sure the left door is shut because the seal will get stuck and keep the door slightly ajar. Unfortunately the door alarm does not go off because the door is not wide open. This is a definite design flaw! Lastly, stainless steel is so hard to keep clean.
Date published: 2017-11-10
Rated

1

out of

5
by
rslueb
from
Terrible design
I strongly advice against buying this refrigerator. It has two serious design defects: 1. The shelves do not extend all the way to the back of the compartment. Not only is valuable space wasted, but items easily get stuck or fall to lower shelves. See the attached picture. 2. The shelf brackets do not go all the way to the bottom of the compartment. This means that if you position the bottom shelf at the lowest level, it flexes whenever something is set on the shelf. See the attached video.
Date published: 2017-06-26
Rated

4

out of

5
by
Roy1961
from
Nice fridge - horrible shelf design
You guys really missed the mark on the design of the shelves for the unit. There is a good three to four inches between the shelf and the back of the fridge. You could have at least put something at the back of the shelf to stop items from falling down the back. Everything else is fantastic. You would have had a perfect fridge if not for the shelves [This review was collected as part of a promotion.]
Date published: 2017-12-31
Rated

4

out of

5
by
Lora1014
from
Beautiful Refrigerator
We bought this refrigerator 2 months ago. It is a wonderful upgrade from the 25 year old one that we replaced! The salesperson pointed out the fact that the upper shelves don't go all the way to the back and therefore smaller items (like cans of beverages) can fall through the cracks if pushed all the way back. Glad we didn't learn that the hard way. Still getting used to the bottom freezer feature (previous was side x side). Doesn't seem to hold as much as previous freezer. Love the ice maker and water dispenser inside the door. Didn't want those visible. Overall great refrigerator! [This review was collected as part of a promotion.]
Date published: 2019-07-18