Description
Get the space you need out of your fridge and freezer with this Samsung 3-door refrigerator with French doors. Four split cantilever shelves, gallon door bins, door pockets, a freezer divider and freezer auto pull-out drawer offer great flexibility to maximize space. The Digital Inverter Compressor on this Energy Star refrigerator runs quietly and maintains consistent temperature for greater efficiency. The fridge includes two humidity-control crispers and a wide pull-out pantry drawer with flip-open top that lets you store cold cuts and fresh veggies or thaw poultry and meat. Other great options include an ice maker in the freezer, door alarm and display and control to make this fridge a great addition to your kitchen.
Product specifications
French doors, 6 door bins, 2 humidity controlled crispers
Reversible Door Swing (Y/N)
Number of Refrigerator Shelves
Frequently bought together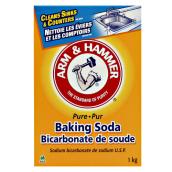 ARM & HAMMER
Baking Soda
Format 1KG
Details
Article #53975001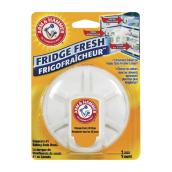 ARM & HAMMER
"Fridge Fresh" Refrigerator Air Filter
Details
Article #53975000
Ddimensions of this refrigerator (Samsung FDR 30"), under tech.Specs dimensions rep as H - 66.81", W - 29.76" & D - 36.42" while further in the document it reports the follow. dims H - 65.39", W - 29.76 and W - 33.98", which is right.
Hello Pete 2, thank you for your question. The two heights listed are with and without the top hinge, while the two depths listed are with and without handles on the doors. If you have further questions, please feel free to contact us at 1-800-SAMSUNG or via live chat on our website (www.samsung.com/ca/support).
Date published: 2020-01-14
the freezer has wire or plastic bins
All plastic.
Date published: 2019-06-04
I just bought this fridge. There is something attached to the top of the fridge in the back left corner. It is a strip of metal covered in plastic attached by a screw.  What is it. 
It's only there to hold the plug in. Remove the screw and plastic. 
Date published: 2019-03-28
What is the warranty on this frig, and on the compressor for this frig?
One year full and 10 on compressor. Love this fridge!
Date published: 2018-11-19
Is it finger print resistant stainless steel?
Hi, unfortunately is it not
Date published: 2018-09-18
Is it magnetic?
Yes
Date published: 2019-04-09
Do I HAVE to connect a waterline to this unit or can I forego the "auto-ice maker" feature?
You don't need to connect. Just have to turn off the ice function if you don't. That's what I have done and no issues
Date published: 2018-12-10
Is it finger print free
NO!
Date published: 2018-07-31
French Door Refrigerator - 30" - 21.6 cu. ft. - Black Steel
is rated out of
5
by
416
.
Rated

5

out of

5
by
Lorie
from
SUPER fridge!
We've now had this refrigerator for a week. Best purchase ever! It fit right in the space where the old one was. This is a major upgrade for us, considering the fact that our old fridge was 20 years old and falling apart. I read other reviews while searching for a refrigerator and a lot of people stated that the ice maker barely made any ice. If you read the owner's manual, it states that you need to wait 12 hours after it's plugged in to turn the ice maker on. We have tons of ice! Still in the process of rearranging shelving for a more custom fit of items we buy on a regular basis to store, but very happy with this purchase! Love this fridge! [This review was collected as part of a promotion.]
Date published: 2018-10-20
Rated

1

out of

5
by
michelle
from
Pretty on the outside. Ugly on the inside.
I've owned this refrigerator since February 2012. Right after a year, I noticed water filling the left crisper. Research said that the water line was freezing and that I should increase the temperature of the fridge. Didn't fix the problem. I now just regularly dump water from the crisper, about every 3 days. Then, something happened with the door. It doesn't automatically close. I have to manually close the left door first, then the right. Then, the ice maker became dislodged after items weren't strategically placed in the freezer. Since, then I have opted to live without ice. This refrigerator was poorly designed.
Date published: 2017-06-27
Rated

5

out of

5
by
peter330
from
Excellent Fridge
With such a small space in my kitchen for a fridge, I did not have many options. I have other Samsung appliances so I thought I would give this a try. It has been an excellent investment. It is very spacious given the dimensions. It also looks fantastic. The shelves are split in half so you can move only half if need be. Only downside I'd say is the storage on the doors because if you want to have taller items on the door you essentially have to remove one of the shelves. Beyond that however, it's a great fridge and I am very happy with it. [This review was collected as part of a promotion.]
Date published: 2019-01-31
Rated

5

out of

5
by
BAMC
from
So far, so good!
My kitchen is small like many others who have ordered and reviewed this refrigerator. I have cabinets above it which really limited the height I could get. I really wanted a bottom freezer french door refrigerator and this was one of very few that was going fit my space. It's surprisingly large on the inside. It sticks out a little past the counter but is not awkward at all. The depth is what gives it the extra space. The inside LED lights are great. The freezer is much larger than my last one. I very happy with it. I have had it for 18 months and so far....so good!
Date published: 2017-05-09
Rated

4

out of

5
by
ibby64
from
Nice Fridge
Interior is very bright and adjustable, freezer had tons of space. It does stick out beyond the counter which I had to get used to but the trade off is worth it. I had to get this model due to the height restrictions in my condo. It is much larger then my old one 187 cu ft vs the 21.8. I only gave it 4 stars for two reasons - the door space for milk etc is a little tight and can be awkward. The larger in store model had a shelf that you can drop down and push back to hold larger bottles (wines etc) this model does not feature this. Taller bottles do not fit on the door shelves either, so you either have to tip or remove a door shelf (which limits storage) Other then that is really is a great fridge, I have had for about 2 months and so far am happy with it.
Date published: 2017-06-03
Rated

1

out of

5
by
LemonStill
from
A lemon
I purchased the refrigerator on July 20th and received delivery on September 1st. Since it wasn't available. The refrigerator won't cool. After conversations with 4 Samsung representatives who were unable to assist until unit was turned on for 24 hours, it was confirmed that the unit was a lemon. Isn't there a gradual cooling of the unit? When the unit is on for 10 hours and the temp is the same isn't it obvious that unit doesn't work? I'm currently awaiting replacement unit which will be delivered on September 23. I have been without a working refrigerator since I moved in July 8,, 2016 when the Seller's refrigerator which was suppose to work wouldn't work. i don't know what else to say.
Date published: 2016-09-06
Rated

4

out of

5
by
DC
from
So far so good
I hesitated buying a Samsung, but it was the only french door that fit in our space. Pros: quiet, black stainless looks great, bright inside lights, shelves are easy to move and arrange on both sides, freezer bin is roomy, able to use without icemaker hooked up, plenty of room. Cons: not Energy Star, bottom bins do not pull out all the way without hitting the open door. In order to pull out bins for cleaning, you must remove the plastic fronts on the door shelves. Called Samsung customer care to ask how wide doors should open, and they sent out a technician (very fast--no complaints with service), but there was no way to increase the door opening. Seems like a design flaw. It is much more convenient to get food out than our old top freezer model.
Date published: 2017-10-20
Rated

5

out of

5
by
Michale
from
This is a great fridge
I had to have a smaller specific size of Fridge to fit a customized location. Started my research and was terrified of this model from all the bad reviews. Took a chance and purchased it. So glad I did, this is a great Fridge bought in July 2019. Pro's- Very quiet and efficient, the black stainless is really finger proof and easy to clean with just warm water, which is very seldom, for a smaller Fridge, surprisingly roomy and large inside, ice maker works very well, freezer works well and is easy access, I keep a thermometer in the fridge and temperature is very consistent. Con's- The Fridge doors are stiff to open and close. I would certainly recommend this Fridge.
Date published: 2020-01-13