Description
This upright freezer from Whirlpool has an 18 cu.ft. capacity and convenient up-front electronic temperature controls to let you set the ideal temperature for your needs. A fast freeze option lets you freeze large amounts of food quickly by driving temperature 10 degrees colder than the lowest setting. This freezer provides frost-free operation and is also equipped with a temperature alarm that notifies you when the temperature rises. The LED lighting uses less energy than incandescent lighting and provides great visibility, while an optional icemaker makes sure there is plenty of ice on hand for when you need it. This freezer has 4 adjustable shelves and 4 door bins with a pizza pocket.
Product specifications
1 fixed full-width gallon, 1 fixed ice cream compartment, 2 adjustable half-width, pizza pocket
Reversible Door Swing (Y/N)
Frequently bought together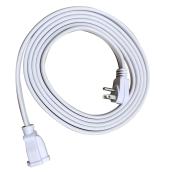 WOODS
Woods Extension Cord for Air Conditioner - 10' - 15 A - White
Format 10'-15A
Details
Article #21685147
WOODS
Interior Extension Cord - SPT3 - 14/3 - 40-in - White
Format 15Ax125Vx1M
Details
Article #0238162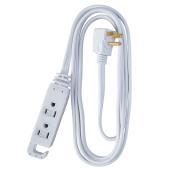 WOODS
Extension Cord - Interior - 125 V - 6.5-ft - White
Format 3 PRISESx2Mx125V
Details
Article #4025106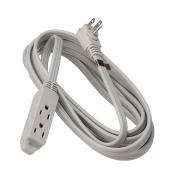 WOODS
Indoor Extension Cord - 14/3 Calibre - 14'
Format 4.5M 14/3
Details
Article #40255198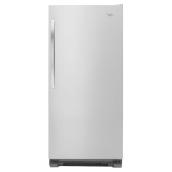 WHIRLPOOL
All Refrigerator - 31" - 17.7 cu. ft. - Stainless Steel
Format 66.75x31.25x30.25"
Details
Article #30005206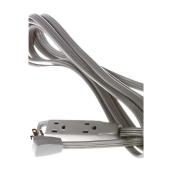 WOODS
Extension cord
Format 15Ax125Vx4.5M
Details
Article #0238122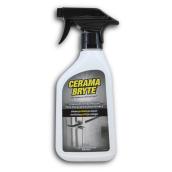 CERAMA BRYTE
Stainless Steel Cleaner
Format 474ML
Details
Article #8307003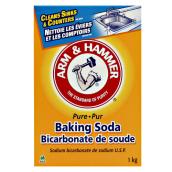 ARM & HAMMER
Baking Soda
Format 1KG
Details
Article #53975001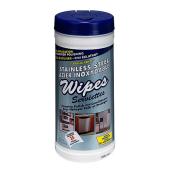 CERAMA BRYTE
Stainless Steel Cleaning Wipes
Format 35/PK
Details
Article #8307005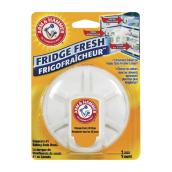 ARM & HAMMER
"Fridge Fresh" Refrigerator Air Filter
Details
Article #53975000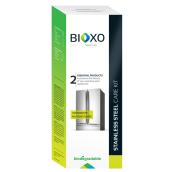 BIOXO
Bioxo Care Kit - Stainless Steel - Biodegradable - 250 ml
Format 250ML
Details
Article #30135134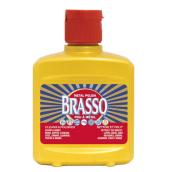 BRASSO
Brasso Metal Polish - 142 mL
Format 142ML
Details
Article #0031017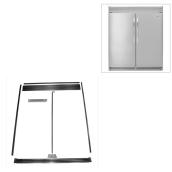 WHIRLPOOL
Refrigerator and Freezer Trim Kit
Details
Article #30005218
Is this price for the what you show on the picture or is just for one side only?
Freezer with Fast Freeze Option- 18 cu. ft.-Stainless Steel
is rated out of
5
by
73
.
Rated

1

out of

5
by
Brian
from
Stay away
I like eveyone else it seems built my $80000.00 kitchen renovation around this double unit system. The looks are truly professional, but that all that is professional. 3 months into the purchase the freezer began to freeze up constantly. The refrigerator began leaking after about 13 months and of course no warranty. The freezer repair cost is $983.74 and I was told that due to a design flaw that I will probably be replacing the compressor annually. The only other set that will fit that will fit the opening is a wolf model at a cost of around $15000.00. Very disappointed. Made in USA use to mean something.
Date published: 2017-08-27
Rated

1

out of

5
by
Anonymous
from
Not very pleased.
My wife and I recently bought a house and purchased the refrigerator and freezer sidekick combo. Within the first year the refrigerator had to be repaired 2x. Here we are now at year 2.5 and my freezer has now stopped working and the part needed to repair it is discontinued. Luckily a few months back I purchased an extended warranty because the insurance company called me last week to let me know that I am being given about half the value of my freezer back and that I am going to need to purchase a new freezer. We have been very displeased with the Whirlpool sidekicks that we purchased 2.5 years ago to say the least.
Date published: 2017-06-20
Rated

1

out of

5
by
garey
from
Whirlpool Sidekick Freezer
Units have major design flaws. Owned both refrigerator and freezer units for 12 years, had half a dozen service calls to keep these units running. Just spent $600 on a compressor replacement for the freezer, both units has had several valves and switches replaced along the way. Own a much older freezer in the basement, purchased in 1990 with zero calls to-date. When you own a side kick, every two years or so, you will need to remove the food, then remove the lower rear/back panel inside the unit and clean out the drain hole, below the evaporator coil (for both units). To do this, you will need a about foot of ¼ inch plastic tubing and stick it down the drain and use it to clean out the drain line. Then pour a small amount of hot water down the drain (ice will form in the drain). If you don't do this, water will leak out you can damage flooring, form an iceberg in bottom, etc. Both units will suck up dust into the drain line and stop up. Like the others writing in this comment section, my kitchen was made for the units, I am sort of stuck with them.
Date published: 2015-09-01
Rated

1

out of

5
by
Alistair
from
Problems, Problems, Problems...
I had the extreme misfortune to purchase one of these sub-standard units for the princely sum of $1400. Now, you'd think for $1400 you'd get something approaching build-quality -- you'd be mistaken. This is actually the third unit delivered -- the first one simply failed and was replaced, the 2nd one had an enormous dent in the side -- we sent it back. So, after a few short years this one has developed an irreparable gas leak in one of the lines from the compressor. It means you have to take the entire unit apart and it's a big job, the technician (add $85 for him) says it's really not worth trying to fix it as it could be anywhere. It's not even a moving part, it's a line, a tube... that shows how poorly constructed these things are, how cheap the materials. I won't get started on the Sidekick Fridge and the replacements for them and also the running repairs. My unit is now a very expensive shelf for three candlesticks and a Boze music player. DO NOT BUY THESE UNITS. Yes, they somewhat resemble a more expensive brand, and they look nice, but the phone calls, repairs, and then the expense of replacing them after 4 years -- what a joke -- makes them glorified junk. Read the reviews, but you have been warned.
Date published: 2017-06-20
Rated

3

out of

5
by
Anonymous
from
Family of Chefs
[This review was collected as part of a promotion.] It keeps thing cold and looks nice. It fits in my custom designed kitchen. It replaced a previous Whirlpool that leaked constantly and continually had a large amount of ice accumulating below the bottom rack. Nothing else fit in the kitchen without paying thousands to have cabinets and counter redesigned to fit new appliance. The new configuration is NOT good. Fewer shelves on the door. I liked the shelves to hold butter, boxes and plastic containers of vegetables. You added a bin and removed a shelf. Bins are terrible. I am constantly shuffling things to find what I want. I like things neat and stacked not thrown in bins. We are a family of chefs (graduated from culinary school) .
Date published: 2017-02-14
Rated

4

out of

5
by
DDR1972
from
Love the size and look
(This review was collected as part of a promotion.) Been waiting 20 years to build a kitchen that could handle these units side-by-side and now, finally have my dream. The units are amazing.
Date published: 2018-05-01
Rated

1

out of

5
by
Keajay
from
Can't even give ONE star!
We bought the Whirlpool sidekicks when we renovated our kitchen 3 years ago. We have had nothing but issues with the freezer unit, requiring multiple visits from the appliance repair shop. After replacing the evaporator and repairing leaks 3 times, they took it to their shop to attempt to repair. We are now told it must have an internal leak and cannot be repaired. We've lost the cost of the freezer, $1000 in repair bills and all the food we lost everytime the unit broke down. In contacting whirlpool today, they don't have any reports of issues (even though there are countless similar complaints provided) and did not take any responsibility for manufacturing a poor quality product. Do not purchase this product!!!!
Date published: 2017-12-22
Rated

1

out of

5
by
mgkp
from
Major Disappointment
Looks great, but they certainly aren't built to last more than 3 years! Had problems with first set, and because their sizing does not conform to other makes and models we purchased another set, even though we only needed a fridge, that is, Whirlpool changed their model so they didn't match and was forced to purchase the freezer. Now only 3 years later, the compressor has died and with parts and labor doesn't make sense to fix. STAY AWAY!
Date published: 2018-08-12