Description
Tool-less adjustable, up front mounted laser guide for increased alignment accuracy. Powerful 15AM motor. Miter range: 0-48° left, 0-55° right. Bevel range: 0-47° left. Innovative, patent pending design provides improved ergonomics for ease of transportation and allows the saw to be stored flat, reducing space required for storage. Support base allows saw to be stored vertically, and provides support for long work pieces. Includes: Support base, 24TH 10" carbide tipped saw blade, dust bag, clamp, blade wrench. New UL62841-3-9 compliant. 3-Year warranty.
Product specifications
Support base, 10" carbide tipped saw blade, dust bag, clamp, blade wrench
Frequently bought together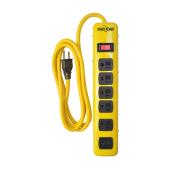 YELLOW JACKET
6-Outlet Power Bar with Surge Protection - 6' - Yellow
Format 1.8M
Details
Article #32045053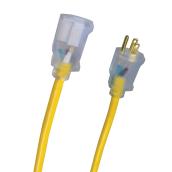 WOODS
12/3 Extension Cord - 25' - Red
Format 12/3 25'
Details
Article #74045239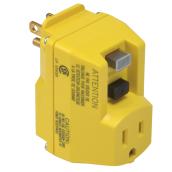 YELLOW JACKET
Single Outlet Portable GFCI Adapter - 1800 W - 15 A
Details
Article #32045050
Are these ny better than the old craftsman ? I know Stanley makes them now but the old craftsman are nothing like a dewalt or Milwaukee . I have all three types and my craftsman are the first to run dry way before the other two ! Just asking !
Folding Compound Mitre saw - 10" - 15 A
is rated out of
5
by
75
.
Rated

1

out of

5
by
Jerry
from
Don't waste your money
I bought this saw for my laminate flooring project. The saw, although has nice features is plagued with design/engineering problems. The main problem is the blade lock button on the motor broke internally while trying to change the blade from a 42 tooth combination to a 60 tooth laminate blade. I returned the saw in exchange for the same model. Again, right out of the box the blade lock broken. After reading the reviews (negative ones) there were other consumers who ran into the same problem. Returned the saw for a Metabo that had no negative reviews and completed my project without anymore issues. Do yourself a favor and pass on this saw.
Date published: 2019-05-12
Rated

5

out of

5
by
Hezzah
from
Easy!
This miter saw is awesome! It was easy to put together, easy to use, folds neatly to put away, and works well for projects. We used this on our second furniture building project (the first we hand sawed and it was miserable) and we were able to cut wood for 2 chairs pretty quickly. It took us a few practice cuts to determine that the laser guide points just to the side of the cut, not on the cut, so adjust accordingly. The clamp works well to hold lumber in place for safe cutting. Overall, it was a great purchase at an affordable price! [This review was collected as part of a promotion.]
Date published: 2019-05-05
Rated

3

out of

5
by
Earlofomaha
from
Good item for price
It cuts wood and can fold for storage. Those were the best features and for the price I paid, I am happy. The laser can't be trimmed to match the blade center because the blade guard I think blocks it or diffuses it. The saw in the stand is not very secure so it can easily tip or fall out of plastic base. Dust collection is poor, but I think all models are poor. The clamp for wood works, but could be designed better. I had to return first one because it was packed with the wrong part, but both the first and second made good cuts. Some flaws, some good. A solid 3. I have had mixed experience with new Craftsman, but this item is solid, but not exceptional. [This review was collected as part of a promotion.]
Date published: 2019-07-03
Rated

5

out of

5
by
KirtB
from
Very nice saw for the price.
I always buy Craftsman tools when possible. Since Sears started tanking it got harder to buy Craftsman tools because in many cases they won't even ship to your house, and a lot of items aren't available through the Sears Hometown stores. I was very glad that Lowes picked up Craftsman tools, even though as of now there aren't many available. Anyway, I used the saw when building some wooden shelving in the basement and it performed perfectly. I'd rather use this than my radial arm saw for doing non-precision cuts. I bought 10" a Craftsman Miter Saw about 8 years ago and gave it to my daughter when she was building a horse barn with 8 stalls. The entire barn was built using that saw for most of the cutting, and it still works just fine! - Kirt Blattenberger [This review was collected as part of a promotion.]
Date published: 2018-12-08
Rated

5

out of

5
by
shaydave
from
Love it
got mine 2 days ago. never owned a miter saw until now. super stoked. 2 days of use and can't be happier. i am a cheap man's woodworker (pallet wood builder) and I needed a better cutter other than my circular saw (also craftsman) and this has totally exceeded my expectations. The laser guide is amazing, it completely takes no time to understand how it works. (read instructions) but depending on what side you like cutting either on the sides or down your line this laser has you covered. the dust bag is great, filled up no problem. [This review was collected as part of a promotion.]
Date published: 2020-05-03
Rated

5

out of

5
by
Rachel
from
Portable, Lightweight and Smart Stand, Great!
I've been using this saw for residential trim work for 2 years. I'm a little lady (5'2", 125 lbs) and I'm strong, but hauling around my standard saw was tough. This saw can take the abuse of being portable and still stay calibrated. The stand doubles as a material leveler and support, so cool! I added my own feet to prevent damage to flooring if I'm cutting indoors, the dust bag also does great. I did break the lock handle pretty soon after I bought it, but vise grips work great too! This had been one of my smartest purchases and one if my best tools. [This review was collected as part of a promotion.]
Date published: 2020-04-19
Rated

5

out of

5
by
Kitta
from
This Should Have Been My First Purchase!
I bought a circular saw for my first tool. I was able to make a farmhouse table. However, for safety purposes and more accurate cuts for a beginner, this should have been my first purchase. I looked at several other saws in this price range. I went with this one because of the brand and looks. I went to the store and fumbled around with the displays for like an hr. Stared at it and I just took a chance. Glad I did. The setup was extremely easy. The user manual was simple to follow. The stock blade is better than the stock blade in my circular saw. But i still have to sand down my cuts sometimes. That could be me just needing improvement.
Date published: 2020-10-02
Rated

5

out of

5
by
Egriffith83
from
Excellent Saw for home projects.
I picked up this saw a couple months ago when I did my kitchen floor project. I knew I would be doing a lot of miter cuts for the quarter round trim molding and figured having a chop saw for cutting the laminate planks to length would be handy too. What a time saver it turned out to be. I honestly don't know how I have gotten by without a miter saw this long. It made every turn and joint match and fit perfectly. I feel that I can handle any trim molding job now. No more fighting with a miter box and hand saw to get a good fitting joint. I would recommend this saw to anyone doing any kind of molding [This review was collected as part of a promotion.]
Date published: 2019-10-02