Premium Box-Beam Level with Hook - FatMax - 3 Vials - 48"
Article #00275951
Model #FMHT42400
Format 48"
RONA Langdon Hardware Ltd. / Fort Erie
(289) 320-8250
Description
This Stanley FatMax(TM) box-beam level makes a great addition to any job site or home renovation project. The level has a box-style frame for a durable design that is ready to tackle any project. The brightly lit vials are enclosed in an enlarged housing, and the magnified centre vial makes it easy to read. The block plumb vials have an accuracy of 0.0005" for on-the-job precision you can count on. The level is 48" (122 cm) in length and has a removable endcap that lets you make flush and accurate markings. When the level is not in use, just pop out the folding rafter hook for quick and convenient storage.
Related Projects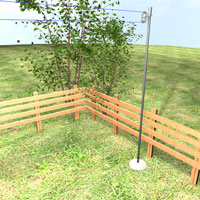 Install a clothesline post
There is no laundry detergent, fabric softener or dryer sheet on the market that leaves clothes smelling as fresh as ones that are dried on an outdoor line. And...Learn more