Description
Made without the use of chromium and with carbide teeth partially made of recycled material, this EAB "Green Blade" Framing Circular Saw Carbide Blade has an environmentally friendly design. With HRC 45 hardened steel plates and expansion slots, this framing blade is durable for long-lasting use. The carbide tips are completely sharpened for great cutting performance. The exchangeable items allow you to save on your renovation projects, get all the informations on the exchange-a-blade website.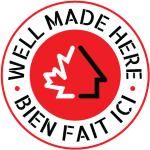 Ecological Attributes
This product is made from recycled alloy steel to reduce the use of raw materials. It is also part of the EAB Exchange Program which gives a credit toward the purchase of a new accessory when it is returned in stores for recycling.
Product specifications
Chromium-Free Manufacture Recycled Carbide