Description
Contemporize your cutting projects with this carbide circular saw blade. It has a tungsten carbide tip with fine grit diamond that delivers powerful sharpness. With its Alternating Top Bevel (ATB), this 40-tooth saw blade provides clean precise cuts. Made with steel and carbide, the blade gives optimized performance.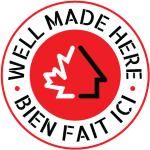 Ecological Attributes
This product is made from recycled alloy steel to reduce the use of raw materials. It is also part of the EAB Exchange Program which gives a credit toward the purchase of a new accessory when it is returned in stores for recycling.
Product specifications
Excellent for Hard Wood, Soft Wood, Particle Board, Plywood, Veneers.