Description
Designed for work in panelling, plywood, veneer and certain plastics, this finishing blade with carbide steel design offers excellent value for money. Integrated tension rings and C2 tungsten micrograin carbide tips with sharpened sides ensure quick cuts and more stability. This product is part of the blade exchange program. 8 1/4" blade with 40 teeth.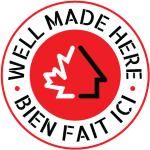 Ecological Attributes
This product is made from recycled alloy steel to reduce the use of raw materials. It is also part of the EAB Exchange Program which gives a credit toward the purchase of a new accessory when it is returned in stores for recycling.
Product specifications
For Light Work on Panelling, Plywoods, Veneer and Some Plastic Materials.