Description
This Exchange-A-Blade circular saw has a durable and professional design that makes it a top choice for use in precision finishing projects, having special hard-bodied (HRC 40) plates and expansion slots. It has C3 micro-grain carbide tips that feature a triple grind and are fully sharpened on the top, face and sides, which provides extremely smooth cutting of single and double-sided melamine, plastics and laminates. The carbide saw blade is compatible for use with both portable and stationary saws.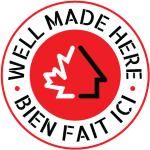 Ecological Attributes
This product is made from recycled alloy steel to reduce the use of raw materials. It is also part of the EAB Exchange Program which gives a credit toward the purchase of a new accessory when it is returned in stores for recycling.
Product specifications
Single and double sided melamine, laminates and plastics