Description
Tackle wooden projects with this EAB saw blade. It features HRC-45 hardened steel plates and expansion slots for improved durability. The carbide saw blade possesses sharp teeth that deliver clean cuts and limit grain damage.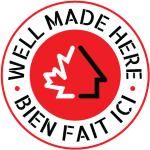 Ecological Attributes
This product is made from recycled alloy steel to reduce the use of raw materials. It is also part of the EAB Exchange Program which gives a credit toward the purchase of a new accessory when it is returned in stores for recycling.
Product specifications
Chromium-Free Manufacture Recycled Carbide
Cest pour couper le bois ?